[dropcap]Once[/dropcap] upon a time, pinball was considered to be quite literally sinful.
Banned for more than 30 years as a "gambling device" – most famously by New York City's Mayor LaGuardia – the pinball machine languished in obscurity until one historian and devotee was determined to save it. In 1976, Roger Sharpe succeeded in "calling his shot" and demonstrating to the NYC City Council that pinball was a game of skill and did not deserve its reputation as a pastime of vice. New York City lifted the ban, and as other cities followed, pinball fever swept the nation.
This tale is a favorite of pinball fan Shawn Lee. By day, Lee is a doctor of pulmonary and critical care medicine at Mercy Health Center in Oklahoma City. In his spare time, he is a founding member of the Oklahoma Pinball Enthusiasts, a group of self-described "pinheads" who meet regularly for tournaments, leagues and social gatherings, or chat online about technical support or members' latest quests to collect these mythical machines. The group meets regularly in-person for events at Cactus Jack's Arcade in Oklahoma City.
Lee says he was a fan of pinball as a child of the 1980s, particularly Space Shuttle and Pinbot, but that the heyday of the arcade was passing. It wasn't until the days of his medical residency, and his discovery of arcade auctions, that his passion for the game began in earnest. His first purchase at auction was a Galaga, followed by a 1991 Bride of Pinbot. By the time financial stability and space became less of an issue, Lee was hooked.
"Priority number one was to add another machine to my collection," he says. "I began scouring Craigslist and lucked upon a beautiful Bally 1993 Creature from the Black Lagoon. I fell entirely under the spell of this gorgeous machine and soon my conversion to a true pinhead was confirmed when I sold off my Galaga to make room for another pin. My collection began to balloon, but I was not satisfied. I wanted people with which to share my passion. So in late 2012, I founded the Oklahoma Pinball Enthusiasts. I had no idea if anyone would even care, but to my surprise I was not alone in my love for the silver ball, and soon I was meeting numerous fellow pinheads and making more friends than I had ever before."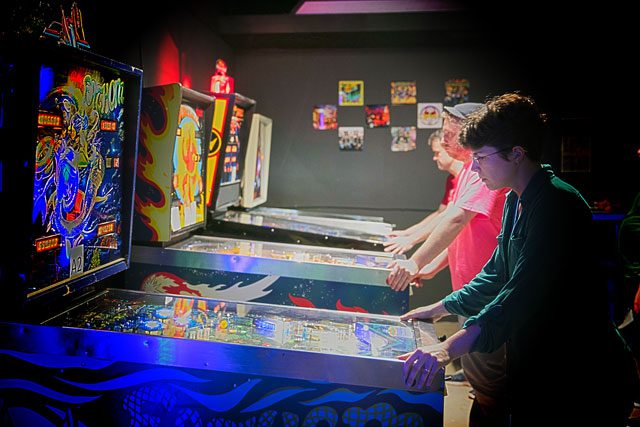 Wes Johnson, known to some as Tulsa's very own "Pinball Doctor," has seen the likes of Lee many times over the course of his 32 years maintaining and repairing machines. He grew up playing pinball at Skyline Park in Jenks and was enamored of all things mechanical from an early age. His favorite machine, he says, is the Circus Voltaire, while his wife's is the Harley Davidson game.
"I think people love to play pinball for several reasons," Johnson says. "First and foremost, it is great fun. You can play by yourself, pitting man against machine. You can play with others, which draws out our competitive nature to attain the highest score. All ages from young to old can play. For many, it brings back fond childhood memories." He says many collect because they can afford the games now, and to preserve these increasingly rare machines as fewer and fewer are made.
While collecting is a popular way to indulge a love for pinball, it's not the only way. Timothy Larsen, of Enid, says he played less than two hours before participating in his first tournament at Cactus Jack's.
"I will never forget it," he says. "There were 48 people at the event, and I finished 46th. But you know what? I enjoyed it and had fun, and I've been going back ever since."
The easy camaraderie of the tournament encouraged Larsen and his friend, Brian Kaiser, to form Enid Pinball. The group holds four six-week leagues a year along with four tournaments. They play on a collection of privately owned machines – Larsen said the group usually has 10 machines available at any time.
The group started with around six or seven people, but has grown quickly in a short period of time. The biggest league held by the group had nearly 30 people participating, and Larsen says he has been pleasantly surprised by walk-ins that read about the tournaments on Facebook.
"That's the one good thing about this community," he says. "Anybody willing to show up is going to be treated well. As long as you can walk into a room full of people and [introduce yourself], you're good to go. It really is that easy."
Belles and Chimes
Oklahoma City is home to one of the 10 national chapters of Belles and Chimes, a nationwide network of women's pinball leagues started in 2013 in Oakland, California.
The Oklahoma City chapter was started by Carolyn Dawson, general manager at Cactus Jack's Arcade. She says the women's only league has helped encourage more women to play pinball, and many of the women's league players are beginning to compete in the other tournaments held on the location as well.
Belles and Chimes meets on every other Thursday.