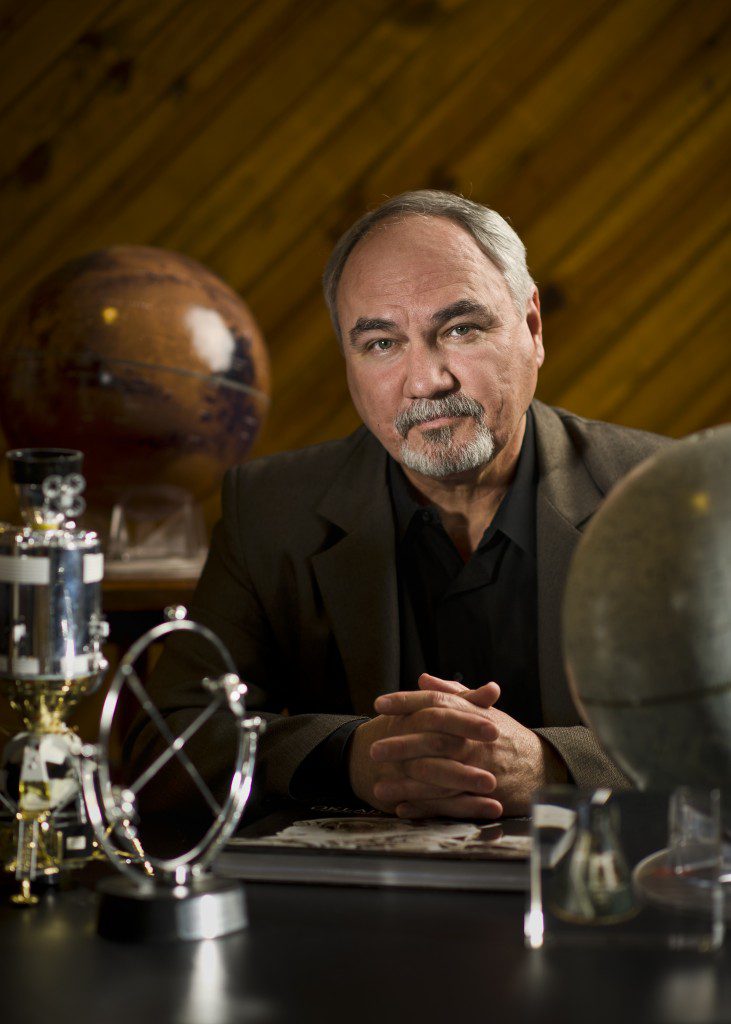 Space Pioneers
Bill Moore, author of Oklahomans and Space, found in his research that in every chapter of space exploration, the name of an Oklahoman astronaut can be found, whether they were born in, grew up in or spent a significant amount of time in their careers in Oklahoma.
One of the Original Mercury 7, Shawnee's Gordon Cooper was not only Oklahoma's first astronaut, but one of the nation's first.
Having piloted Faith 7, the last and longest Mercury flight, he later proved on the Gemini 5 mission that human beings could survive in space long enough for a round-trip to the moon.
Weatherford native Gen. Thomas Stafford is an early space pioneer, literally cut from vintage pioneer cloth. His mother arrived with her family to their sod dugout, Western Oklahoma property in a covered wagon in 1901.
She lived to watch her son orbit the moon on colored television.
"I've wanted to fly since I was about 5 or 6 years old – around the time that the first transcontinental airlines were set up. Every day I would look up outside and watch as a couple of these big silver airplanes would fly over head and I would say, 'That's what I'm going to do. I'm going to fly,'" Stafford says.
And fly he did.
Amongst numerous other feats spanning his career at NASA, his time on the Gemini missions in particular was essential to "thawing the Cold War" with the Soviets, conducting the first-ever rendezvous with them in space, proving that humans could not only dock there, but that it was possible to do extravehicular activities as well.
"It was a high and fast tempo, and we lived it. We did so many things so fast, which worked well for me because I always wanted to go higher and faster. It was a very exciting time and it was great to be a part of it all," he recalls.
Owen Garriott, of Enid, was chosen by NASA as a member of the first group of scientist-astronauts, working as a mission specialist on America's first space station, Skylab; William Pogue, who considers Sand Springs his hometown, also served on Skylab and multiple Apollo missions.
Apollo 13's Fred Haise was from Mississippi but spent an extensive part of his career as a fighter pilot in the Oklahoma Air National Guard, while Stuart Roosa, of Claremore, served as Command Module Pilot on the Apollo 14 mission that would allow two astronauts to walk on the moon.
"At a time when there wasn't much known about how humans would react in space, every step of the way there were potential life-threatening hazards. You looked up to these guys who were putting their lives on the line. They were heroes. The very first flight they wondered if humans could even survive space flight. There were a lot of unknowns. Some doctors predicted that blood would boil, and that without gravity, the body functions would cease to work. Our early astronauts were beyond brave," says Moore.
"Also in the beginning, we were in a pretty stiff competition with the Soviet Union. There was a very real fear that when Sputnik flew over the Earth, they could drop bombs on us from space, so our astronauts were not only heroes, they were out there in a quasi battle with the Russians in space."
Two Oklahoma astronauts in particular reached milestones beyond the boundaries of Earth's atmosphere, expanding their reach into "firsts" of new classes.
As part of the first group of females to come into the astronaut corps in 1978, Dr. Shannon Lucid of Bethany came to work for NASA when the country first began incorporating females into the general workforce.
Although she had decided that she wanted to be an explorer as a little girl, Lucid says that growing up in the 1950s meant that she had many obstacles to overcome to get her there.
"Back then, girls weren't allowed to do anything. You weren't expected to do anything, so any time I said anything about wanting to become an explorer, I was told that, 'Girls can't do that.' I just tuned them all out and decided I was going to do what I wanted and be whomever I wanted anyways," she says.
After graduating with a degree in chemistry from the University of Oklahoma, the sixth woman in space battled years of struggling to find employment because of her gender before applying and being accepted into NASA.
Lucid would become the first woman to hold an international record for the most flight hours in orbit by any non-Russian, and, until June 2007, she also held the record for the most flight hours in orbit by any woman in the world for her scientific work on the MIR Russian Space Station.
The first enrolled Native American in space – a member of the Chickasaw Nation – Herrington remembers sitting in a cardboard box and dreaming of going to the moon as a kid.
It wasn't until he was a Navy pilot with a master's degree in Aeronautical Engineering that he realized his childhood dream wasn't as far-fetched as he'd once thought it would be.
"I learned that a good portion of the people that I watched on TV had been Navy test pilots before they became astronauts, so to me it was a natural career progression," he says.