As far as stage musicals go, The Lion King is the highest-grossing Broadway show of all time, and the North American tour returns to the Tulsa PAC courtesy Celebrity Attractions from June 1-17. 
Michael Reilly, the puppet supervisor for the show, always knew he wanted to work with his hands. Taking classes at a technical school, he studied a variety of subjects, including woodworking and automobile repair.
"I kind of fell into theater," he says. "As I went along, it became more and more technical."
He worked on The Lord of the Rings musical – a show that only ran for a year on London's West End – as the sword and armor prop master.
"I'll tell you this, it was great and it was terrible," he says with a laugh.
As puppets eventually came into regular play in the theatre world, Reilly found his niche. He began working on The Lion King in Canada in 1999 and moved to the American tour in 2006, where he's been ever since.
Nick LaMedica, the actor behind the beloved
hornbill bird character, Zazu, got his start early. After seeing his first Broadway show, Jekyll & Hyde, LaMedica waited for lead actor Robert Cuccioli to come out back; he then asked Cuccioli how to get into the field.
"He gave me really practical advice," says LaMedica. "Take dances class, join chorus, take singing lessons, learn to play the piano. I came home from New York and started doing all of those things."
Although initially overwhelmed by stage fright, LaMedica eventually took a shine to the art form in high school. Puppetry came later with his first big professional job working on the 2011 film War Horse.
"Since then, I've ended up doing a lot more puppetry," he says.
The pre-show prep work for both Reilly and LaMedica is hefty. There are 230 puppets, and Reilly looks over all the principal players each morning. On a weekly basis, he looks through every other puppet.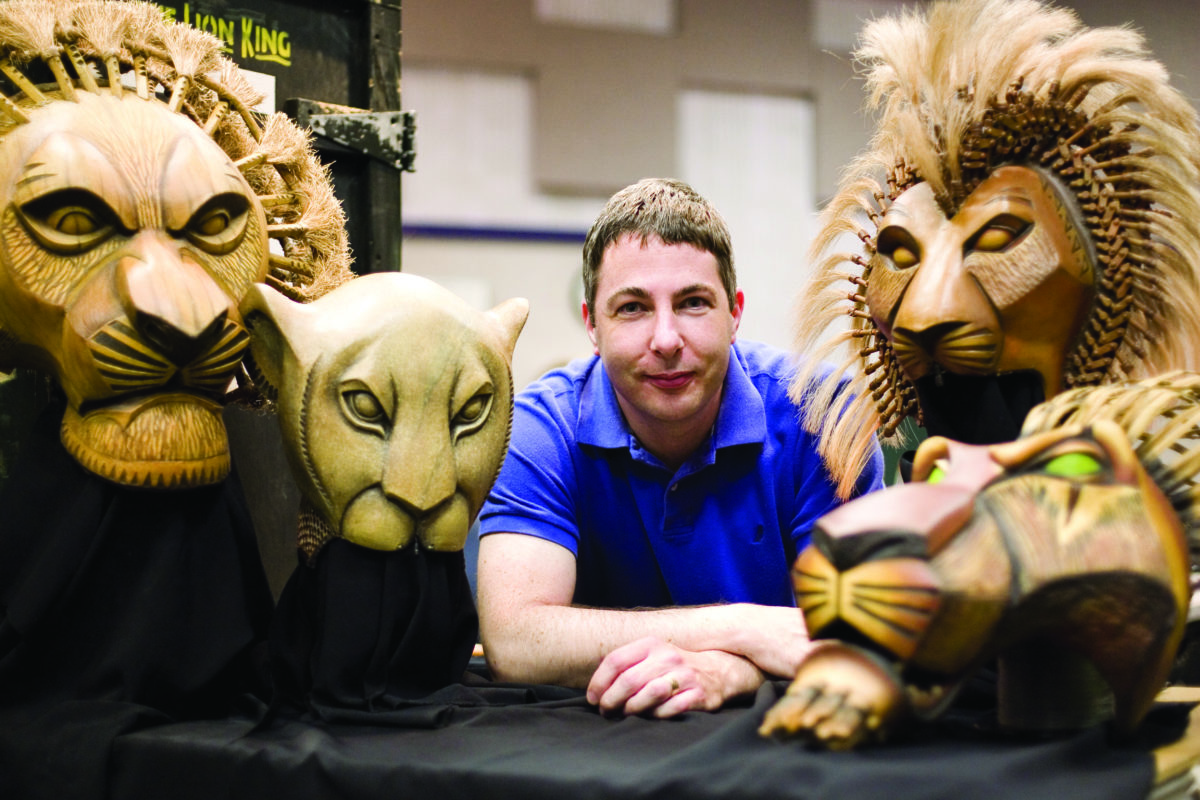 "My philosophy is if we do our job correctly during the morning and afternoon, the show goes much smoother at night," he says.
LaMedica does his vocal warm-ups before coming to the theater and then spends 45 minutes in the makeup chair.
"It's wonderful because I get to have such a great relationship with the makeup artists," he says. "It's like a relationship you'd have with your barber, but it's every single day."
Working with puppets lends itself to a few risks. During a previous The Lion King stint in Oklahoma, an elephant puppet snapped a leg, and there were no spares. After calling around to aluminum shops, Reilly convinced one to sell him a 24-foot piece, cut into fourths. 
"I came back to the shop, bent it, and with ten minutes to spare, I got that thing back on the elephant and down the aisle," recalls Reilly. "It was a tough day!" 
For LaMedica, working on The Lion King truly is his most prized theatrical memory.
"To have the first piece of theater I do out of the pandemic be the world's No. 1 musical, that's been seen by millions of people … if I woke up tomorrow and this was all a dream, that would seem completely reasonable."