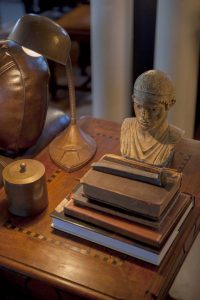 When Charles Faudree retired in December, his employee, Kyle Hatfield, took the opportunity to start his own firm, American Hatfield.
"I always knew I wanted to do something creative," he says.
It was just that Hatfield, who grew up on his parents' farm outside of Coweta, wasn't quite sure where his creative instincts would take him. He explored photography and landscape design, but ultimately, it was his love of interior design that helped him nail the job with Faudree.
So when his job ended around the time his parents required some assistance, Hatfield decided to move back to the family farm, where he lives and works out of a most unlikely place – a former chicken coop.
"I have about 800 square feet," explains Hatfield. In the 1980s, his dad added onto the old structure and created a workout room. "It was just a basic box," Hatfield comments. Plus, it had no plumbing, heat or air.
Hatfield started by ripping off the paneling and framing out the windows. The floor was stained concrete, but it was so dark that Hatfield's collection of antique furniture didn't show up. So he painted the floor a stone color. He then painted the walls an earthy gray that "really makes the furniture pop." Draperies are fabricated from washed painters' canvas.
Yard sales, estate sales, flea markets and even dumpsters have supplied Hatfield with a constant flow of furniture and accessories for himself and his clients. "Most people would just pass these things up," says Hatfield. "You have to have an eye for it." And Hatfield's unique ability to repurpose old and discarded American treasures is evident.
One of his prized finds is his grandparents' 40-year-old Frigidaire that had been relegated to the barn for 33 years. "It even housed a skunk with her babies," laughs Hatfield. But, undeterred, he cleaned it up, gave it a coat of paint and plugged it in. "I couldn't believe it still worked," he says.
When he discovered a wooden crate in the trash of a barn in Arkansas, Hatfield wasn't sure of the original use, but it is now perfect for wine storage hanging above the refrigerator.
Instead of a traditional kitchen, a long work table with a metal top and painted base substitutes for a kitchen countertop, where Hatfield cooks on a portable electric cooktop. And shelving is custom made from old boards attached with iron brackets.
One interesting piece of furniture was actually a cabinet from an old mill in Coweta that Hatfield's grandfather bought to house his tools. An old pie safe is used as a dresser, and an old gas tank provides the base for a glass top table. "The wood stools for the table are actually ottomans to outdoor garden chairs," says Hatfield.
And because his living quarters are basically one big room, Hatfield crafted a dramatic ceiling-height headboard patterned from old wood, and along with a simple bed frame, creates a cozy bedroom area.
When Hatfield purchased a new antique-style potbelly stove, he needed to construct a firewall. Not content with a basic wall of tile, he added the fireplace mantel and did a dry stack of stone gathered from his family's land. And while exploring the woods, he discovered an old tree stump. "It had lost all its bark, so I just waxed it," says Hatfield. Now it is a perfect end table next to a comfy rocker he discovered at a "hole-in-the-wall" Muskogee flea market.
Within a few weeks though, Hatfield's place may be completely transformed with "new" old items. "I like to practice on my home," he says.