It's 5 a.m. and Tulsa's downtown lies deserted. On most days, however, if you walk past the Tulsa Club – an Art Deco landmark that Architectural Digest recently called lavish, swanky and dazzling – you see a light on. Jacque Siegfried, executive chef of the Chamber restaurant, is preparing for the daily brunch.
"Cleaning a salmon, cutting onions for 45 minutes, whatever it takes, I'll do it," she says. "I won't ask my staff to do anything I wouldn't do."
After brunch ends, it's time to do ordering and inventory; at 2 p.m., the next shift arrives to begin prepping the evening meal. It's long after dark before Siegfried can think of going home.
For most people, that long day would be a nightmare. For Siegfried, it's a childhood dream come true. She's been entranced by food and cooking since the day when, at age 5, she watched her grandmother make pastries and was thrilled that "someone could make a cake or bread out of nothing and make everyone happy."
"And for me," she says, "cooking is pure happiness. It's how I know to show love. I had cooking contests with my dad every week, and the joshing and laughter made it magical. My dad is Native American, and he taught me to show respect for nature and the animals that died that we might eat."
While Siegfried was at Platt College's culinary program, her instructor chef, Curt Herrmann, spotted her budding talent … and critiqued her work mercilessly. Her proudest moment was when he said, "You did good, kid."
Siefried put in time on the line at kitchens all over Tulsa, and also waited tables at Goldie's.
"So many chefs get angry at servers," she says. "I wanted to see things from the server's point of view so I wouldn't be that angry chef."
Later, Siegfried got a job at Cedar Ridge Country Club, where she worked for many years.
"There were no angry chefs there," she says, "because they were doing what they were passionate about. It was a happy place – very hectic but invigorating. I learned all I could."
She and executive chef Geoffrey van Glabbeek soon became fast friends.
"I was insanely lucky," Siegfried says, "because he let me run around creatively. One day, I said I wanted to make octopus because I had never worked with it, and a few days later it was there. Another time, I asked if he knew where I could get pig's blood, and he showed up a few hours later with it."
Throughout Siegfried's career, chefs have taught and encouraged her. Now, as an executive chef, she tries to do the same for her staff.
"What do you want the restaurant to be?" she asks them … and then listens. Menu items are often collaborations. One cook suggested a coffee-crusted meat dish; another opined that pork went great with blueberry jam. Voilà: A coffee-crusted pork chop with blueberry compote was born.
"Nobody knows everything, and I try to learn from everyone," Siegfried says. "A cook wants to make a dish a new way? Why not try it?
"I want my staff to have fulfilling lives, to go out and enjoy life. I try to give everyone two consecutive days off each week, and if that means I have to clean flattops at 5 a.m., I'll do it. My life? Not much to tell. I married my high school sweetheart. I hang out with my family. I wanted to be an executive chef before I was 30, and I am. I'm 29 now. And I cook."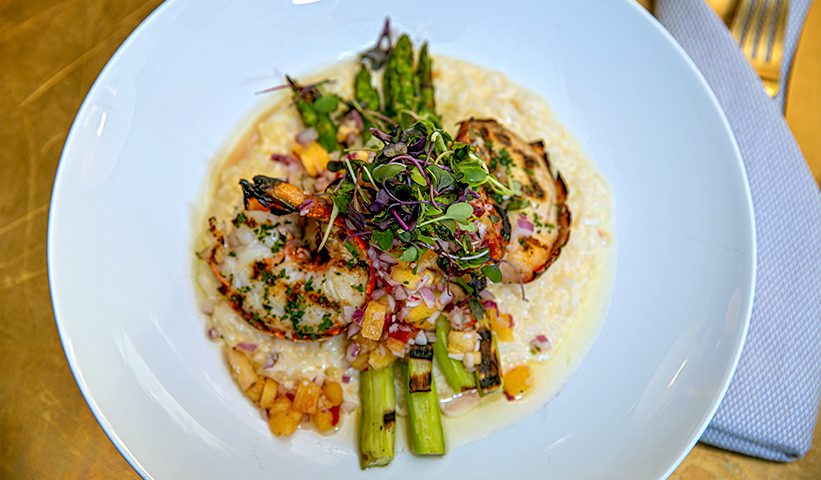 Grilled lobster over risotto
Lobster
4 lobster tails, split
½ cup clarified butter
1 tablespoon parsley
Salt and pepper to taste
Risotto
1 cup arborio rice
¼ cup white wine
½ cup finely chopped white onion
3 tablespoons minced garlic
1 cup coconut milk
3 cups vegetable stock
1 cup mango stilton, crumbled
20 spears of asparagus, grilled and seasoned with garlic butter, salt and pepper
Salt and pepper to taste
Pineapple relish
1 cup finely chopped red onion
1 cup chopped pineapple
2 tablespoons lime juice
½ cup red pepper, diced
⅓ cup cilantro
Salt and pepper to taste
Saute white onions and garlic until fragrant, then add in arborio rice and saute for 3 minutes.
Deglaze with white wine.
Cover with 1 cup of stock and reduce until almost dry. Then add another cup and repeat until all stock has been absorbed. Add coconut milk and stilton cheese until thickened.
Brush split lobster with clarified butter and sprinkle with salt, pepper and parsley. Grill lobster tails until 140-145 degrees is reached.
Mix pineapple, lime juice, red onion, red pepper and cilantro, then season with salt and pepper.
Place risotto in center of the plate, top with grilled asparagus and place lobster angled up, then top with pineapple relish.
Garnish with fresh herbs.