When chef Allison Dake of Brown Egg Bakery in Oklahoma City veered off her 21-year run in fine dining to focus on baking and cake design, this mistress of confection took her goals into her own hands.
The first hurdle to overcome was finding an apprenticeship with a seasoned baker.
"It took me … years to find someone to allow me to work with them in regard to wedding and special occasion cakes," Dake says. "We are a very selective and secretive bunch, us cake designers."
Because there are a few tricks and tactics you simply cannot learn in culinary school, working under someone and gaining that hands-on, tactile experience – earning those "kitchen stripes" – are keys to any chef's success.
"My extensive background in restaurants was a major hindrance moving forward," says Dake, referring to a sense of over-qualification and distrust from businesses thinking that her intent was to take over. "I was working as a manager at a steakhouse in Tulsa, and I literally cold-called every cake designer in the area I could find. Out of the blue, I received a call from a family friend, and she mentioned that there was someone looking to hire in Edmond. We met, I quit my job and I quickly relocated, working with that cake designer for five years."
When a local restaurant group approached Dake to join its staff as a pastry consultant to multiple locations, she jumped at the chance. Brown Egg Bakery was created, and, through Dake's experience in the hospitality industry and creativity, Brown Egg has become one of the most sought-after boutique cake designers/bakeries in Oklahoma.
"Brown Egg Bakery was designed to be different, to push the boundaries on custom flavors, cake design and desserts with a twist. It's all totally intentional, and it takes an insane amount of time," Dake says with a laugh.
She and her crew handle everything from start to finish – creating dessert menus, consultations with brides and clients, the actual baking, delivery and set up. With wedding season (typically March-October) in full swing, Dake and Brown Egg look forward to recent trends.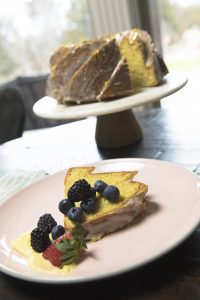 "Big statement cakes are back," Dake says with delight. "And I'm so excited. I'm talking six- (and more) tier wedding cakes, need-a-ladder, focal-point-of-the-room kind of cakes."
As brides turn away from multiple wedding cakes and focus more on one large cake, the whimsical, sculpted groom's cake remains hot, as well as Brown Egg's famous, custom dessert bars and macaron towers.
The end of wedding season doesn't spell vacation time for Dake. With a strong reputation and an adaptability to any situation, she jumps back into traditional baking. Working corporate events, holiday parties and seasonal promotions – keep an eye on her New Year's Eve gift box – and teaching workshops keep her busy as she highlights pastries, candies and sweet-tooth indulgences that only this powerhouse can deliver.
"For me, the holidays are busier than wedding season," she says.
Citrus Bundt
Bundt:
1 1/2 cup Unsalted butter at room temperature
3 cups Granulated sugar
6 Eggs
3 cups Cake flour
1 teaspoon Kosher salt
1/4 teaspoon Baking soda
1 cup Sour cream – full fat
2 tablespoons Vanilla bean paste or vanilla extract
1 teaspoon Georgia Peach Spice, optional
1 tablespoons each Lemon, lime and orange zest, freshly grated
Glaze:
1/4 cup Sweetened condensed milk
2 Cups Powdered sugar
1 tablespoon Vanilla bean paste or vanilla extract
Citrus Curd:
1/2 cup Fresh citrus juice
1/4 cup Granulated sugar
2 Eggs
1 1/2 tablespoons Cornstarch
1/2 stick Unsalted butter at room temperature
Preheat oven to 325 degrees.
Grease and flour bundt pan, set aside.
Beat room temperature butter in a standing mixer with the paddle attachment until fluffy.
Add dry ingredients in a separate bowl. Set aside.
Add sugar to the whipped butter and allow to beat for three minutes. Then add eggs, one at a time, until fully combined. Add vanilla and beat for two minutes. Scrape down sides of bowl.
Take turns adding the sour cream and dry ingredients in batches, not to overwork the flour. Once fully incorporated, take the bowl from the mixer, add the zest and mix by hand.
Pour into prepared bundt pan.
Bake on middle rack in oven for one hour, or until an inserted skewer comes out clean.
Allow bundt to rest 10 minutes before inverting and removing from pan. Allow the cake to come to room temperature, on a wire rack,  before adding glaze.
Place wire rack on top of a lined baking sheet to catch the glaze drippings.
Drizzle the glaze over the top of the cooled bundt and brush into place if needed.
Serve with fresh berries and citrus curd garnish.
For citrus curd:
Prepare a double boiler. Place over medium-high heat, or until water is at full boil.
Add first four ingredients in the bowl, away from the heat, and whisk until combined. Add butter, and place over the double boiler, constantly whisking until the thickened mixture coats the back of a spoon – it usually takes 3-5 minutes.
Whisk for one minute longer, to ensure the cornstarch has been cooked through, and carefully remove from heat.
Pass hot curd through a fine, mesh sieve and cover top with plastic wrap so a crust isn't formed.
Place in fridge until ready to serve.