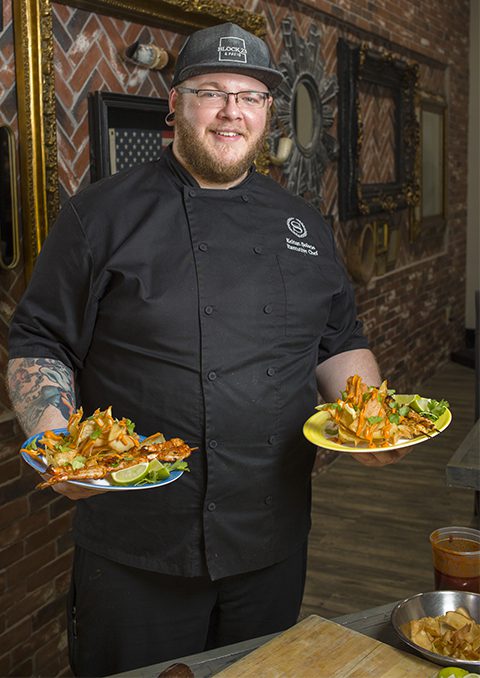 For Keltan Solorio, cooking is a family affair.
The executive chef at Block 23 Restaurant and Patio – inside the Sheraton Oklahoma City Downtown – came of age at the knee of his father, who was executive chef at the members-only Petroleum Club in Tulsa and other upscale locations.
"At a very young age, I watched my dad create colorful plates," Solorio says. "Watching my dad's passion to create food that not only tasted good but looked good inspired me to do the same. I continue to be inspired by creating healthy foods that taste good, and now leave a legacy to my daughter."
Solorio began his journey at the Sheraton as a line cook, closely watching and absorbing knowledge from the chefs who worked there, before quickly moving on to become a sous chef in charge of catering events.
"It is important to me to ensure people's experience at an event is touched by tasty food," he says. "It takes a lot of hard work, dedication and long hours to create, prepare and execute."
Once Solorio took over as executive chef, he launched a culinary concept: Block 23.
"I loved taking everyday, old-fashioned foods and adding a new spin on it for modern American cuisine, taking what once was and making it new," he says.
According to the chef, diners are most enthusiastic about Block 23's breakfast menu – and that includes Solorio, who's specifically a fan of the waffles.
When not at Block 23, his culinary passions differ.
"I love to try anything new," he says. "But if I have to be real … don't judge … ramen noodles are my favorite."
Solorio is also dedicated to helping his community. He participates in events like the Taste of OKC fundraiser for Big Brothers, Big Sisters of Oklahoma and the annual Omelette Party benefiting the Oklahoma City Museum of Art. Once a month, Solorio devotes his time to cooking for the Children's Hospital.
"I've shared my passion with many and love the opportunity to cultivate meaningful experiences through food," he says.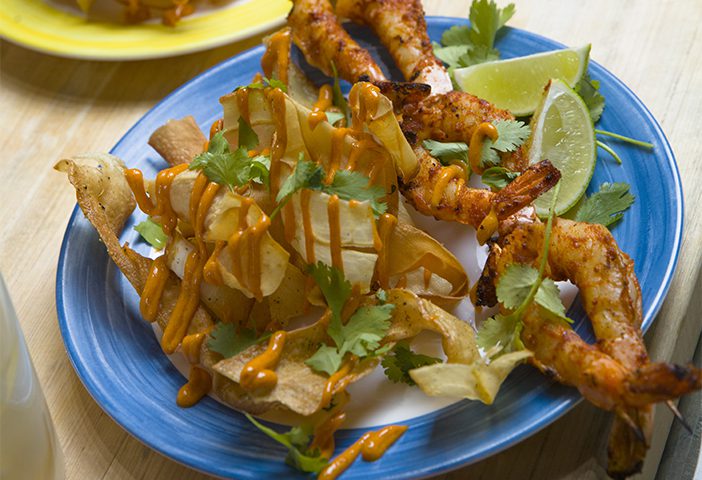 Block 23 patio special: mojo rojo OKC pinchos
Mojo rojo
½ cup smoked paprika
½ cup hot-smoked paprika
2 tbsp ground cumin
½ cup garlic cloves
8-10 japones chiles
3 cups olive oil
⅛ cup sherry vinegar
Salt and pepper
Add the first 5 ingredients into a food processor or blender.
Add half of the oil and blitz until smooth. Add the rest of the oil and vinegar, and season to taste.
Blitz to combine. Put in a container and set it aside for the aioli and to marinate the skewered pinchos.
---
Mojo rojo aioli
1 cup mayonnaise
1 cup mojo rojo
Combine in a bowl and mix thoroughly.
---
Yucca chips
1-2 medium yucca roots
Cooking oil of preference
Celery salt
Black pepper
Peel yucca roots.
Cut into 4-inch-by-6-inch pieces and slice thinly.
Fry slices in oil at 350 degrees until they turn brown and crispy.
Remove from oil and season to taste with celery salt and pepper.
---
OKC pinchos
Cut desired meat/protein into ¾-inch-by-4-inch strips and cover as much of each skewer as possible.
Marinate with mojo rojo.
Grill until meats are cooked.
Serve with lime wedges and aioli.