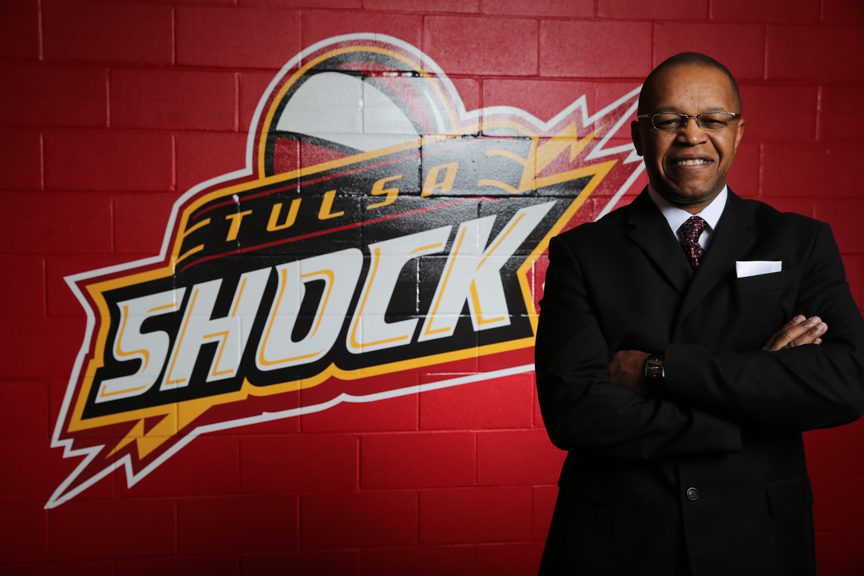 Growing up playing basketball with Reggie Theus might have prepared Fred Williams for the tough job he has ahead of him as head coach of the WNBA Tulsa Shock.
Williams says that Theus, who played for the Chicago Bulls and is now men's head coach at California State-Northridge, "beat him off and on" at games when they were growing up in Compton, Calif.
"There's a big challenge ahead, and I'm up for challenges," he says. "I know things are tough and shaky, and that's why I'm here – to help and to give some of my basketball knowledge as a coach and myself as a person for the city of Tulsa."
Williams has gained a good idea of the team's strengths and weaknesses from watching game footage and playing against the team, and he knows "we have to get better defensively over our opponents to lower the scores and create an opportunity for the offense."
He says he plans to help the team move in this direction by relying on what has worked for him the past six years as head coach of the Atlanta Dream.
"My philosophy is to run fast break [offense] and play up-tempo basketball. It's been proven to work, and I coached one of the top two teams in scoring. I want to bring that exciting play offensively and then shut down some people defensively," he says.
Williams coached the Atlanta Dream team as either the head or assistant through three conference championships and three trips to the WNBA finals. Williams coached the University of Southern California women's team to a national championship in 1983 with future WNBA greats Cynthia Cooper and Cheryl Miller. He also focused on coaching other WNBA teams, such as the Charlotte Sting and the Utah Starzz.
"I enjoyed coaching [women] in my 10 years at Southern Cal, and then getting into the pro side of things," he says. "It gives you more freedom just to coach and teach every day versus college, where you have to do a lot of recruiting and making sure players are in class. You do four to six months of coaching on the court and then time on evaluating the players and the draft after that."
His primary goal with the Shock players is to help them develop "that mental toughness as a team to know that you can win, you can build something and finish. I think a lot of these young ladies have been here to build something in a short amount of time, and now it's time to take it to another level," he says.
The Shock has not fared well since relocating to Tulsa from Detroit in 2010. Over the last three seasons, the team's record has been 29-107 with no trips to the playoffs. In each of the last seven years at Detroit, the Shock made it to the playoffs, and it won the WNBA championship three times.
That record explains why Williams knows "the mental game is important, and we have to have that at the beginning. It's not easy in this league to beat anyone, but we can build our mental toughness and face our opponents by having respect without fear."
In the off-season, Williams plans to "see some of the high school games, work on some youth programs for kids in the area and make some speaking engagements to motivate the players who have a dream to be in the WNBA."
With an emphasis on reaching out to the community, Williams believes he has much to offer Tulsa that goes beyond a winning pro basketball team.
"I'm a guy who is fair, who gives a lot of energy, who really cares for the youth in the community and around the city," says Williams. "I'm a person that knows relationships take energy, and that's what I have to give to the team and to the city. I have to create my own success story in Tulsa. I've done that in Atlanta; and with day by day work by me and my team, we will make that happen [in Tulsa]."