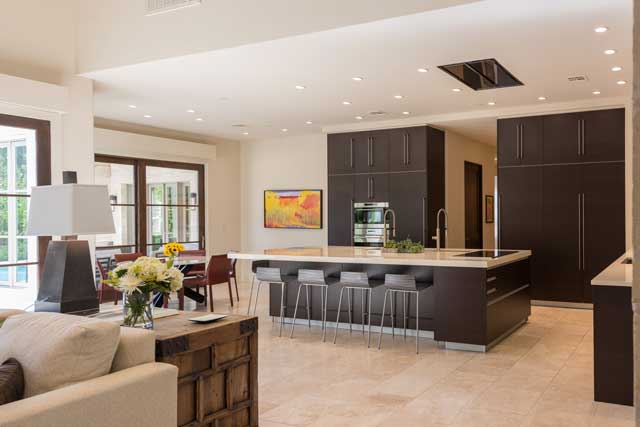 [dropcap]Carolyn[/dropcap] Fielder Nierenberg's clients for a special interior design project have had the luxury of traveling to fabulous resorts around the world. So it was no surprise when they asked her to design a family home that has all the amenities of resort-style living. The project beckoned Nierenberg to her design studio at Campbell Design Associates for two years and for another year of construction.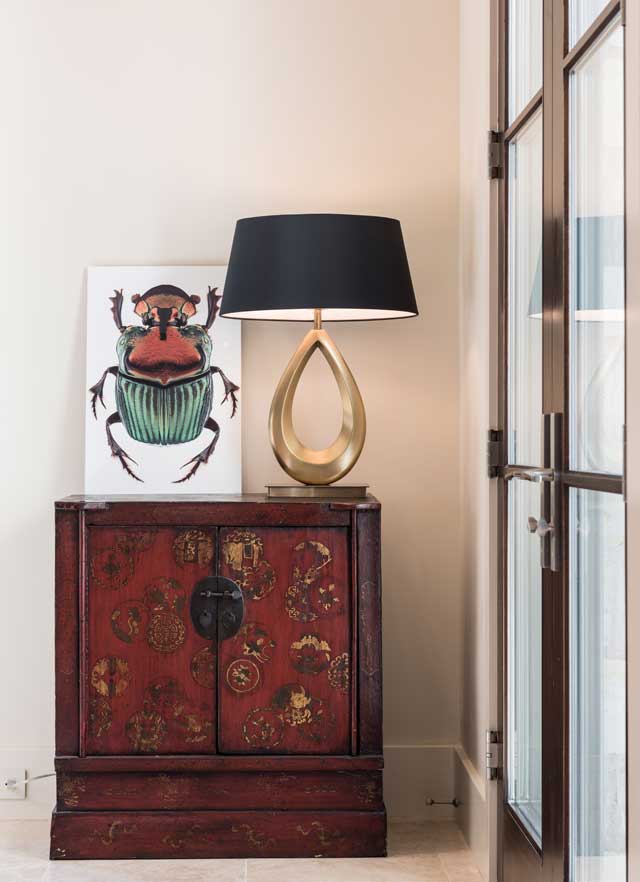 Nierenberg collaborated with architect Mark Gawey, whom the owners had asked to condense their ideas into a remarkable plan, and Scott Pohlenz, President of Pohlenz Cucine Moderne, for an incredible kitchen and bar. The result is a magnificent U-shaped contemporary home with features so glamorous this family may never visit a resort again.
This mid-town home is a place the family can enjoy for the rest of their lives. "Their taste is clean, tailored, eclectic – a nice mix of contemporary and traditional, but not overly modern," Nierenberg says.
The front of the home – a visitor's first impression – is a teaser for what guests will find inside. A gate house invites visitors into a walled outdoor front courtyard featuring a fireplace and a comfortable seating area. Scored concrete pads with sofas and chairs enhance the resort theme of the entry.
What gives the neutral palette of the home a grand personality is the surprising pops of color in the contemporary art placed to entice the eye of a visitor. The design afforded Nierenberg the opportunity to use her talents to complement the home's open floor plan. There is a continuity in the color palette in the public areas, providing flexibility for entertaining family or friends.
Rooms flow into each other logically with ease and charm, always providing an outdoor vista. Nierenberg notes there was collaboration with Clare Ashby, landscape architect, regarding the color of the scored concrete outside to achieve compatibility between indoor and outdoor flooring materials.
In the entry hall, guests see the creativity Nierenberg achieved to include the outdoors in every interior setting. Light stone travertine floors, light walls and 10-foot windows give an expansive view of the home's gardens, poolside and well-appointed screened-in porch.
Noteworthy in the entry, dining room and great room are the rustic ceiling beams, enhanced with iron straps to conceal wood seams. In the great room, small aperture windows, located near the ceiling, are accented with uplighting, providing dramatic, surprising shards of light. "At night, the up-lights provide a beautiful glow on the ceiling," Nierenberg says.
Off the breakfast area and master bedroom is a screened porch overlooking the pool. Electric screens roll down when not hidden in the beams. Three outdoor seating areas complement this setting.
The formal dining room overlooks a private garden. Furnishings and art offer splashes of paprika, green, orange and yellow. Twelve large window panes complement the furnishings, including a live-edge walnut table. Columns on either side of the windows, and the travertine floor, match the stone fireplace.
Noteworthy is Nierenberg's use of furnishings and accessories that do not disrupt a visitor's view as they enjoy her designs. Custom wool rugs in the great room and dining area are a shade darker than the floors. "I didn't want it to interrupt your eye," she says, showing a thoughtful nod to pleasing design.
"The homeowners wanted a home they could enjoy for the rest of their lives," Nierenberg says. "One of the most enjoyable things for me from this project is this family is now friends for life with me."
---
Carolyn Fielder Nierenberg
As an inspiring artist at Edison High School, Carolyn Fielder Nierenberg credits her art teacher, the late Sue Johnson, with telling her about "the hard and often impoverished life of a struggling artist."
"She suggested I might consider graphic or interior design," Nierenberg remembers. "I chose interior design, and I've loved every moment of it." She graduated from Oklahoma State University in 1972 with a bachelor's degree in housing and interior design. Since then, technology has greatly changed the design industry, she says.
The home she was involved with, featured in this issue, was definitely a favorite project for her, but she says, "My all-time favorite is usually the one I just finished because I've used new ideas and fresh concepts I haven't used before."
Nierenberg, ASID, was the first legislative chairman for the Oklahoma Chapter of the American Society of Interior Designers. From 1984 to 1988, and another decade after that, she worked to establish registration for interior designers. The Interior Design Registration Act finally passed in 2006, which was a true milestone in Nierenberg's design career.