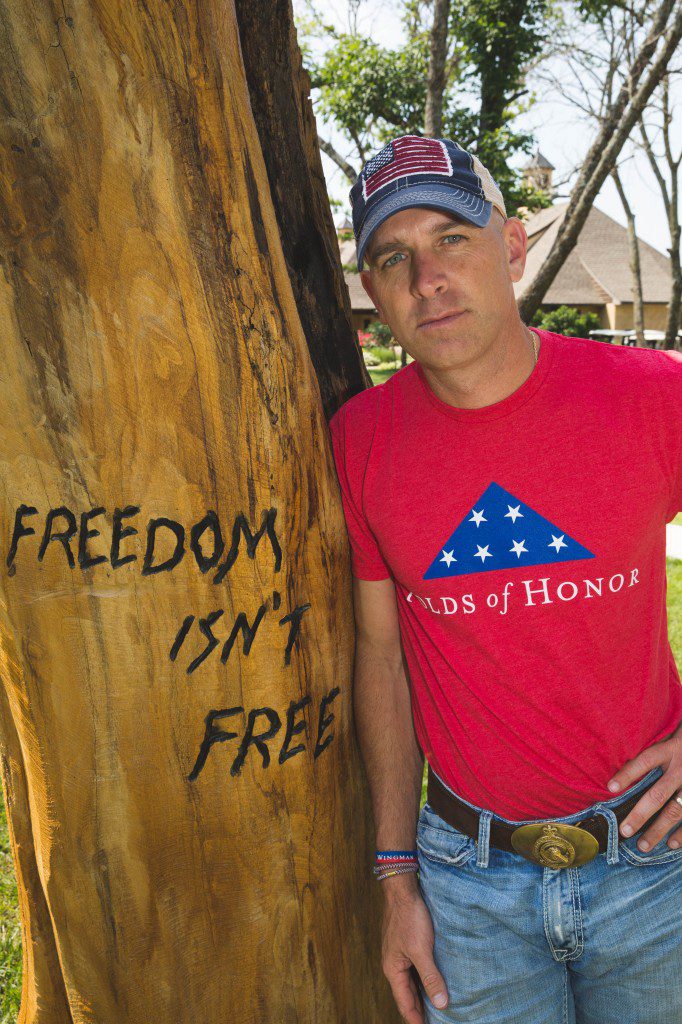 It's not every day that you see something that changes your life and the lives of others. But that's exactly what happened to retired U.S. Air Force Major Dan Rooney one day during a commercial airline flight.[pullquote]"Each day, 99 percent of our country wakes up free, courtesy of the one percent in the military," Rooney says. "We all have a duty to give back to these families impacted by the tragedies of war."[/pullquote]
Upon landing, Rooney and his fellow passengers were asked to remain seated to allow U.S. Army Col. Brad Bucklin to escort the body of his twin brother, U.S. Army Cpl. Brock Bucklin, from Iraq. Rooney watched from his window seat as the flag-draped coffin was lowered from the plane and a 4-year-old boy named Jacob waited to receive the remains of his father.
"What struck me the most was the finality and gravity of the sacrifice," Rooney says. "Watching a young child, as a parent, knowing that he will never play catch or be tucked in bed at night, struck me the most. I started Folds of Honor to help Jacob. Anyone who is in the military, killed in action or disabled, has no greater want than to have their families taken care of. We started with Jacob, and it has grown in divine ways."
Rooney, a former F-16 pilot in the Oklahoma Air National Guard who served three tours of duty in Iraq, is also a golf course owner and professional golfer. Combining his passions – golf and military service – the Owasso resident was inspired to create Folds of Honor, a nonprofit foundation providing educational scholarships and other assistance to the families of military members killed or wounded in action. It began with Jacob Bucklin; since then, the foundation has funded nearly 5,500 scholarships for the families of fallen heroes.
"Each day, 99 percent of our country wakes up free, courtesy of the one percent in the military," Rooney says. "We all have a duty to give back to these families impacted by the tragedies of war."
In addition to financial assistance, he says, "we provide emotional support to our families. We honor and remember their sacrifice."
The organization accepts donations year-round, but much of the funding for Folds of Honor is raised at events such as the Patriot Cup, a charity golf tournament, gala and concert held each Memorial Day weekend at Owasso's The Patriot Golf Club in conjunction with the Professional Golfers Association and U.S. Golf Association.
In addition to the Patriot Cup, courses around the nation host Patriot Golf Day throughout the year, usually around Labor Day, to raise funds for the foundation. Each player is asked to donate $1 for each round of golf played. This past year, more than $5 million – a record for the foundation – was raised through Patriot Golf Day events. President George W. Bush serves as the honorary chairman of Patriot Golf Day.
In addition, Rooney says, partners such as Budweiser and QuikTrip also run specials throughout the year to fund the foundation's scholarships.
Ronny Sweger, a retired U.S. Army Special Forces member, has experienced firsthand the impact Folds of Honor makes in the lives of wounded veterans and their families. Sweger joined the army at the age of 19 and served for more than 14 years before receiving multiple wounds over the course of seven tours during Operation Enduring Freedom and Operation Iraqi Freedom.
The father of 7-year-old triplets, Sweger says he can rest easier knowing his children's needs are taken care of.
"The Folds of Honor Future Use Scholarship helped provide me with great peace of mind for my children's futures," Sweger says. "It was a surprise and an honor to be recognized for my service to our country by the FHF…Being recognized by the FHF assisted in my healing, and my travels on their behalf allowed me an avenue back into the military community."
Sweger, in turn, was inspired to create his own organization benefiting veterans, the Foundation for Exceptional Warriors.
"While traveling for Folds of Honor, I recognized a need for services for special operations forces and the valorous, whether wounded or not," Sweger says. "The FEW provides recreational therapy to the underserved, quiet professionals to assist their healing and reward their unparalleled service and valor."
In February 2010, U.S. Army Sgt. Legrand Strickland faced every soldier's worst nightmare upon returning from a mission near the border of Pakistan. An improvised explosive device detonated, killing two of Strickland's comrades and leaving him with traumatic brain injury, a shattered jaw and bilateral amputations above his knees. Recovery has been a battle on its own, but he is inspired when he sees how Folds of Honor has changed the lives of his sons, who attend a Tulsa-area private school thanks to FHF scholarships.
"FHF ensures that my children both have a school that understands and cares about our family's situation," Strickland says. "They have more focus and attention on them personally by having a smaller school setting, and they have both been blessed with several friends…I have seen my boys grow in many ways."
Strickland says during his years recovering, the family's focus was on his rehabilitation. His sons didn't participate in sports. Now, they both play football, basketball and soccer – outlets teaching them focus.
"It helps maintain their grades and keeps them physically active," Strickland says. "After all of the moves and all of the struggles, having them in a school that makes them happy and thriving with the help and generosity of Folds of Honor – this is one of the biggest blessings we have ever received."
Anyone can donate to the Folds of Honor Foundation at www.foldsofhonor.org, but Sweger says that there are other ways to thank U.S. veterans.
"Never forget the sacrifices our families make that better allow our service members to go forth and defend our liberties," Sweger says.
"By saying 'thank you' to a veteran, that is kind enough," Strickland says. "But we signed up for this job and would do it over and over again. We did not give to receive; we gave to protect our freedoms and country and to serve others."