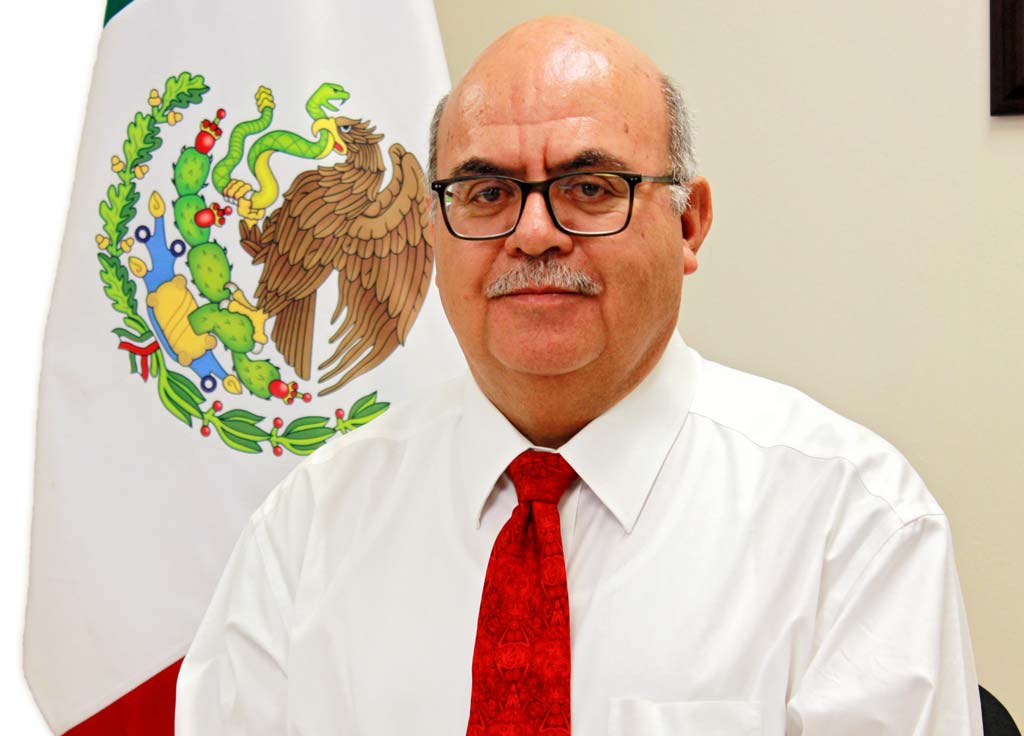 Rodolfo Quilantán-Arenas has been the Mexican consul based in Little Rock, Arkansas, since June 2016. His coverage area includes 49 counties in Oklahoma, where tens of thousands of Mexicans live and work. He has served in the Mexican foreign service for 33 years. We caught up with Quilantán-Arenas and got his thoughts on …
… immigration issues.
Thousands of minors being separated from their families at the border detention centers is a subject of great concern internally and internationally. [In late June] President Trump suspended the separation of said families. This is a good decision. We have to verify that this is … fulfilled. Nevertheless, this is an international case that has to be addressed in a collective manner, in which all the countries involved must assume their responsibilities. Immigration is an international phenomena; all the world has to pull and push and … work together, always taking into account the immigrants' rights [and] that all deportations are made in an orderly, lawful and humane manner.
… the consulate's mobile service.
This service helps the Mexican community that lives far away from the consulate in moments of anguish, preoccupation and fear, like the ones we have been living in these last two years. People don't want to travel; people are afraid of being pulled over on the highway. Many of our nationals don't have a driver's license; they don't have car insurance. This mobile program saves them time and money; if a family of four or five travels from Oklahoma City or Tulsa to Little Rock … that means gas and food expenses. The mobile consulate is an extraordinary mechanism to all the community.
… their benefits.
We can visit Mexican nationals imprisoned in Oklahoma. We can visit and give assistance to people who are in hospitals and need to be sent back to Mexico to receive the necessary attention. We cooperate with Mexican judicial authorities. We invite different health, educational or financial organizations to orient the Mexican nationals. We even have a representative [from U.S. Citizenship and Immigration Services] talk to Mexican nationals about their possibilities to gain permanent residency or citizenship.
… his impressions of Oklahoma.
All the experiences I've had in Oklahoma are excellent. Every time I go to Oklahoma City or Tulsa, it always rains, invariably. For me the rain has a very special sentiment on particular days of my personal life. For me, the rainy days are a blessing; every time I am in Oklahoma, I always feel blessed.
I've been countless times to the state capitol, to Tulsa. I love that both Tulsa's and Oklahoma City's officials are open to diversity, to immigrants, and recognize the efforts and contributions of immigrants. I was recently at the state capitol with consuls from different countries – from Guatemala (the first country to have a permanent office in Oklahoma), from Peru, Spain and Bolivia. We were celebrating Hispanic culture. It was a great party.
Following are additional responses from Rodolfo Quilantán-Arenas, the Mexican consul based in Little Rock, Arkansas, whose coverage area includes 49 counties in Oklahoma.
… an Oklahoma consulate.
One of the first things that community, Hispanic Chamber of Commerce, intellectual and worship leaders ask for is a Mexican consulate in Oklahoma [to serve] the community of [thousands of] Mexican nationals in the state. In a meeting with Gov. Mary Fallin, we talked about the educational, cultural and economic relationship between Oklahoma and Mexico. She asked if I could [officially ask for a Mexican consulate in Oklahoma and] I transmitted that petition to the Mexican Ministry of Foreign Affairs. I believe that soon the Mexican government will authorize a consular office in Oklahoma. We also received invitations from David Lopez, then [Oklahoma's] secretary of state; another one came from Mick Cornett, then the Oklahoma City mayor. A recent one came from [U.S. Rep.] Steve Russell [of Bartlesville]. Once new officials take office Dec. 1, probably we will have more information on this matter.
… his time in the United States.
I have lived in the United States around 20 years. I arrived to study law at the University of New Mexico in Albuquerque, where I was stationed for two years. After that, I moved to the Mexican consulate in Los Angeles, where I was stationed for five years. After that, I was sent to the Mexican embassy in Washington for another five years; I was the legal adviser and served three different ambassadors. I was sent to Mexico City and Guayaquil, Ecuador, before being sent to Brownsville, Texas, in 2010, where I served as head of the post for six years.
… the length of his Little Rock tenure.
We do not have a limited time to be in a certain position; normally the time frame is between two to four years, but this can change. In my last adscription in Brownsville, Texas, I remained as head consul for six years.
… years of immigration tensions.
The five years I remained in Los Angeles was an extraordinary experience. In those years, California was governed by Pete Wilson, who proposed … Proposition 187, which was the first state law … aimed towards the education and health of undocumented persons. It also proposed to remove the U.S. nationality to all the children of undocumented persons … born in the U.S., and this law was passed by California's electorate. This law was never enforced because there was an injunction filed against it.
The Mexican government supported many of the civil-rights associations that were against … Proposition 187, particularly the … American Civil Liberties Union; there were other civil-rights associations – the League of United Latin American Citizens, the Coalition for Humane Immigrant Rights of Los Angeles, the Mexican American Legal Defense and Education Fund – that were against this law.
The effects of this were very harmful to the Hispanic rights in the rest of the United States; California's example was then followed by Arizona. At the federal level, we've seen how the anti-immigrant, anti-Mexican climate has been growing in the United States. The work we realized in Los Angles was really extraordinary; I lived with a lot of tension, a lot of apprehension, a lot of fear, with immense anguish, and the work that the consulate of Mexico in Los Angeles, the largest consulate we have in the U.S., was truly amazing.
There was also … an earthquake in Northridge when we were there. The consulate had … to identify all the Mexicans affected by this and offer them assistance and support immediately.
After that, in Brownsville, where the protection efforts are great, working at the border is very challenging. All the Mexican consulates located at the border work jointly with the local authorities, particularly with the border patrol and Immigration and Customs Enforcement, and the purpose of this is to offer immediate assistance to all the Mexican nationals that are detained.
There are many cases in which Mexican nationals get hurt by trying to cross the Rio Grande or trying to get over the wall. There are a lot of Mexican nationals, when they get to the top of the wall, don't know how to get down; they fall and suffer serious injuries. Because of that, the Mexican consulate has to work with local authorities to bring the person back into Mexico so they can have the proper medical attention in an orderly and humane way.
In Brownsville, in 2014, there was a crisis never seen before anywhere in the world, when hundreds of Central American families arrived at the border, especially … Texas, and they turned themselves into the American authorities seeking asylum – all of these people escaping from violence, from gang wars, from the poverty of their countries. They arrived in gigantic quantities; this incident had international notoriety.
Officers of the United Nations, United States, Mexico and Central America came to see this contingency; our chancellor came twice. The work we had to do there in Brownsville and in McAllen was to visit the detention centers and try to identify if there were any Mexican families or Mexican children, something like what we are seeing today. We visited daily the detention centers. The Mexican consulate of Brownsville was in charge of visiting three detention centers. I have never in my life seen an overcrowding like the one I saw in that place. It was unbelievable. Fortunately, that situation decreased gradually.
… other politically charged issues.
I have seen in Los Angeles and in Brownsville … cases related to protection and assistance to Mexican nationals in cases of death penalty and excessive use of force by authorities. Several states of the U.S. started executing Mexican nationals since the 1990s. Mexico does not recognize the death penalty; we consider it a cruel and inhumane punishment, and, since the moment the executions began, the Mexican government deployed a strategy to defend the Mexican national's rights and try that the warranties of due process of law and of equal protection of law that are consigned in the U.S.