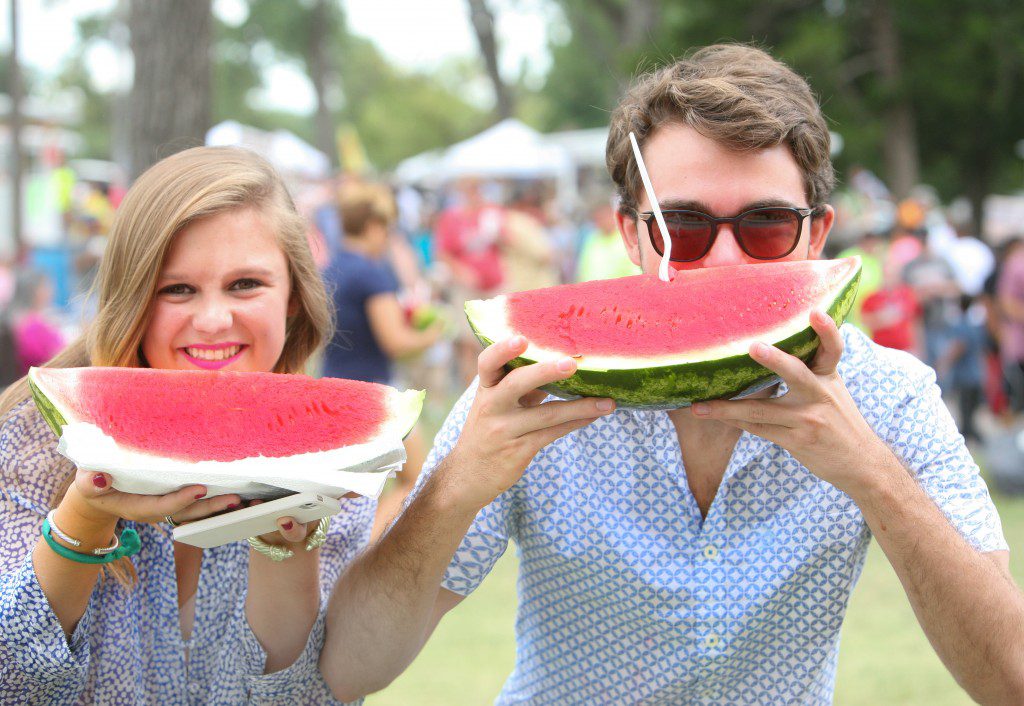 Saturday, August 8 –
A town of about 1,500 people, Rush Springs estimates 30,000 festivalgoers to attend this year's Watermelon Festival, says Joe Dorman, former gubernatorial candidate and the festival's chairman. People arrive in Rush Springs for the annual event from all over the state, nation and world.
"We have regulars that come back from Asia and Europe to visit," he says. "It's just amazing to see so many people come back together for this event."
A tradition that dates back to 1948, the festival's allure has not faltered: These light, sweet, refreshing and juicy slices can't be beat, especially in the heat of summer.
This year, residents and visitors will get their fix on Saturday, Aug. 8, at Jeff Davis Park, with festivities leading up to the main event kicking off Thursday.
The annual Rush Springs Rodeo brings some of the state's best animals and riders to Rusty Acres Arena on Thursday and Friday. Both nights, the festival's carnival draws a crowd, also operating all day Saturday. Starting at 5 p.m. on Friday, a parade will make its way through downtown Rush Springs, kicking off the annual affair.
With free admission into the festival, slices – about a fourth of a watermelon – are sold for only a dollar. And if there's anything left around 4 p.m., they'll start handing slices out for free.
"[The festival] doesn't cost a penny if you don't want to spend any money," says Dorman. "You can get away without spending a dime and still have a wonderful time."
Money that is raised during the festival goes towards the Rush Springs Alliance, which is then spread out to accommodate community needs. The 5K run, which takes place on Saturday, is spearheaded by All Sports Association, which keeps all the proceeds.
Other activities include a Watermelon Queen coronation, an arts and craft fair featuring more than 100 vendors, a classic car and motorcycle show, live entertainment throughout the day, local food vendors and more. And like every year, there will be a contest to unearth the largest melon.
"[The melons] are broken down into size or best melon," Dorman says.
So, only two questions remain: Will the winner of largest melon beat the record of 214 pounds that weighed in three years ago? And, will this year beat the 50,000 pounds of watermelons served to festival-goers in years past?