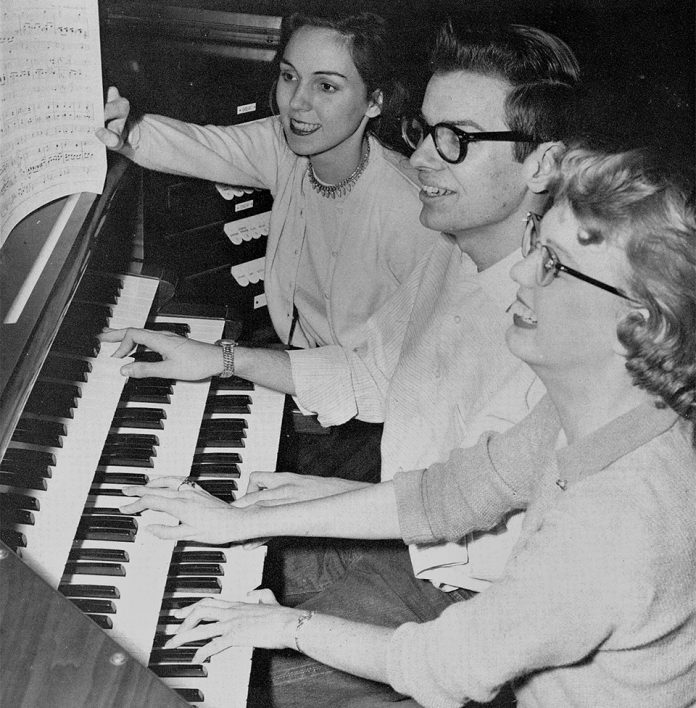 If you're reading this anytime after Feb. 9, then you know – or can easily find out – whether Sir Elton John paid a visit to Will Rogers High School while he was in town for his concert at Tulsa's BOK Center that same day.
Why would a rock music megastar want to take the time to drop by a local high school? In this instance, the reason involves Rogers graduate and fellow rocker Leon Russell, a man whom Sir Elton called, via Instagram, "a mentor [and an] inspiration" following Leon's 2016 death. A few years earlier, the two had rekindled a performing relationship that had begun in the early 1970s, yielding – this time around – a best-selling album, 2010's The Union, and a well-received tour.
And it's not just that Leon is a Rogers alumnus. It's also that the Will Rogers High School Community Foundation completely refurbished the 1938 Baldwin grand piano that he played as a student and decided to celebrate that restoration with a 2 p.m. Feb. 9 concert highlighting Leon and his music.
Richard B. Risk Jr., Leon's fellow graduate from the Rogers class of 1959, as well as the event's producer, wrote the official letter inviting Sir Elton to the show and took pains to make sure it was hand-delivered to the star himself. In it, Risk outlined a possible day trip that would cover a couple of other points of interest in Leon Russell's hometown and stressed that none of it would interfere with the 8 p.m. BOK Center show.
"Since we have our concert at 2 in the afternoon, there would be plenty of time for him to stop at Church Studio [Leon's former recording headquarters] and see what's happening there, and also to swing by Memorial Park and see the monument for Leon that he contributed $5,000 to help build," Risk says. "And then, I'm hoping he can make a cameo at our event."
Risk, the foundation's founder, past president and adviser, has been down this road before, and so has Rogers' principal, Nikki Dennis. As Risk says, "In 2016, maybe late 2015, Nikki and I were talking, and she said, 'You know, we're a closed campus. People can't come in and see this building on many occasions – only when we have tours. And it's such a beautiful building.'
"It is, too – built during the Great Depression, with about half the money coming from WPA funds. So I said, 'Well, why don't we have an event, a concert in the auditorium?' I'm familiar with the auditorium because I was on the stage crew when I was in high school, and in my senior year I was student superintendent."
It sounded like a good idea to both of them, so Risk ended up booking the Kingston Trio, a favorite act from his student days at Oklahoma State University, for a concert there. The long-lived folk music group played Feb. 16, 2016, a date, like the one for the Leon Russell concert, that wasn't picked randomly.
"We hoped to tie it to a Feb. 14 show by Arlo Guthrie at the Brady," he says, "because the Kingston Trio had helped familiarize a new generation about Woody Guthrie with their recording of 'This Land Is Your Land' [on the 1961 Goin' Places album, which sold in excess of 500,000 copies]."
Risk contacted Guthrie's people, but he was turned down, ostensibly because of travel issues. Even without a Guthrie cameo, however, the concert earned a significant amount of money for the foundation, which, Risk notes, "has given, I'm told, a half-million dollars to the school from contributions and fundraising."
He hopes the Leon Russell tribute show sees similar success – with or without an appearance from Elton John. To that end, he's enlisted the help of a number of musicians and others familiar with the Russell legacy, including Teresa Knox, the new owner of the Church Studio and a tireless booster of Tulsa's music and musicians.
"We used to say, 'Sing, Russell, sing!' and he'd say, 'I can't sing!'
And he was right!"
"I respect her judgment," Risk says. "She knows all the music, she knows all the people, and she's taken the ball and is running with it. She's put together the ensemble that's playing the concert."
At this writing, the group includes the well-known Tulsa-based musician, vocalist and band leader Paul Benjaman, who has enlisted two members of Leon's later group – drummer Brandon Holder and guitarist Beau Charron – as well as veteran bassist Alan Ransom. Vocalist Ann Bell, a linchpin of the '70s Tulsa Sound who toured with Russell for several years, is also on the bill. (In the interest of full disclosure, I've been asked to emcee the event.)
Two other musicians expected to perform are saxophonist Johnny Williams and drummer David Teegarden, both of whom have long-standing ties to Leon Russell. Williams and Russell are both pictured in one of the most iconic photos from Tulsa's early rock 'n' roll days, a 1959 shot of a group called the Starlighters onstage at the Tropicana Club, a long-gone local watering hole.
Teegarden, a bit younger than Russell and Williams, was one of many musicians who stayed at Leon's California home for a time during the 1960s exodus of Tulsa players to the West Coast. In 1970, after Leon assembled the Mad Dogs and Englishmen tour with vocalist Joe Cocker, Teegarden and his musical partner, Skip "Van Winkle" Knape, joined the group onstage in Detroit, where the two Tulsans were then based. Teegarden has said that Mad Dogs and Englishmen inspired Teegarden and Van Winkle's biggest hit record, "God, Love and Rock & Roll."
"Russell would come in over his lunch hour and roll back the cover," Risk says. "We kept the thing in a little closet backstage, stage left, and he would roll that back and play, and students would gather around.Like many of the musicians, Risk goes back many years with Leon Russell – to the days at Rogers when he was known by his real name, Russell Bridges. (When Risk refers to him as "Russell," it's a reference to his first name, not a surname.) And even though he says he didn't know Russell Bridges particularly well, he remembers a few details involving the future rock star, including a trip with about a dozen other students to toilet-paper his Latin teacher's house and, as you might imagine, Russell's regular noontime workouts on the 1938 Baldwin.
"One time one of my classmates, Fred Beasley, told a joke about Russell. He said, 'We used to say, "Sing, Russell, sing!" And he'd say, "I can't sing!" And he was right!'"
With Leon Russell gone, that classic piano – restored, according to Risk, at a cost of some $25,000 – stands as a living testament to Russell's musical beginnings, representing the early stirrings of a prodigious talent that would take Russell Bridges' assumed name to worldwide stardom. It only seems right that the dedication, and the concert itself, should be preserved for the ages – and that's what's planned. Risk says that OSU personnel, including commercial television veteran Max Andrews and noted photographer Kelly Kerr, are to be on hand to record the show and dedication.
The Will Rogers High School Community Foundation is underwriter of the event, with Knox and the Church Studio lending major support. For more information, visit leonrussell.yapsody.com.