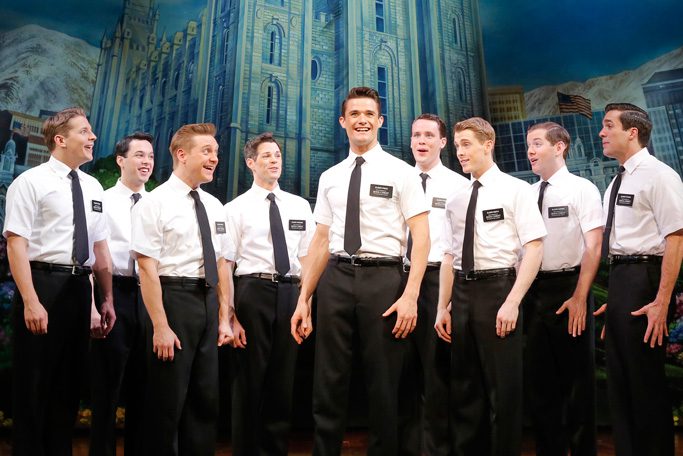 Opens Tuesday, Dec. 30
Satire and musical theater create Tony Award-winning entertainment in the Broadway hit play The Book of Mormon, opening Tuesday, Dec. 30, at Oklahoma City Civic Center Music Hall.
About a pair of young missionaries sent to a small, rural village in Uganda on a mission for the Mormon church, The Book of Mormon, which debuted on Broadway in 2011, has amused, perplexed and even provoked. The play was created by Trey Parker and Matt Stone of television's South Park with Robert Lopez, the co-composer and co-lyricist of another Broadway hit, Avenue Q.
If Parker and Stone are less acquainted with live theater, they're old hat at blasting political correctness, and The Book of Mormon takes plenty of opportunities to do just that. Devout young men Elder Kevin Price and Elder Arnold Cunningham are sent to Uganda to fulfill a two-year mission – mandatory for those of the Mormon faith. Straight off the plane, the naïve and upbeat pair run into members of a local militia headed by a warlord. In their assigned village, they meet the residents, whose lives are constantly under threat of punishment and death. While the people of their temporary home deal with excruciating poverty, famine, disease and war, the awkward missionaries optimistically strike out to convert locals but soon encounter inner conflict in the harsh new setting.
Although the play has had its criticisms for its depiction of the villagers as one-note, uncomplicated souls facing daily horrors with bravery, The Book of Mormon has largely been hailed. It won nine Tony Awards, including the one for Best Musical, as well as top honors from the Drama Desk Awards and the Laurence Olivier Award.
The play went through a long development period as the South Park pals, who have explored religion and Mormonism through their long-running Comedy Central animated show, developed it with Lopez. To be sure, The Book of Mormon looks at the very real atrocities many people in the world know too well, but not every satire or musical is as adept at highlighting the irony of those who try to heal the world without understanding its underpinnings or even their own problems.
The Book of Mormon opens at 7:30 p.m. in the Thelma Gaylord Performing Arts Theatre of the downtown Oklahoma City music hall, 201 N. Walker Ave. The play runs daily through Jan. 4 with matinee performances scheduled over the weekend. Tickets to The Book of Mormon are $35-$85, available at www.myticketoffice.com.