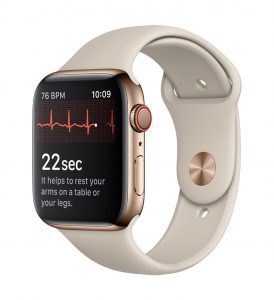 The younger that people may be, the more likely we are to witness them posting selfies on Snapchat, sharing their latest meals on Instagram or issuing demands to Alexa that would make a dictator blush – or so many of us believe.
In truth, mobile technology and social media have opened as many frontiers for older adults (if not more) as they have for generations that have grown up in the thick of the digital age.
"We have certainly noticed more and more of our senior residents embracing social media – and technology in general – over recent years," says Sonya Pratt, programs director for Senior Star at Burgundy Place in Tulsa. "It has been inspiring to see so many of them keeping up with what can be an intimidating technological world."
Seniors have adopted many social media apps and other mobile technology at an astounding rate, with Facebook being one of the most popular social media platforms for older adults.
"The majority of residents use Facebook to receive updates, to stay connected to family and friends and to get news," says Jana Decker, director of wellness at Inverness Village in Tulsa. "They also enjoy the benefits of Apple watches and Fitbits to help them manage their activity and nutrition. Texting seems to be the preferred method of communication from grandchildren, so residents have quickly picked up the skill."
Decker says WhatsApp is popular for residents who regularly communicate with loved ones out of the country.
Pratt has similar observations.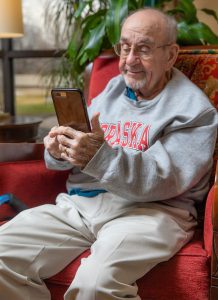 "We have many active Facebook users, and many of our residents send regular text messages," she says. "We have enjoyed introducing fun filters to our residents via Snapchat. They get a kick out of seeing the latest wacky filter and seem to best like the ones where facial gestures, such as raising your eyebrows, trigger another effect."
Pratt says artificial intelligence, such as Amazon's popular Alexa, is highly used by residents in places like Senior Star.
"We really love introducing our residents to Alexa and other AIs, like Siri and Bixby," she says. "Our residents can ask, 'Alexa, ask My Community what the activities are today,' and Alexa will read them the daily schedule. We have residents who have low vision and being able to say, 'Alexa, play my book,' has let them continue to enjoy the latest novel by their favorite author."
Senior Star holds a weekly class for mobile phones and iPads, while Inverness Village regularly invites students from local schools to tutor residents in all types of technology. Both acknowledge that there are challenges to overcome, including unintuitive digital interfaces, financial restrictions and physical limitations, such as poor eyesight or limited hand mobility. However, determination goes a long way toward mitigating these factors, Pratt says.
"Technology evolves at such a rapid pace that it can be difficult for many people to keep up," she says. "It can sometimes be more frustrating for seniors, in particular, to try to keep up with this ever-changing digital world. One thing that helps is that the same generation that may be least likely to embrace technology overall is also the generation that has proven themselves to be committed and determined to succeed."
She adds that patience is key.
"If you are considering introducing a senior in your life to technology such as smartphones or iPads, please do your loved one the ultimate favor and take the time to patiently teach them how to use it," Pratt says. "They make wonderful gifts and are such a wonderful way to stay connected, but one has to be comfortable with the new device, app, et cetera, in order to get the most out of it.
"Other generations often forget that they have been exposed to the technology while it has evolved; therefore, mastering the latest technology has really been a long journey they could take step by step. You want to make sure that the gift you give your senior is something to be enjoyed and not a source of frustration. There is so much to see and share out there, and it should be a positive experience."
The benefits for older adults are definitely worth the time spent by them and their loved ones.
"Wearables adoption is growing, and we will see it continue to grow in the 65-plus population," Decker says. "Fitbits and Apple watches have obvious benefits for improving general health and fitness, but are making their way as tools used for tele-health. Wearables provide real-time information, increase the wearer's awareness and promote engagement toward desired health outcomes for the user."
Despite the belief that technology and social media can have negative impacts on many people's mental health, both Decker and Pratt believe the opposite is often true for older adults.
"Social media has, of course, enabled people to stay connected from near or afar," Pratt says. "Older adults have loved the convenience of keeping up with the lives of their faraway grandchildren and great-grandchildren. Additionally, for many seniors, taking on the task of learning how to use a new app or navigate a social media website is a fun way to keep their brains engaged."
Decker adds: "The connections we make through friendships and relationships help us achieve a level of well-being that is so powerful, it can enhance our outlook on life, better how we cope with difficult situations and even improve the way we age. Positive friendships and relationships play a significant role in the quality of life of seniors, as isolation and depression tend to be prevalent among older adults. Using social media platforms allows everyone, no matter their age, to maintain those connections despite their geography.
"With the emergence of technology, we can now connect with friends and family instantly. Barriers such as location and ability to access family are becoming a thing of the past. Using computers, smartphones and social media helps people of all ages maintain close connections that are vital to our health. In fact, creating and renewing personal connections are a big draw to social media for older adults. They also get the benefits of increased intergenerational connections, engagement and personal growth."