All signs point to vacations closer to home this summer. Oklahoma and its neighboring states offer scenic beauty, culture, history and even some quirky attractions just a few mini-van hours away. We explore some high points in Arkansas, Missouri, Texas and Kansas, as well as gems along Route 66 and some tourist spots to hit right here at home.
By Kimberly Burk and Mary Willa Allen
Highlights Along the Mother Road
One of Oklahoma's crown jewels is its stretch of Route 66, and there are plenty of pitstops to visit as you cruise.
The Oklahoma Route 66 Museum in Clinton offers a personal journey through the history of the nation's revered highway. Experience the Dust Bowl as thousands streamed along the road, away from drought and despair and toward the "land of promise."
Lucille's Service Station near Hydro is one of only two upper-story, out-thrust porch-style stations left on Oklahoma's stretch of Route 66. The station is no longer in operation, but visitors are welcome to stop for a photo. Lucille's Roadhouse in Weatherford was inspired by the service station.
Pops restaurant and gas station in Arcadia is marked by a giant neon sign in the shape of a soda bottle. The glass walls are decorated with bottles of soda in hundreds of delicious and colorful flavors.
Right down the road from Pops, the Arcadia Round Barn was built by a farmer in 1898 and restored in the 1980s as a museum and event venue. The ceiling of the loft is an architectural gem.
The Seaba Station Motorcycle Museum in Warwick is housed in a restored 1924 gas station. The gift shop features vintage toys in their original packaging.
Will Rogers is memorialized in Claremore, on the hilltop acreage he and his wife had purchased for an eventual retirement home. The Will Rogers Memorial Museum houses the world's largest collection of his memorabilia and his entire collection of writings.
The Blue Whale in Catoosa was built by a zoologist as a family gathering spot. It's now open to the public, and a wooden walkway takes visitors through the belly of the 80-foot concrete whale that rests on the edge of a pond. – KB
Virtual Travel
Tourist attractions across the state and nation are scheduled to re-open this summer, with many embracing enhanced hygiene protocol and social distancing guidelines. But if you are feeling hesitant about a summer 2020 road trip, check out what the magic of technology can offer the armchair traveler.
Go to the Grand Canyon National Park website, for example, and scroll down to "video series." The eight-episode "Grand Canyon in Depth" is a feast for the eyes and the ears, and there's lots to learn on these virtual tours. Episode 4, "Night Sky," opens with astronomer Tyler Nordgren sitting beside a campfire, playing soothing music on his acoustic guitar and talking about the stars as they appear in the skies above the canyon.
Much of the Smithsonian's collection is online, and the website invites visitors to take virtual tours of everything from art to zoology.
The Oklahoma Museums Association website offers an extensive and growing list of member museums with virtual tours and online programming, including the Oklahoma City Museum of Art, Philbrook and Gilcrease.
And you can do an online search by adding the words "virtual tour" to just about any world-class attraction – from Machu Picchu and the Great Wall of China to the Louvre and the Empire State Building – and something delightful will pop up.
Nature lovers can check out the ape cam on the San Diego Zoo website, or virtual dives from National Marine Sanctuaries at noaa.gov.
– KB
Tourism In Your Own Town
Perhaps you're on a budget or don't feel like traveling out of state. Not to worry – there are a bevy of ways to rediscover Oklahoma's two main metros … and boost the local economy in the meantime.
Consider the last time you spent an afternoon at a museum or art gallery. Tulsa offers a variety of choices – from the sprawling florals of the Philbrook gardens to the stunning art of the American West housed at Gilcrease Museum. Support smaller creative spaces like Living Arts, ahha Tulsa and 108 Contemporary. In Oklahoma City, browse one of many eclectic exhibitions at the OKC Museum of Art, or channel your inner cattleman at the National Cowboy and Western Heritage Museum. Smaller – but no less remarkable – highlights include DNA Galleries, JRB Art at the Elms and Paseo Gallery One. Ensure the galleries are open for visitors before making the trek.
June is a big month for warm weather sports. Barring any pandemic cancellations, Tulsa offers Drillers' baseball and OKC welcomes Dodgers' baseball and OKC Energy soccer. Visit milb.com and energyfc.com for tickets and times.
The duo of cities has several distinct districts to amble down for shopping, entertainment and great eats. Not sure where to start? For a breakdown, check out the in-depth feature we did in the April issue of Oklahoma Magazine.
Search out new breweries and watering holes popping up in your area. Peruse, sample and enjoy a wide selection of locally made goodies at these indoor and outdoor hang-outs.
Lastly, stop by some 'tourist traps' your city is known for, perhaps ones that you haven't visited in awhile … or ever. In Tulsa, those include the Woody Guthrie Center; the Center of the Universe; Tulsa Botanic Gardens; Guthrie Green and the Tulsa Zoo. In OKC, try Myriad Botanical Gardens; the Oklahoma City National Memorial and Museum; the Oklahoma History Center; and the OKC Zoo. Who knows – maybe you'll learn something new about this great state along the way.
-MWA
Lake Living
One of Oklahoma's largest draws in the summer months? The ample lakes on which to spend your days. Here's a short breakdown.
Broken Bow Lake – Located on Mountain Fork River in McCurtain County, Broken Bow Lake is known for its clear water, fishing, kayaking, canoeing and river rafting.
Grand Lake O' The Cherokees – Perhaps Oklahoma's crown jewel, Grand Lake is nestled in the foothills of the Ozarks Mountains in Grove. Enjoy over 1,300 miles of shoreline and ample resorts and restaurants.
Lake Eufaula – Southeastern Oklahoma's hottest summer destination boasts 600 miles of shoreline. Boat, ski and wakeboard rentals abound.
Lake Texoma – Situated on the Red River on the border of Texas and Oklahoma, Lake Texoma offers just about everything for the warm weather lover: resorts, cabin rentals, cruises, camping, hiking and biking.
Lake Thunderbird – With two beaches, plenty of RV sites and a great deal of water activities, this gem in Norman is ideal for summer fun.
Skiatook Lake – This reservoir just 18 miles from Tulsa is a hotbed for fishing fanatics; potential catches include largemouth bass, walleye, black and white crappie and channel catfish.
Tenkiller Ferry Lake – Created by the damming of the Illinois River, Tenkiller in Cherokee and Sequoyah counties offers scuba diving, floats, hiking, fishing and boating.
– MWA
---
Arkansas
Little Rock
Situated on the Arkansas River banks, Little Rock's downtown is anchored by the Robinson Center Performance Hall and the William Jefferson Clinton Presidential Center and Park.
Downtown encompasses the River Market District with its live music, art galleries, public sculptures and the Witt Stephens Jr. Central Arkansas Nature Center. The nature center focuses on the state's fish and wildlife resources; water turtles, butterflies and migrating pelicans are common sights. A portion of the Arkansas River Trail crosses the site.
Also in the River Market District is the Museum of Discovery, designed to fuel a passion for science, technology, engineering, art and math. For the more curious kids, the Amazing You gallery teaches all about guts, bones, skin and blood.
Crater of Diamonds, Murfreesboro
Search for diamonds in their original volcanic source at this destination just an hour and a half northeast of Little Rock. Any rock or mineral you discover is yours to keep; finds include amethyst, garnet, jasper, agate and quartz.
Maxwell Blade's Theatre of Magic and Comedy, Hot Springs
After a young Maxwell Blade discovered magic, he borrowed every library book he could find. After high school, he toured with rock bands, and in 1991, he merged music and magic. His multi-layered symphony of music, comedy and illusions mesmerizes audiences at the Malco Theatre.

Fayetteville
Surrounded by mountains, Fayetteville is home to the University of Arkansas – but it's much more than just a college town. The eclectic community offers live music, diverse dining and boutique shopping.
The Botanical Garden of the Ozarks features 12 themed areas that teach visitors about gardening in northwest Arkansas and provides inspiration for at-home horticulture. The Butterfly Garden is a certified Monarch Waystation.
Prairie Grove Battlefield State Park commemorates the Battle of Prairie Grove, where, on Dec. 7, 1862, Confederate and Union forces clashed in a fierce day of fighting with 2,700 casualties. The museum has artifacts recovered from the battle.
---
Kansas
Started as a trading post on the banks of the Arkansas River, Wichita owes its growth to the aviation, cattle, grain and oil industries. Aviation companies Cessna and Learjet got their starts here, earning the region the nickname "Air Capital of the World."
The Sedgwick County Zoo is home to 3,000 animals of nearly 400 species. Exhibits are designed so guests are immersed in the animal's world for an empathetic and thrilling learning experience. The zoo is known for its breeding of rare and endangered species.
At the Museum of World Treasures, explore the bones of long-lost creatures, marvel at civilizations and enter the battlefields of the world wars.
Located in the downtown Museums on the River district, Exploration Place features a dome theater, a planetarium, an exploration park and outdoor venues such as a wetlands habitat.
Lawrence
Photography is encouraged at Grinter's Sunflower Farm. The peak time for the flowers usually is late August or early September.
Massachusetts Street, the main road through downtown Lawrence, was named by the town's founders, most of whom were from Massachusetts. It's the focal point of uniquely Lawrence dining, shopping, entertainment and a fiery pre-Civil War history.
The Spencer Museum of Art spans the history of European and American art from ancient to contemporary. Other highlights include Japanese Edo-period painting and prints, along with 20th-century Chinese painting.
World's Largest Collection of the World's Smallest Versions of the World's Largest Things, Lucas
Erika Nelson, creator of this creatively named collection, travels the country photographing giant things – such as the world's largest ketchup bottle. She then creates miniature replicas. Kitschy and entertaining, it's a great pitstop and item to check off your bucket list.
Coronado Heights,
Smoky View
Coronado Heights is a hill northwest of Lindsborg, where it is believed Francisco Vasquez de Coronado viewed the prairie from 300 feet above the valley floor. Chain mail from Spanish armor was found in the area in 1915. Native Dakota sandstone was used to build a castle and picnic areas in 1936 as a project of the Works Progress Administration.

---
Missouri
Branson
Before Branson was world-famous for music shows, it was known for the novel The Shepherd of the Hills, written in 1907 and inspired by the people of the Ozark Mountains. The story is shared in Branson as an outdoor theater production.
The city's shows cover just about every genre of music, but shopping and outdoor recreation also draw millions of visitors every year.
Big Cedar Lodge is an award-winning resort with world-class restaurants, a spa and an activity center. Silver Dollar City, a theme park built on top of a cave, offers scream-inducing roller coaster rides, live entertainment and a look back into the 19th-century culture of the region, with wood carvers, potters, glassblowers, candy makers and a blacksmith demonstrating their skills. At Christmas time, the park is illuminated with more than 6.5 million lights.
Branson's outdoor activities are vast and include hiking, horseback riding, water skiing, boating, parasailing, fishing, ziplining, golf and chartered helicopter rides.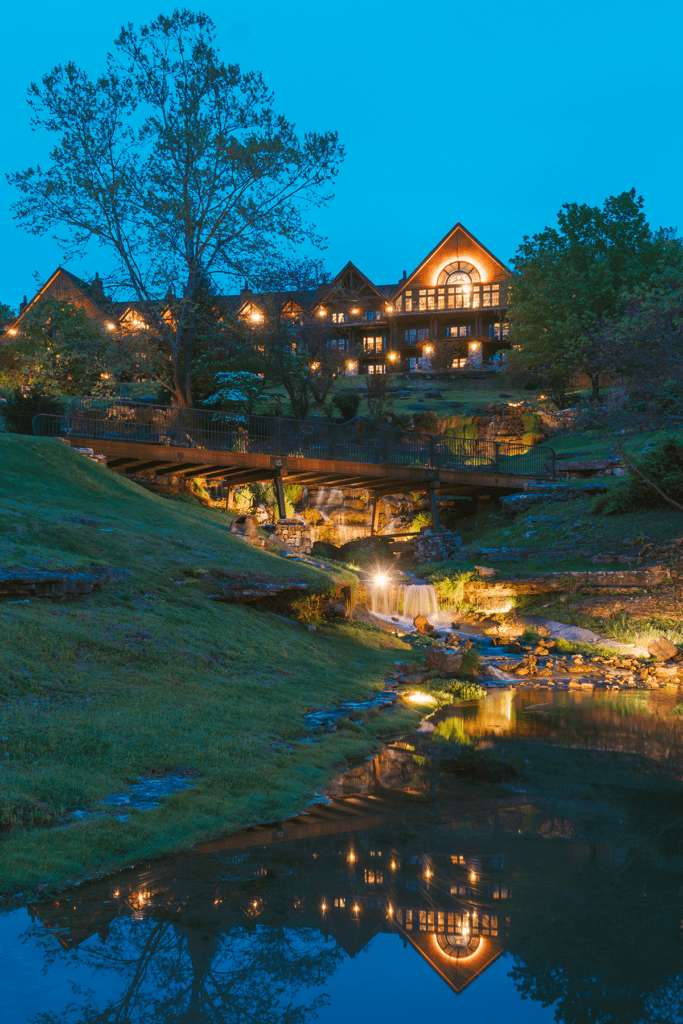 Springfield
Fantastic Caverns was discovered in 1862 by a farmer's dog, which crawled through a small entrance in a hillside. Five years later, 12 women answering a newspaper ad seeking explorers ventured inside. Tours are in Jeep-drawn trams.
The Wonders of Wildlife National Museum and Aquarium features taxidermied animals displayed in dioramas. The 1.5-million-gallon aquarium showcases 35,000 fish, amphibians, reptiles, birds and mammals.
Wilson's Creek National Battlefield is the site of the first major Civil War battle fought west of the Mississippi River. The Southern victory on Aug. 10, 1861, focused national attention on the war in Missouri.
Devil's Icebox, Columbia
In the middle of the Rock Bridge Memorial State Park just south of Columbia, the Devil's Icebox is an above- and below-ground landscape connected by wooden bridges and pathways. It stays 56 degrees all year long.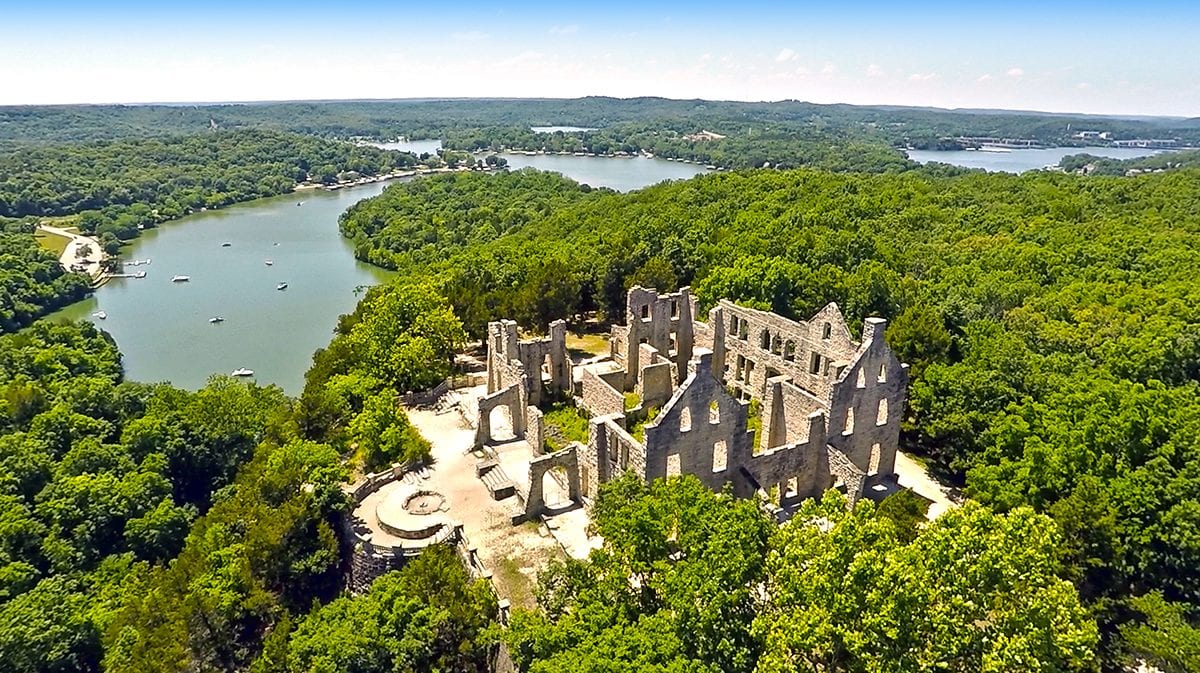 Ha Ha Tonka State Park, Camdenton
Sitting on a bluff in the Ha Ha Tonka State Park are the ruins of a mansion. Businessman Robert Snyder, who wanted to build a European-style castle in his beloved Missouri, began work in 1905; in 1906, he was killed in one of Missouri's first car accidents. His sons completed the castle in 1920. The building was a hotel and lodge until 1942, when it was destroyed by fire.

---
TEXAS
Dallas
From free activities with the kids to a night out on the town, Dallas has everything, from classics such as the Perot Museum of Nature and Science to new experiences in the Design District.
The 66-acre Dallas Arboretum and Botanical Garden is home to the Rory Meyers Children's Adventure Garden. The garden features 17 indoor and outdoor galleries, 150 interactive science games, the Incredible Edible Garden and water features throughout. The Omni Outlook offers a trip around the globe.
The goal of the Sixth Floor Museum is to recount, as accurately as possible, the history of the assassination of President John F. Kennedy and identify the major areas of controversy as well as recent developments. – KB
Amarillo
At the Cadillac Ranch, 10 Cadillacs are half-buried in a field, facing west. Spray-painted graffiti is encouraged.
Twenty-five miles from downtown Amarillo is Palo Duro Canyon, formed by millions of years of water and wind erosion. The state park offers picnic tables, hiking and biking trails, tent and motor home camping and horseback riding.
At the Panhandle-Plains Historical Museum in nearby Canyon, view paintings that depict the heart of Texas and treasures from the Taos and Santa Fe schools of art. Learn about the ancient past in the paleontology, geology and archeology areas and explore regional history in a petroleum exhibit.
The Hamilton Pool Preserve, Dripping Springs
The Hamilton is a unique natural area with a 50-foot waterfall and collapsed grotto. Lush wildlife and natural shelter attracted the first inhabitants more than 8,000 years ago.
Marfa Lights, Marfa
The Marfa Lights draw visitors from across the globe for a chance to see these unexplained phenomena. The seemingly sourceless lights dance on the horizon southeast of town.