When
Malik "Shake" Milton left Southern Methodist University for the NBA after his junior year, the Owasso High School graduate knew exactly what to expect.
Selected in the second round of last year's NBA Draft by Dallas, Milton, 22, was quickly traded to Philadelphia on draft night. Before the season, he signed a two-way contract, meaning he would play most of his rookie season in the second-tier G-League and could only spend a maximum of 45 days with the Sixers.
In 27 games with the Delaware Blue Coats, Philadelphia's affiliate in nearby Wilmington, Milton averaged 24.9 points (fourth-best in the G-League), 4.8 rebounds and 5.2 assists. Milton also appeared in 20 games for the Sixers and averaged 4.4 points and 1.8 rebounds per game.
"Yeah, I knew there would be a lot of ups and downs, and that's kind of what it was," Milton says. "But that makes the ups that much sweeter. Just being around good people and people who want to see you succeed as much as you want to succeed yourself has been a blessing."
[media-credit name="Photo courtesy NBAE/Getty Images" align="alignleft" width="320″]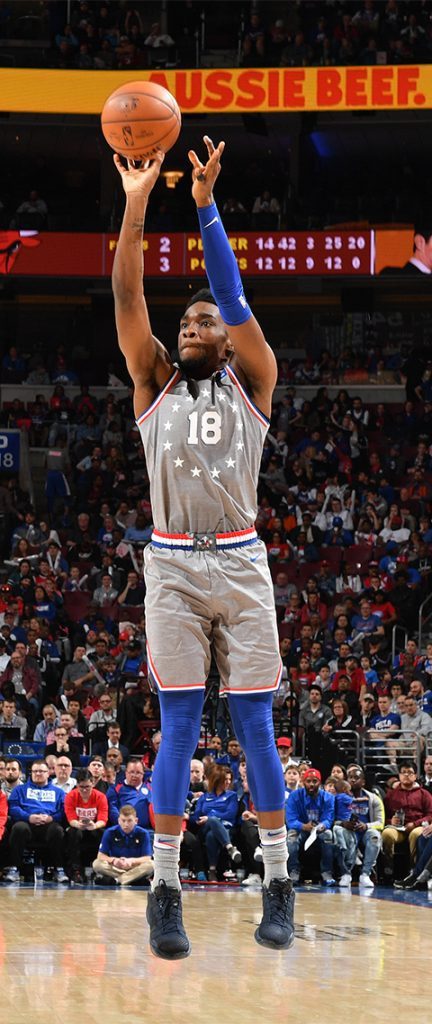 [/media-credit]
Despite playing a small number of NBA games as a rookie ineligible for the playoffs, Philadelphia head coach Brett Brown complimented Milton during the Sixers' late-season trip to Dallas.
"Unflappable," Brown says. "The game comes easy [to him]. He's not intimidated by the moment. He really can make plays and make shots."
Keeping an even keel is something Milton has excelled at since his days in Owasso and in his three seasons at SMU. This year, he stayed calm during commutes between Wilmington and Philadelphia because it's a 45-minute drive … provided he hits the road at the right time of day.
"Yeah, thankfully it wasn't too far," Milton says. "I know some teams [where] you have to get on a plane each time you want to go back and forth. It's a smooth transition, and we kind of did the same things the Sixers were doing, even when we were down in the G-League. So that made it pretty easy."
Milton says people still give him the "Where's that?" stare when he states that he hails from Owasso. After explaining his hometown is near Tulsa, the light bulb comes on.
Milton found a taste of home during his trips back and forth between Philadelphia and Wilmington.
"We've got this spot out there called Wings to Go, which I used to think was only in Owasso," Milton says. "But what's crazy enough is when I was in Delaware, they actually had a Wings to Go. I like it better than Wingstop."
Between the NBA Summer League and taking classes in Dallas, Milton has a busy off-season. However, he plans "on being back a little bit" for some rest and relaxation in Oklahoma.