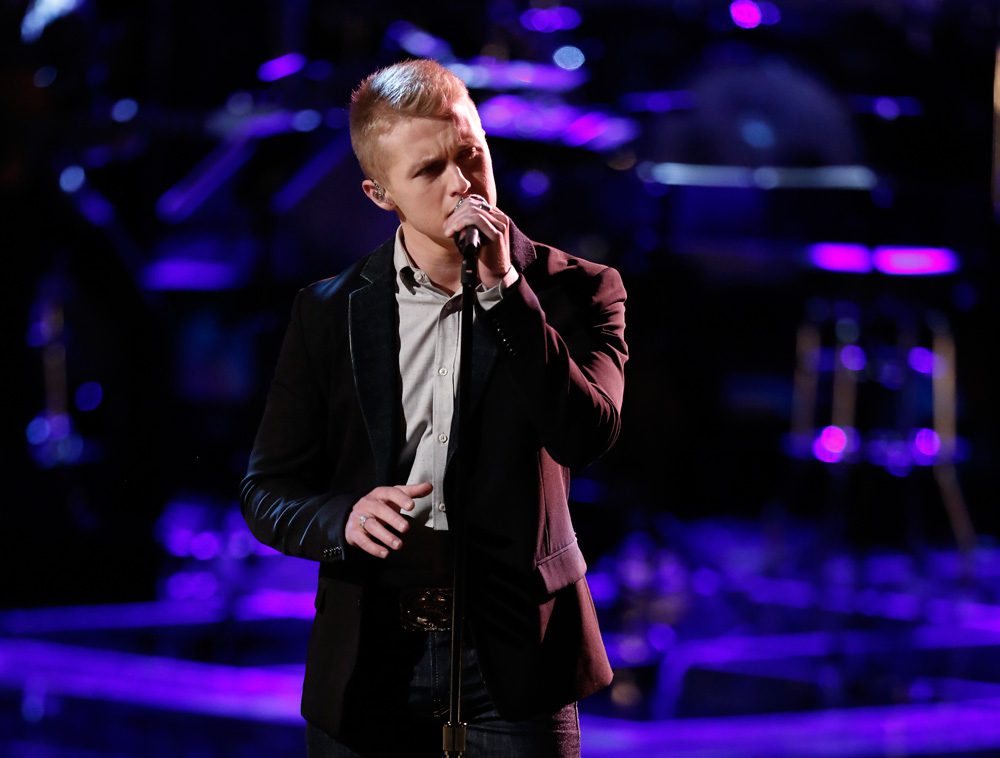 Monday night, fans got to hear a rowdier side of the The Voice's 20-year-old, blond-haired country cutie, the last country artist on Team Blake. Corey Kent White, a Bixby native, will bring a more modern country sound to the stage Monday night as he tries to secure a spot in the Top 10.
"This song is going to have a lot more energy than the last song," he tells us. "[It] is a little more geared for a younger audience, a little edgier."
Last week, White sang his way into the Top 12 with his Tuesday night performance of "Make You Feel My Love." Positive feedback from the judges and wild applause from the crowd may have helped ease White's nerves for the Wednesday night reveal, which he says was less stressful than some of his other moments on the show. But, he hopes fans won't stop voting because he made it into the Top 12. Continuing through each week is not a sure thing, he says.
"That is definitely not the case with all these talented artists," he adds. "Download all 41 times and not just 10."
White says he has been blown away by the support and feedback he's received from fans, crediting much of this journey to them.
"It's more than I ever expected," he says. "It's great having them come through for you like that."
And during these stressful, hectic and schedule-packed weeks, he enjoys the downtime when he can connect with his fans and share this experience with them. Although he hasn't taken any seriously yet, the marriage proposals he's received from fans always bring that smile we all love to his face.
"They're fun to read," he laughs. "This whole process can be a stressful thing, and seeing that kind of stuff on Twitter lightens my day."
White has had a lot of success connecting with fans on this year's season of The Voice, a daunting task for the contestants that the coaches continually say is so important, not just to win the competition, but to have a successful career in the music industry; connecting with people is what it's all about. That seems like a natural talent for White, his love for music shines on stage when he plays. The audience can see that, and it's reflected in votes and White's thus-far success.
"America has an incredible way of seeing through people trying to be something they're not," he says. "What I look for in people I surround myself with is authenticity."
Another component making this experience meaningful for White is his family and their support. It's so important to have someone to share this stuff with, he says.
"My family has been amazing throughout this whole process," he adds.
With contestants being allowed to have two friends or family members in the audience each week, White's mother and grandfather have been his cheering squad most of the time.
"They've had to take off work," he says. "They've been so selfless."
This week, White's father, who came out to support him during The Voice blinds, will be cheering him on in the crowd for the first time.
"I'm pretty happy I get to bring him out this time to support me and watch live," he says.
White's parents have always been fans. When he decided to move to Nashville after high school to pursue his music career, his parents were behind him all the way.
Now, with his success and exposure on The Voice, White is on the fast track to his dream: a career in country music. Before auditioning, he was playing the college circuit throughout the south and had prepared himself for another five to 10 years of putting in a lot of work to get to where he wanted.
"This opportunity has sped up everything," he says.
White's main focus for the last couple years has been writing music. Many of the artists he loves are great songwriters, and that's what really influences him and his music.
Artists who've helped shape his sound – a list that evolves while discovering new musicians, he says – include Willie Nelson, George Strait and newer artists like Dierks Bentley and Eric Church.
"I would absolutely love to be on stage with Garth Brooks," he adds. "Three minutes on stage with him and I'd be better [as an artist]."
There are five ways to vote Corey Kent White through to the Top 8, and each fan can vote 41 times:
NBC.com/TheVoice (10 votes)
iTunes (1 vote)
Calling (10 votes)
Texting (10 votes)
The Voice App (10 votes)
For all the links, visit http://www.coreykentwhite.com.