Friday, April 4
UPDATED with photo above. She towered above the fronds of Palm Springs, Calif., for nearly two years. Now a leggy, colossal Marilyn Monroe statue en route to New Jersey is about to stop in Tulsa in time for the Brady Arts District First Friday Art Crawl.
The disassembled Forever Marilyn will be hauled into town Friday afternoon. Created by artist Seward Johnson out of stainless steel and aluminum, it depicts Monroe in the famous subway grate scene from The Seven Year Itch, director Billy Wilder's 1956 comedy film starring Monroe as The Girl of  Tom Ewell's fantasies. The statue first took its place on Chicago's Michigan Avenue in 2011 before it was moved to Palm Springs in May 2012. Forever Marilyn is being shipped cross-country to be featured in a retrospective art exhibition of work by the 84-year-old Johnson from May to September at the New Jersey State Fairgrounds in Hamilton, N.J.
Beloved by some, deplored as "grotesque" by others, Forever Marilyn stands 26 feet tall when fully assembled, but Tulsans will have to settle for her in pieces — the statue weighs in at 36,000 pounds. A waist-up likeness of Monroe in the iconic, billowing white halter dress, however, will provide plenty of photo ops. The statue will be parked outside of the Hardesty Arts Center, 101 E. Archer St., in the Brady Arts District in downtown Tulsa. It is expected to arrive by 4 p.m. Friday, April 4, and will remain overnight before pushing off for its next stop.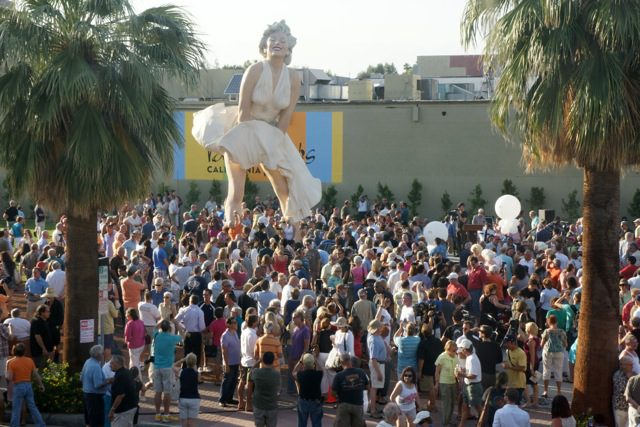 [google-map-v3 shortcodeid="TO_BE_GENERATED" width="100%" height="350″ zoom="14″ maptype="roadmap" mapalign="center" directionhint="false" language="default" poweredby="false" maptypecontrol="true" pancontrol="true" zoomcontrol="true" scalecontrol="true" streetviewcontrol="true" scrollwheelcontrol="false" draggable="true" tiltfourtyfive="false" enablegeolocationmarker="false" enablemarkerclustering="false" addmarkermashup="false" addmarkermashupbubble="false" addmarkerlist="101 E Archer St Tulsa, OK 74103{}2-default.png{}Hardesty Arts Center" bubbleautopan="true" distanceunits="miles" showbike="false" showtraffic="false" showpanoramio="false"]