For an unprecedented fifth time, Southern Hills Country Club is hosting the PGA Championship from May 16-22. No other club has hosted this golfing major even four times.
"I think it solidifies our stature in major championship golf and hosting majors. We're honored," says Nick Sidorakis, Southern Hills general manager and chief operating officer. "This is our eighth major. We've also done three U.S. Opens."
The 104th PGA Championship was originally scheduled for Donald Trump National Golf Club Bedminster in New Jersey. However, in January 2021, PGA officials pulled the tournament from the venue after backlash from the January 6 events at the U.S. Capitol.
In May 2021, Southern Hills hosted the KitchenAid Senior PGA Championship, so when PGA officials asked if the club was interested in hosting the relocated event, Southern Hills jumped at the chance.
"We're really honored to be selected," says Sidorakis. "The city, the state and our membership have truly embraced this championship. The corporate hospitality – we've sold out both areas. Of all the corporate hospitality sold, 75% of it is from [our] membership."
Economic Impact
Club officials are expecting between 40,000 and 42,000 visitors per day for championship play from Thursday through Sunday. So many visitors traveling to Tulsa for the tournament means one thing: they will be spending considerable sums of money. Total economic impact for the tournament is estimated at $143.5 million, according to Visit Tulsa.
"Right now, we've got pockets of two or three hotel rooms left in different properties," says Ashleigh Bachert, interim senior vice president of regional tourism for Visit Tulsa. "The City of Tulsa is completely sold out at an incredibly high rate, which is what we want with an event like this. The BOK Center is doing concerts with Brooks & Dunn and The Eagles. All our attractions are doing different things. Owasso and Broken Arrow are also starting to feel the impacts of this event."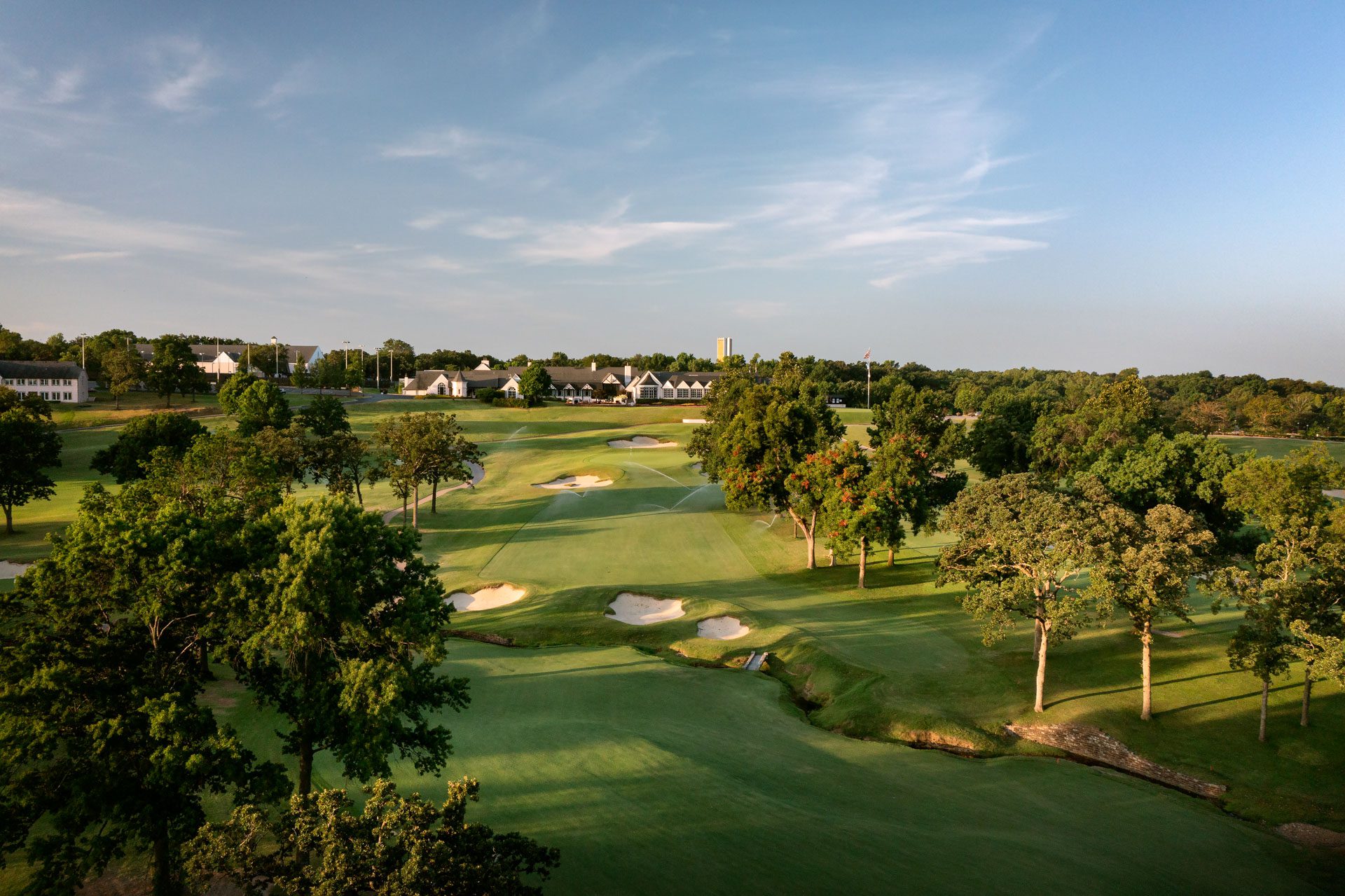 What to Expect
In 2007, Tiger Woods won the PGA Championship the last time Southern Hills hosted the event, and having the golfing icon play in the 2022 championship could only further elevate its stature. The 2021 tournament was at Kiawah Island Golf Resort in South Carolina and won by Phil Mickelson, whose status for the 2022 PGA Championship was uncertain as of mid-April.
Other golfers expected to be in contention at Southern Hills include Brooks Koepka, who won the PGA in 2018 and 2019 and tied for second in 2021. Dustin Johnson finished second in 2019 and tied for second in 2010, while Louis Oosthuizen tied for second in 2017 and came in second in 2021. Seeing Koepka capture a third PGA, or either Johnson or Oosthuizen breaking through wouldn't be a big surprise.
A major difference between this PGA Championship and the ones Southern Hills hosted in 1970, 1982, 1994 and 2007 is that this one will be played in May instead of August. Anyone who has spent any time in Tulsa in August can attest that it's generally the hottest month of what is typically a sweltering summer. Hosting the event in May puts it right in the heart of severe storm season, but it's a trade-off the club will take.
"In August, there's a lot of humidity and it's brutally hot. It's a different golf course," says Sidorakis. "I think winds will definitely play a factor in May. The golf course has been renovated or restored since 2018, so it's a completely new course. We put in hydronics, which can control the subsurface of the greens either by heating or cooling the subsurface. We're going to have, hopefully, firmer conditions."
Jerry Moorehead is a longtime golf fan who lives in the Dallas area and attended the 1977 U.S. Open at Southern Hills, which was won by Hubert Green. He thinks the PGA Championship returning to such a great venue is a no-brainer for the sport.
"Oh, it says everything. You don't see too many majors outside of Augusta [Ga., which hosts the Masters each April] in the southern part of the United States," he says. "I think Southern Hills is a very good course. It's really good to see and [the course] is tough."
Want to Go?
As of April 12, the only tickets available were grounds passes, ($25 to $45) for practice rounds Monday through Wednesday, and Championship Tickets ($195) for the tournament's opening round on Thursday, May 19.
Championship tickets for Friday, Saturday and Sunday's final round are sold out. Also sold out is the Club 1916 Ticket Package ($1,430), which gives purchasers a weeklong VIP experience. Learn more at pgachampionship.com.