Ensconced in the Andalusian hills and bluffs of Granada is the imposing Alhambra. The last citadel of the Moors of southern Spain, with the Sierra Nevada cresting behind, must be on your list of places to visit.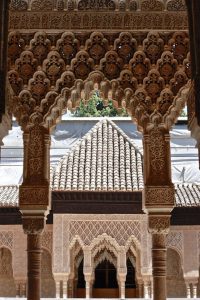 The historic architectural stunner was an alcazar (palace), an alcazaba (fortress) and a medina (township) as well as a masterpiece of harmonious natural light, tones and effects. The brilliant union of three colors (depending on the time of day) reflects the iron hue of the structure. Red at dawn becomes gold during the day before turning to silver in moonlight. The word hamra is Arabic for red. Tinges of orange and gold also appear on the towers and ramparts, as well as an ochre oxidization of the marble.
The jalis (decorative grilles), Kufic calligraphy and other stylistic treasures of Arabic script in white cursive of verses and poems are inscribed within the architecture. Geometric patterns create a celestial imagery of stars and heavens within the mesmerizing carpentry.
Some of the many sections of the estate include the Royal Bath, the Hall of Two Sisters, the Court of the Lions and the Hall of the Kings. Porticos are separated by arches of stalactites based on a fretwork rhombus. Marquetry, intricately carved plaster, vivid tiles and mosaics provide other decorative details. The seven heavens of the cosmos were symbolically arranged within seven levels for the royals, who once sat "shielded" beneath this canopy.
The 23 towers and four gates, which loom over the Granada skyline, included prisons, carpenters' homes, barracks, bathhouses, mosques and dwellings for (reportedly) 40,000 people at one point.
This Moor edifice became a Christian court in 1492 under Roman Catholic monarchs Ferdinand and Isabella. During the 18th century and part of the 19th century, the Alhambra fell into neglect, with many sections becoming dung heaps or taverns where thieves and beggars resided. Napoleon's troops used the palace for barracks and towers, which were later blown apart.
In 1870, protection and restoration turned the Alhambra into a national monument. Also notable is that American author Washington Irving – who traveled a few years later to what is now Oklahoma – lived there in 1828 to begin writing Tales of the Alhambra.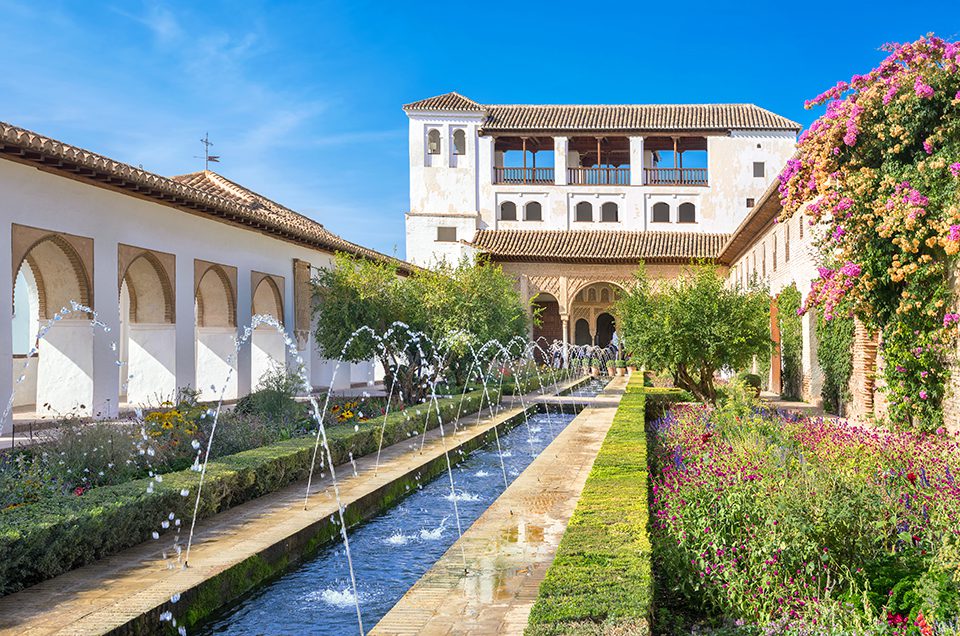 Generalife (Garden of Paradise)
The most famous garden in Spain, if not the world, was designed for tranquility and set in this country estate of the Nasrid kings (1230-1492), the last Muslim dynasty in the Iberian peninsula. The sultry gardens, composed of cypresses, patios, porticos, rosebushes and other trees, infiltrate the landscape. Budget the time necessary to experience this lofty paradise.
Side Trip to Ronda
An excursion to the whitewashed town of Ronda (west of Malaga) at the end of your trip is the perfect way to enjoy Andalusian cuisine amid a picturesque square of shops and cafes. El Tajo gorge, river valleys and a deep ravine enhance the vistas.