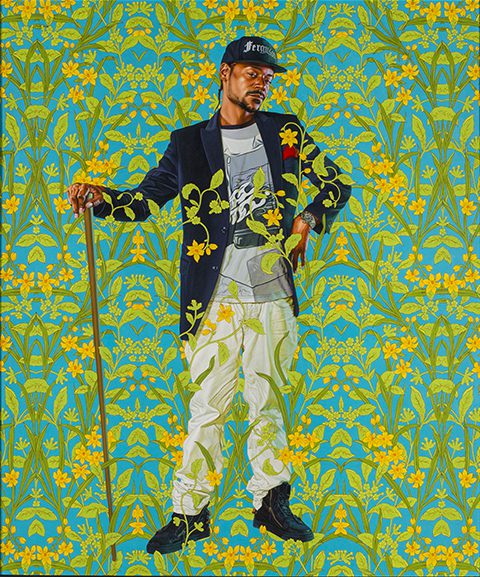 Reopening the second-floor galleries of the Oklahoma City Museum of Art is exciting, but the headline, no doubt, is the museum's recent acquisition of Kehinde Wiley's new, large-scale portrait, Jacob de Graeff, from the artist's St. Louis exhibition.
"Jacob de Graeff not only adds an important work by one of the most exciting contemporary artists creating today, but also builds on the legacy of Kehinde Wiley: A New Republic, an exhibition the museum hosted in 2017," says Becky Weintz, the museum's director of marketing and communications. "A New Republic temporarily provided a different perspective to our visitors, and it was important to us that we acquire one of Mr. Wiley's works in order to make that change a permanent part of the museum."
Jacob de Graeff anchors a new portrait gallery featuring art by Anthony van Dyck, Pierre-Auguste Renoir and George Bellows. A second section of portraits explores America's colonial period with the museum's George Washington painting and rarely seen works from John Singleton Copley.
"This exhibition features many of the highlights of our collection, but also showcases works that have not been on view in some time," Weintz says. "We also encourage everyone to stop by our Wells Fargo Portrait Corner to draw your own self-portrait after being inspired by the portraits in our galleries."
Other second-floor galleries focus on a variety of subjects, such as still lifes, scenes of urban life, landscapes, seascapes, and paintings of animals, the human form and nudes. Featured artists include Georgia O'Keeffe, Stuart Davis, Gustave Courbet, Karen LaMonte, Alice Neel and Andy Goldsworthy.
For more information, visit okcmoa.com.