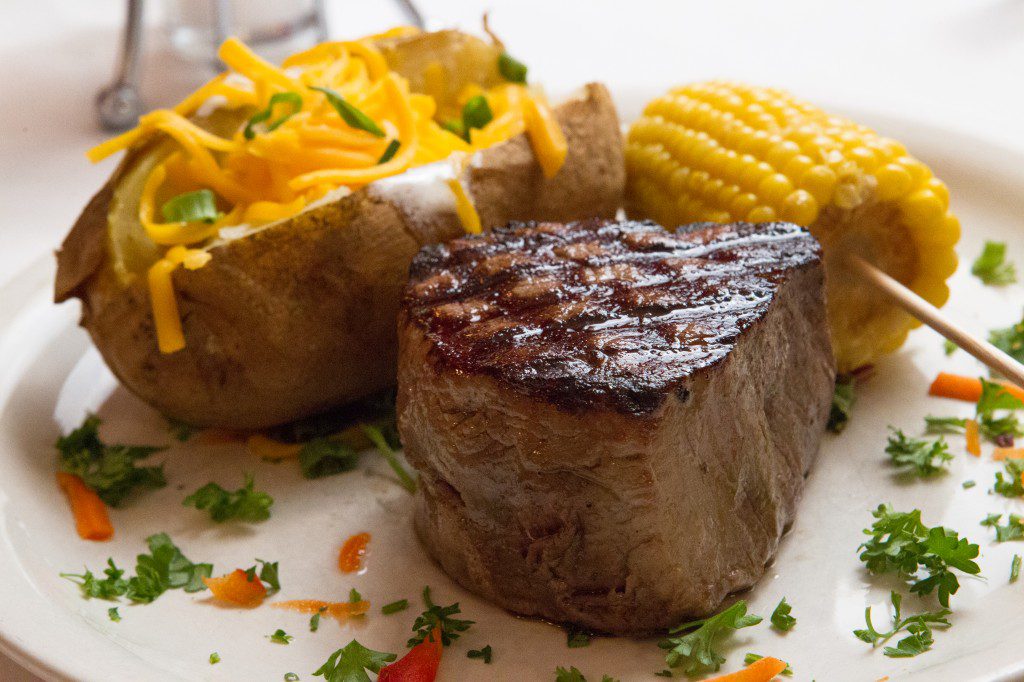 In the competitive food service industry, restaurants come and go. It's rare to find one that has been around 10 years, let alone 40. Junior's of Oklahoma City, however, is one such place.
Opened in September 1973 by Junior Simon, it's the site where many oil deals were made and consummated by a signature throughout the '70s and '80s.
Jim Shumsky has owned and operated Junior's since January 2004. Describing the restaurant as iconic and historic, he says a lot of effort has gone into preserving Junior's original swank.
"It's red and will probably be red long after I'm gone," he says of its trademark decor. "…It's one of those rare places where one goes that almost reaches out and puts its arms around you and makes you feel comfortable and relaxed. It's a place where you can sit down to conduct business or just enjoy a great meal and a drink."
Located in the basement of one of the two 12-story buildings comprising the Oil Center, Junior's has the only true piano bar in Oklahoma City, Shumsky says. Six nights a week, you'll find a pianist playing for his supper or a musical trio working the room.
Another first: Junior's was the first place in Oklahoma City to offer a Caesar salad made tableside, an attraction that has carried over to the present.
"Everyone has to have a Caesar salad when they come in. It's one of the menu favorites, partially because it is hard to duplicate at home," Shumsky says.
The menu, which includes prime rib, filet mignon, K.C. strip, Alaskan king crab, salmon and pan-fried chicken, hasn't changed much since Junior's opened, but why fix what isn't broken?
"Back in 1973, there were only six or seven items on the menu, but there wasn't actually a printed menu," Shumsky says.
Waitresses would recite the menu to each table. Over the years, Junior's has added a few items, but for the most part, it has stayed the same. Like the red walls, red upholstery, red carpet, gold accents and chandeliers, it's part of Junior's old school, formal dining charm.
If you have room for dessert, you can choose from among coconut cream pie (made in-house), brandy ice – a decadent concoction of ice cream and brandy – cheesecake and more.
Over the years, some notable customers have frequented Junior's, including politicians and celebrities. Former Oklahoma governors George Nigh and Brad Henry have been shown to a table. So has actress Julia Roberts, the Rev. Jesse Jackson and the building's owner, Tulsan businessman and philanthropist George Kaiser, according to Shumsky.
Most notably, Junior's has a loyal customer base and the kind of staff that turns a restaurant into a second home or that favorite place to take guests looking for a special, friendly atmosphere. Not surprisingly, some of Junior's staff have been with the restaurant since it opened. One waitress recently celebrated 40 years with Junior's and was honored in front of a packed house of customers.
There are other long-time employees – a chef who has perfected his menu after 35 years at Junior's and a sous chef who has been there for 33 years. Such longevity inspires a feeling of ownership, which Shumsky encourages.
"The employees take pride in the place, and it is theirs. It's not mine, it's theirs," he says. "I'm a very fortunate individual to have such a unique group of employees. It makes it a lot easier to keep this incredible place going." 2601 N.W. Expressway, Oklahoma City. www.juniorsokc.com