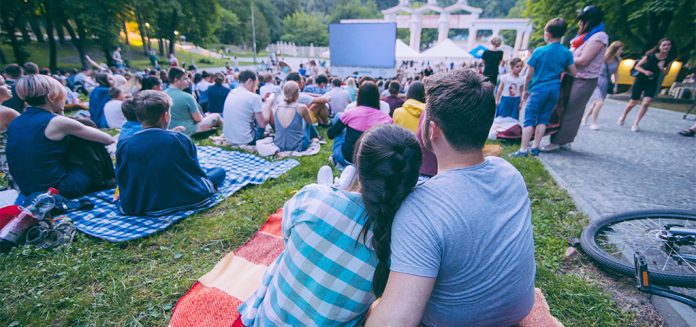 Around Town
As summer comes to a close, it's the perfect time to savor those last few weeks of family freedom and warm weather before school and autumn descend upon us. There are few better ways to do this than enjoying an outdoor movie. With plenty of options, you can find an enjoyable film to commemorate summer's close.
For those in greater Oklahoma City, consider The Incredibles 2 on Aug. 2 at Midwest City's Central Park or The Lego Movie: The Second Part on Aug. 9 at Moore's Central Park.
Metropolitan Tulsa has plenty of good family options, too, especially with one of the best animated films of recent years, Spider-Man: Into the Spiderverse on Aug. 5 at RiverWalk Crossing in Jenks. If you want a film aimed at an older audience, Philbrook Museum offers the extremely fun blockbuster Black Panther on Aug. 23 as part of its Films on the Lawn series. Yeah … you've probably already seen Black Panther, but you probably have not seen it on a huge, outdoor screen with hundreds of other eager viewers and great food truck options just a few steps away.
At Home
Documentaries, even those with relatively high profiles, can be hard to catch in theaters – their runs are often "blink and you'll miss it" affairs. Catch one of the year's best films at home when Amazing Grace comes out Aug. 6 on DVD.
Amazing Grace essentially sells itself: The mere mention of a long-lost Aretha Franklin concert film should make anyone with good taste start to (figuratively) salivate. The movie delivers on its huge promise; filmed over two nights, these concerts show a different side of the Queen of Soul as she sings the gospel songs of her youth, accompanied by full choir, to an energetic crowd. Directed by the majestic Sydney Pollack, the film has style and flair to spare, but its best moments (no surprise) come when the cameras simply capture Franklin doing what she did best – singing transcendent music.
The film will give you chills, make you joyful and get your heart pumping.
In Theaters
As much as we like to pretend to have a highbrow taste in films, adrenaline builds with the names Dwayne Johnson, Jason Statham and Idris Elba in close conjunction with each other. Johnson and Statham, two of the most entertaining, cheesiest action stars today, team up to take on the equally charismatic Elba in Fast & Furious Presents: Hobbs & Shaw, a spin-off from the original cars-and-guns franchise. Directed by David Leitch, co-director of the great John Wick, the film should provide two popcorn essentials in large buckets: explosive action and self-consciously silly excess. It's not high art, but Hobbs & Shaw should be a killer way to spend a few hours in the dark.