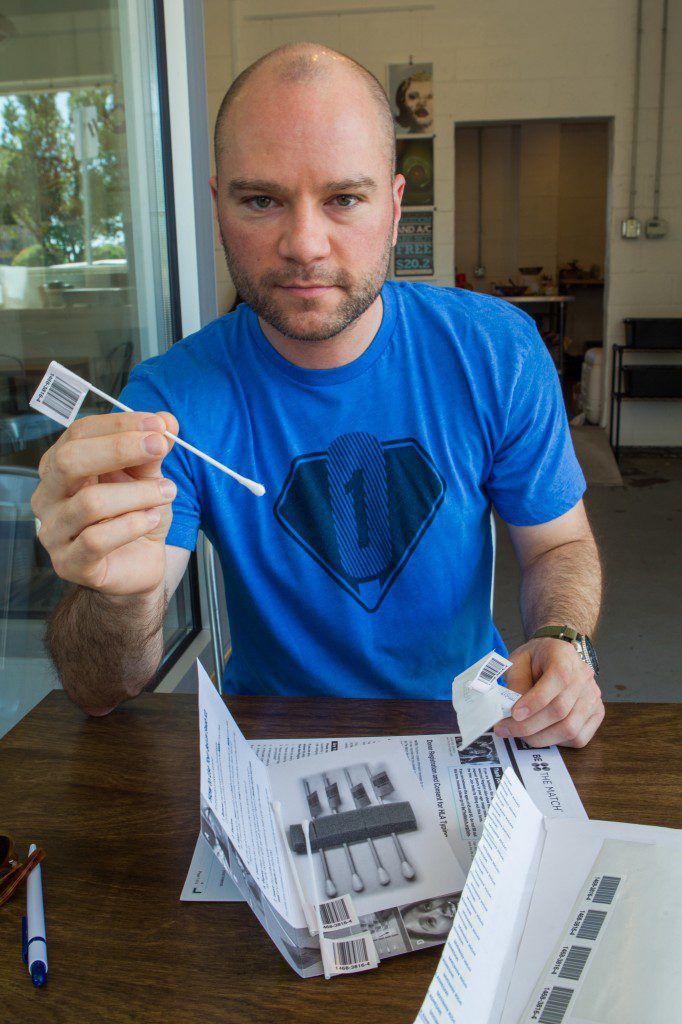 Five years ago, Oklahoma City resident Marshall Matlock received a bone marrow transplant that saved his life and inspired him to create the Swab Squad. The organization, which spreads awareness of the need for bone marrow donors, helps the Oklahoma Blood Institute expand its donor registry.
In spring 2009, Matlock began having persistent joint pain. He was diagnosed with acute myelogenous leukemia (AML), instantly admitted to the hospital and prescribed a course of chemotherapy.
Matlock's blood counts, however, failed to recover after two rounds of chemotherapy, making a bone marrow transplant his only chance for survival. As with 70 percent of patients in need of a donor, Matlock had no genetic matches among his family and relied on the Be The Match registry to find one. Within a few weeks, a match was found – a 19-year-old girl in Europe.
What inspired you to create the Swab Squad?

For two years, I knew nothing more than basic information about my donor. But in September 2011, I received a letter from my hospital with her name and contact information and was finally able to tell her 'thank you' for giving me the gift of life.
To give back to the organization that saved my life, I knew I had to help grow the Be The Match registry. Although worldwide marrow registries now contain millions of members, seven out of 10 patients never find the donor they need.
Determined to improve that number, a group of friends and family agreed to help me create the Swab Squad. We are a portable, pop-up marrow drive designed to easily integrate into popular events around the city and state. Our hope is that it provides a non-threatening, approachable place to talk about the need for marrow donors, dispel myths around the transplant process and recruit new donors for the Be The Match registry.
What are the biggest myths surrounding the marrow transplant process?
A big part of our Swab Squad mission is to dispel myths around the transplant process. Many haven't heard of Be The Match or know the giant need for donors, but often, the ones who have [heard] arrive with misconceptions about it being a very painful process. I really enjoy bringing the news that 85 percent of donations are akin to a lengthy blood donation and that the other 15 percent, where marrow is taken from the hip, are done under general anesthesia with no pain during the procedure.
What are some success stories from your organization?
We've been able to recruit more than 300 new potential donors for Be The Match in Oklahoma City since we started. Of those, two have come up as donor matches for patients in need of a transplant. It's a great feeling to know our efforts can make it possible for cancer patients to get the second chance at life that I was given.
How would you describe the relationships between marrow donors and recipients?
It's an amazing feeling to be walking around with my donor's cells inside me. It's a daily reminder of the sacrifice she made for me and how much I owe her and Be The Match for saving my life. There's a single person on the other side of the world with whom I'm inextricably linked; I have her DNA, her blood type, even her allergies. That gratitude drives our Swab Squad mission; we want every patient to get the chance to fight.
Moving forward, what new things would you hope to accomplish with the Swab Squad?
In addition to continuing to recruit potential donors for Be The Match in Oklahoma City, we'd love to inspire groups in other cities in Oklahoma and beyond to join our effort to grow the donor registry. We really want to attack the percentage of patients finding a match and drive it up by growing the pool of potential donors. The first step in that fight is to make the public aware of the need for donors and to effectively communicate how the small act of a cheek swab can lead to the opportunity to save a life. We think it's a no-brainer.