Sheena Ireland has lectured a child in her care about greed … but in a good way.
The mother of twins baby-sits three other children after school and is a regular at Tulsa's Zeigler Park, home to a Little Free Library.
"Every time we go to the park, the kids want to get a book," says Ireland, adding that one of her charges once "tried to fill up her backpack."
Ireland understands such enthusiasm because "I was very into reading as a child," she says.
Zeigler is one of 15 Tulsa parks targeted for a tiny library by Transporting Education and Literacy into Open Spaces; seven are installed. Tulsa already had a number of the libraries when the nonprofit began in August 2017; there are scores throughout Oklahoma and more than 75,000 across the world, including one in Siberia that serves reindeer herders.
Often handcrafted from recycled materials, Little Free Libraries typically hold 20 to 100 books. They might be stocked initially by sponsors or through used book drives. Once they get going, the "take one, leave one" concept usually keeps the boxes full.
Attorney Stephanie Younis, executive director of Transporting Education, says many Tulsa elementary schools do not meet state standards for reading proficiency, so the all-volunteer group chooses parks near underperforming campuses.
"It's a fun way to promote reading," Younis says. "My kids love it. We've benefited from it quite a bit."
Younis says the group seeks $1,000 sponsors to build and stock the libraries. It also needs volunteers and has had help from Girl Scout troops, including one in Owasso that gathered 1,200 books. For more information about Transporting Education, email
[email protected].
In northwest Oklahoma City's Lansbrook neighorhood, Craig Quinalty says the library near his house is in Kensington Park.
"In the spring and summer, it's not uncommon to see people sitting at a picnic table reading," Quinalty says happily. "We are so confined to walls."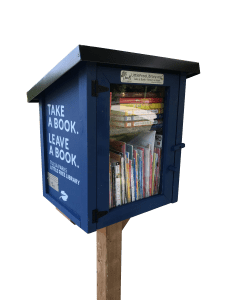 Quinalty's younger children use the library often.
"They usually stick with the classics, such as Dr. Seuss and the cartoons," he says. "Reading is about more than reading; it's about learning. Even if they use the book as a prop to get the table level, that's engineering."
The Neighborhood Alliance of Central Oklahoma has long supported Little Free Libraries, executive director Georgie Rasco says. Her group partnered with the Central Oklahoma Architects Association to find people to build about 20 libraries that fit the architecture of their respective neighborhoods.
"It absolutely builds community in one of the best ways possible," Rasco says. "It gets people out and sharing ideas. We know from studies that the more people are out and about in a neighborhood, the less crime that neighborhood is going to have."
The eye-catching library designs make them fun for children, Rasco says, "and they might find something in the Little Free Library that's very different, that nobody thought they would be interested in."
Rasco says one parent told her that his 4-year-old selected an old auto mechanics magazine.
"He would look at the cars and the auto parts," she says. "He would sound out the words and want to know what the parts were."
Neila Crank-Clements, executive director of the nonprofit Progress OKC, says the library in the Plaza District near the popular Pie Junkie restaurant serves shoppers and residents of the Gatewood Historic District and Classen-Ten-Penn neighborhood.
"It's bright yellow, about 8 feet tall and looks like a tall square pencil," Crank-Clements says. "It's fun to stop by and see what new books have been left since you were there last and which ones have been taken. What's really fun is if there's a new book out you have wanted to buy but haven't, and somebody left it."
Doug Kupper, Oklahoma City's director of parks and recreation, is sold on Little Free Libraries. With 165 parks, his department contributes to physical health through activity, mental health with green grass and trees, "and your quality of life by providing books for these little children that might not be able to go and buy them."
In Stillwater, six Little Free Libraries are branches of the public library in partnership with businesses and neighborhood associations. The first one was built by a staff member's husband and is in a downtown coffee shop.
Stacy DeLano, adult services supervisor, says the Stillwater library committed to help keep them stocked but seldom needs to. She does not think Little Free Libraries detract from the traditional brick-and-mortar versions.
"We just want to get reading materials into the hands of as many people as possible," she says.
For help finding a library or learning how to start one, visit The Little Free Libraries website (littlefreelibrary.org). The nonprofit was founded in 2009 by Wisconsin resident Todd Bol, who died in October of pancreatic cancer. He built the first library in his yard with wood from an old garage door as a tribute to his mother, a teacher and book lover.