[dropcap]In[/dropcap] every land, every heritage, every kitchen, food unites people. Science has shown that the breaking of bread isn't just a figure of speech … that physiological changes in blood pressure, heart rate and brain chemistry occur when people share meals, regardless of relationship. On social levels, barriers fall and bonds strengthen.
Food and the preparation of it are important for people to share their cultures and to learn about others. For many, however, the limit of understanding occurs by eating at the typical "foreign food" – Chinese, French, German, Indian, Italian, Mexican, Vietnamese – restaurants. Besides these places, it may be difficult to find someone who brings an alternative taste of the homeland into a private kitchen.
We found some of those cooks, who discuss why preparing food has personal, ethnic and generational importance to them.
Rick Sattre
Norway
Owner of Autobahn Foreign Car Repair in Oklahoma City, Rick Sattre is the proud great-great grandson of a Voss, Norway, native. He supervises many activities for the 61-year-old Scandinavian Club of Oklahoma, which meets the fourth Tuesday of each month. At many of these gatherings, Sattre prepares rosettes, flash-baked on a miniature branding iron and cooked in light oil. "Whenever you make stuff, it's impressive of your heritage," he says. "It's in my blood. I want to make the best cookie I can. I want people to like them." Sattre's rosettes are so popular that his mail carrier looks forward to a container of them every Christmas. He says freezing fresh rosettes retains their taste for up to a year.
Rosettes
Ingredients (makes 20 cookies)
1 egg
½ cup all-purpose flour
1 tablespoon sugar
½ teaspoon salt
½ cup milk
1 tablespoon canola or saffron oil
confectioner's (powdered) sugar
vanilla almond bark coating
sprinkles if desired
Directions
 Heat fat or oil (3-4 inches in depth) to 400 degrees in small saucepan
Beat egg slightly, then add flour, sugar, salt, milk and oil and mix until smooth
Strain batter
Heat rosette iron in hot fat or oil and tap excess fat from iron
Dip iron into batter until ⅔ covered
Fry until golden brown (about 50 seconds)
Invert iron to drain fat or oil
Gently push rosette from iron by tapping it with knife and invert on paper towels
Stir batter each time before dipping heated iron
Coat with vanilla almond bark
Dust with confectioner's sugar
Cover with sprinkles if desired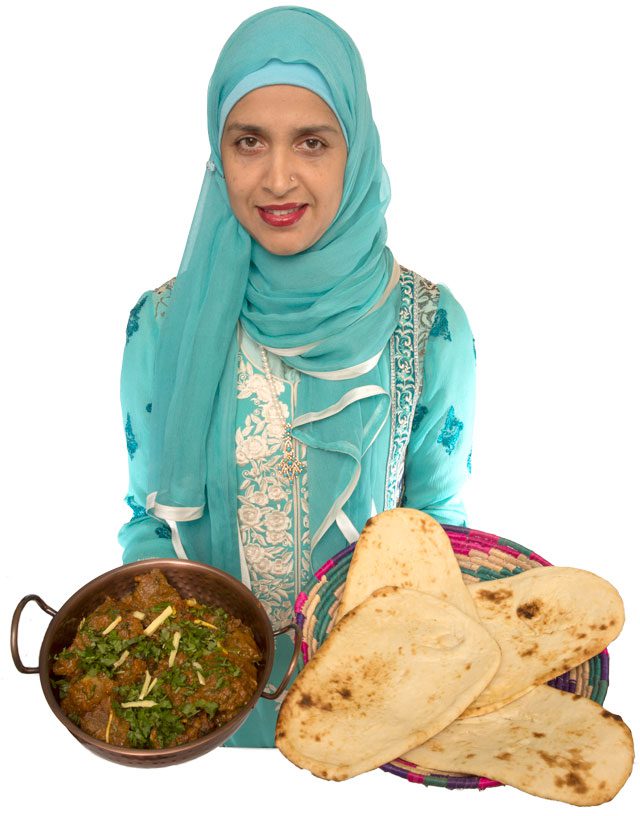 Saima Abbasi
Pakistan
Saima Abbasi and her family travel a lot, which means eating out often. That's why they relish her cooking when they return.
"We really appreciate what we fix at home," says Abbasi, a native of Karachi, Pakistan. "It's comfort food because it's what I grew up with. It has all the right combination of spices that we want and can't get when we go out. I don't have to think about it.
"For instance, you really can't find a dish with goat at a restaurant here in Tulsa, but I can buy some at the store and bring it home and fix it."
Abbasi, a homemaker, earned a master's degree in economics before immigrating in 2000 and is working on a bachelor's degree in accounting. Her favorite meals to prepare are curries, which are not, as some may think, dishes that have several teaspoons of store-bought curry powder thrown in for taste. Instead, they are special blend of flavors unique to her kitchen.
"Every Pakistani household has a different combination of ingredients in curry dishes," she says. "Pakistani food, like our culture, is colorful, and I take a lot of pride in what I cook.
"Food is a universal language that brings cultures together. We love sharing food with people; it helps us make friends, and find love and hospitality."
Top on her list of curries is karhai gosht (meat cooked in a wok-like pot) "because that's my husband's favorite. He doesn't really like the soupy curries. It's thick and colorful."
Karahi gosht
Ingredients
2 pounds goat meat (preferably leg of small goat)
12-14 cloves chopped garlic
2 medium sized onions, finely sliced
1 inch ginger, thinly sliced lengthwise
4 roma tomatoes, thinly sliced
2 jalapenos, roughly chopped in 4 pieces
½ bunch chopped cilantro
2 tablespoons yogurt, whipped
1 tablespoon cumin, lightly roasted and ground
1 tablespoon coriander seeds, lightly roasted and ground
2 teaspoons salt
1 teaspoon cayenne pepper
½ cup oil
Directions
Put oil in wok, add sliced onions and fry at medium high flame; stir frequently
When onions turn golden in color, add meat and cook until all water dries out
Add ¼ cup water and chopped garlic
Cook a little before adding salt, cayenne pepper, cumin and coriander
Add 2 more cups of water, cover and cook 30 minutes
Add tomatoes, stir, cover and cook another 15-30 minutes (longer if meat is not tender)
When meat is tender, uncover wok and turn flame to high and dry excess water
Keep stirring
When oil separates from sides, add yogurt and jalapenos and keep stirring for 2-3 minutes
Lower flame, add half of cilantro, stir and cook with open lid for 2-3 minutes
When oil separates from sides, garnish with ginger and remaining cilantro.
Service with hot naan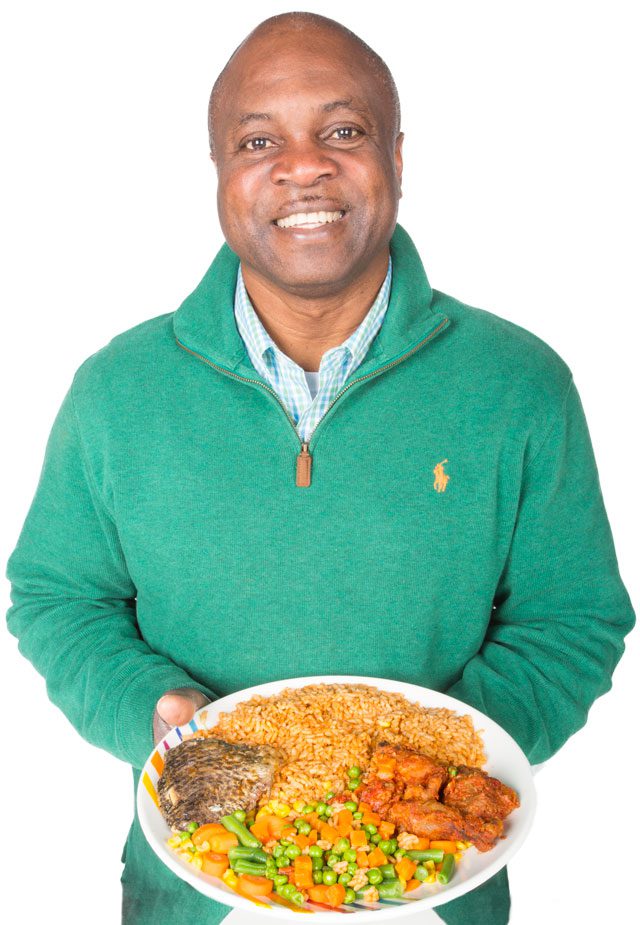 Patrick Nwakoby
Nigeria
In rearing their U.S.-born children, Patrick Nwakoby and his wife have taught them how to cook the Nigerian way. Their oldest, 19-year-old Ekene, even calls home from the University of Oklahoma with cravings for their dishes. "It's really important to pass these cooking traditions to our three children," he says. "It helps me stay rooted and it allows our children to understand their heritage." Nwakoby, from the eastern city of Enugu, immigrated in 1983 to attend the University of Tulsa, where he earned a degree in petroleum engineering. Nwakoby says rice is a Nigerian staple used in meals 3-4 times a week and jollof rice "is easy to make. I grew up with it." As for the children becoming as adept at cooking as their parents, "they're coming along," says Nwakoby, adding, "Cooking at home allows me to share my culture. I have friends who aren't Nigerian who love to come over and have this food."
Jollof rice
Ingredients
3 cups of long grain parboiled rice
4 fresh plum tomatoes
3 cups vegetable oil
1 medium can tomato paste
Pepper and salt to taste
2 medium onions
4 cups water
3 Knorr bullion cubes
2 teaspoons thyme
2 teaspoons curry powder
Directions
Before cooking rice, prepare tomato stew:
Wash and mix tomatoes in blender
Pour into pot and cook at high heat until almost all water has dried
Stir in vegetable oil, chopped onions and tomato paste
Fry at low heat and stir at short intervals until oil has completely separated from tomato puree
Parboil rice, rinse and drain in sieve
Pour tomato stew into large pot, add water, bullion and thyme; bring to boil
Add drained rice, curry powder, salt and pepper
Water level should just cover rice
Cover pot and cook on low to medium heat until water evaporates
Serve with chicken, beef or fish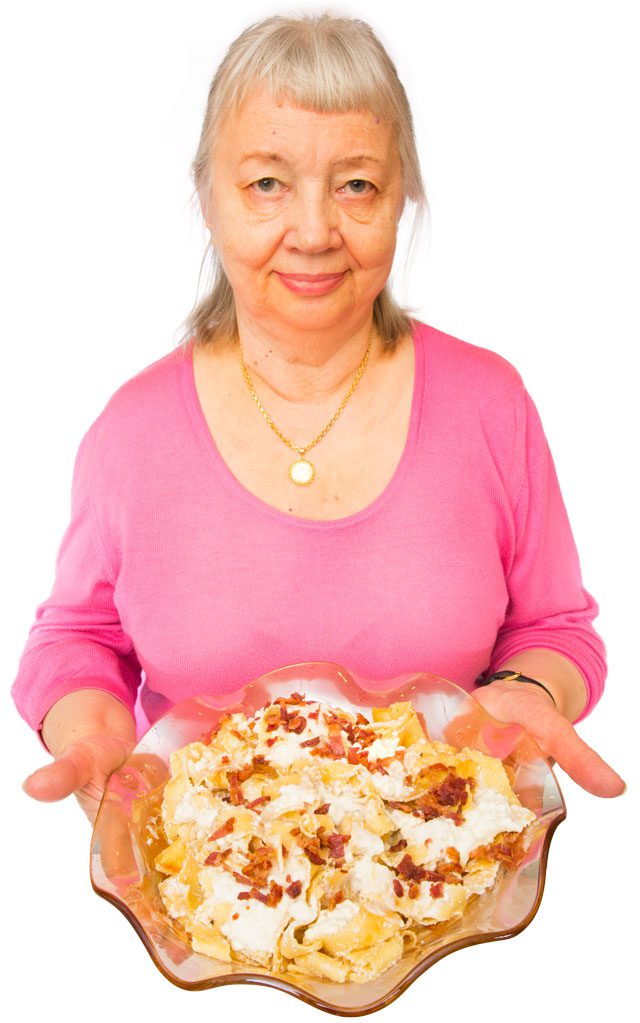 Rege Stewart
Hungary
In many ways, Rege Stewart has gone non-stop since 1956, when she, her mother and her brother escaped raging battles during the Hungarian rebellion against Soviet occupation and wound up in Gowanda, outside Buffalo, New York. A retired psychiatrist who teaches classes on anxiety disorders at Oklahoma State University's College of Osteopathic Medicine and is a docent at Philbrook Art Museum, Stewart has a hectic schedule, so turos csusza (cottage cheese noodles) is a quick, go-to dish. "I cook for convenience many times, and I go with recipes of the Hungarian country folk when I'm in a rush," she says. "The traditional style of this has bacon, but my husband doesn't eat bacon, so he puts maple syrup on it. It turns it from a savory dish to a sweet one. Hungarians like the bacon."
Turos csusza (cottage cheese noodles)
Ingredients (serves 4)
1 12-ounce bag of egg noodles
2 teaspoons salt
3 quarts boiling water
8 slices of bacon cooked and crumbled
½ pound cottage cheese
1 cup sour cream
1 tablespoon virgin olive oil (for lighter taste) or bacon drippings (for heavier, more authentic taste)
Directions
Cook noodles in boiling salted water and drain
Cook bacon until crisp, drain on paper towel and crumble
Mix oil or drippings into cooked noodles
Blend in sour cream until noodles are evenly coated
Fold in cottage cheese
Top with crumbled bacon
Marti Rickman
Colombia
Whenever hairstylist and dance instructor Marti Rickman wants a taste of home, she prepares sancocho, a hot soup, regardless of the temperature outside. "It was what my mother used to make," says Rickman, who owns Clips 'n' Hips in Warr Acres, an Oklahoma City suburb. "It reminds me of my childhood." Rickman says sancocho is often cooked in a big pot at special gatherings such as birthdays, sometimes over an open fire. Rickman immigrated to the United States in 1985 from Calmira, which is outside Cali. She has lived in Oklahoma City since coming to America. When she teaches dance classes, while not cutting hair, food from Colombia and her clients' homelands are often shared and eaten at the studio.
Sancocho
Ingredients (serves 6-8)
3 ears fresh corn, cubed into 3 pieces each
12 cups of water
½ cup aliños
1 large, whole chicken
1 teaspoon salt
2 green plantains, peeled and cut crosswise into 2-inch pieces
¼ of azafran (saffron) for color
6 medium white potatoes, peeled and cut in half
1 pound yuca (cassava) cut into big pieces
¼ cup chopped fresh cilantro
¼ teaspoon ground pepper
Directions
In large pot, place chicken, corn, aliños, salt and green plantains. Add water and bring to boil, then cover and reduce heat to medium and cook for 30-35 minutes.
Add potatoes, yuca and pepper, azafran and continue cooking for 30 more minutes or until yuca and potatoes are fork tender.
Stir in cilantro.
Taste and adjust seasoning.
Pour in large soup bowls while dividing chicken and vegetables evenly.
Serve with sides of avocado, white rice and aji.