Thirty-three miles south of Tulsa's high-rises sits an unassuming building on the quiet Main Street of Beggs. In the lower left corner of the shop window hangs a slatted wooden sign for Blucher Boot Company.
"The legend continues since 1915," it reads. Below that, "Fairfax, Oklahoma" is carved. A passerby may find the location on the sign to be a bit curious. However, it is actually a snippet of the company's long history – a nod to its first stop in Oklahoma. The full story begins quite a bit earlier and a bit farther north.
In the early 1900s, G.C. "Gus" Blucher moved from Nocona, Texas, to Cheyenne, Wyo., in hopes of starting a venture of his own.
[pullquote]"The old saying is 'We make boots for the famous, the infamous and people just like you and me.'"[/pullquote]
"Gus Blucher worked for Justin [Boots] until 1913," says James Smith, the current owner of Blucher Boots. "He wanted to go somewhere where he knew there wasn't a manufacturer in that particular area."
In 1915, Blucher opened the Blucher Custom Boot Company. A few years later, the operation moved to Olathe, Kansas.
"He wanted to be closer to [the] central part of the United States, to the railroad for shipping and receiving," says Smith.
In 1932, less than two decades after the company was founded, Blucher passed away at the age 57.
In the '60s, the company was relocated to Fairfax. Then, after 30 years of bootmaking in Osage County, the shop moved again, to Okmulgee in 1997. When the calendar flipped to 2001, Smith bought Blucher Boots and moved it to Beggs, where, today, it shares a building with Cross Country Leather.
James "Smitty" Smith has spent a lifetime making boots, much like the company's founder did through the turn of a century.
"I went to Oklahoma State Tech when I got out of high school, and they offered a shoe, boot and saddle course," says Smith. "I was there just long enough to learn a little bit of bootmaking, learned just enough to get me in trouble."
After completing the two-year program, Smith made boots for a few different companies, some of which did not fare as well as Blucher over the years. He worked for Blucher Boots in the '70s, left to work for another company in Texas and then rejoined Blucher the year the company moved to Okmulgee.
At the current location in Beggs, Smith is Blucher Boots. Each pair is handmade by him, crafted with precision that only decades of practice can afford. In this mass-produced, on-demand age, a newcomer to the shop may be taken aback by the two-year waiting list.
"You put your deposit down and get in line," says Smith.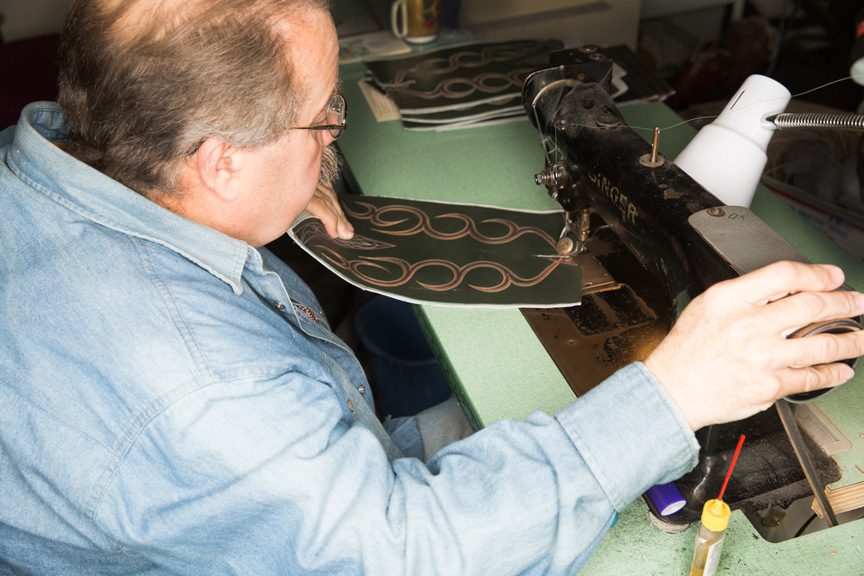 People are willing to wait, though. The boot is worth it. It takes Smith about a month to make a pair, and that extra time makes for a durable and perfectly fitted product.
"Generally, once I fit somebody real good, they get spoiled rotten," he explains. "They just keep a pair on order."
Blucher Boots is one of the oldest companies that still makes custom boots. While other boot manufacturers have implemented computerized machinery, Smith makes each pair just how Gus Blucher would have.
"I've even got one of the original sewing machines that I still sew the vamps and counters and pull straps on with," he says. "It was bought brand new in 1915. So nothing's really changed that much."
Smith makes the original catalog styles that people would have chosen from when the shop was new.
"There's about 38 different original stitch patterns for folks to choose from," he says.
Many of the patterns are quite ornate, featuring butterflies, doves, flowers and cattle. He also takes requests if a customer wants to design their own. This part of the process happens to be Smith's favorite.
"It is an art," he says. "Cutting out the inlays, drawing things up."
Smith goes through many arduous steps before the artwork is added, and those steps are crucial to making a boot that conforms to that famed fit.
"You come in, and I'll take your measurements and outline of your foot," Smith explains. "After you've picked out your materials that you want for your foot and top and style of boot, I'll come out here and fit a wooden last on your measurements. That's the wooden form that I'll make the boot on."
Some of Smith's lasts date back to the 1920s.
"After I fit the lasts, I'll cut out your tops and paste them together, sew them," he says. "I have to crimp the vamps. That gives it the basic shape of the foot."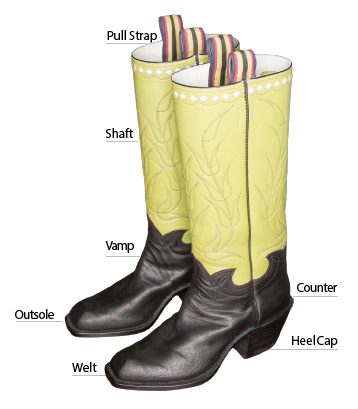 He then sews the vamps to the top part of the boot. Once the boots are sized correctly and the toe is put on, he attaches the sole – trimming, shaping and sewing it until it is just right. He then puts the heel on and grinds it into the proper shape. Finally, he puts the color on the bottom of the boot.
When a customer receives their much-anticipated pair, inside they will find a stamp that says "Blucher Boot Company, made expressly for," and under that, their name will be penned in ink. A pair of boots custom made and impeccably tailored for that one individual. A pair of boots they can enjoy for several years.
"They last quite a long time," says Smith, modestly. "They certainly outlast a boot you buy on the shelf."
A hundred years after the company was founded, Blucher Boots continue to impress. The same sturdy boots that were worn by John Wayne in the 1930s are still worn worldwide by boot lovers today.
"With your working cowboys, it's part of their equipment," says Smith. "For protection and for riding, it's essential."
And, according to the Blucher website, "they'll never lose a stirrup."
Not all Blucher customers have to worry about that, however. Many just seem to appreciate the intricate craftsmanship involved in making the classic boot.
"The old saying is 'We make boots for the famous, the infamous and people just like you and me,'" he says.