This story is part two in our downtown series. Read part one and part three.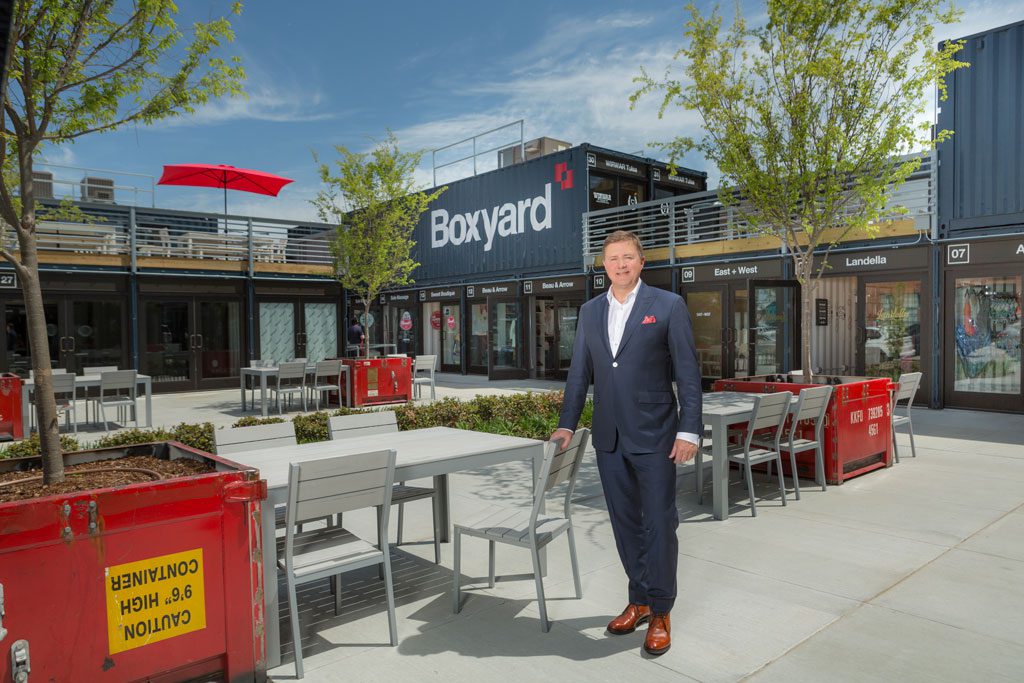 [dropcap]While[/dropcap] part of the renaissance of downtown Tulsa and Oklahoma City has focused on creating more activity when businesses close for the day, the revitalization of downtown life has created a culture that's attractive to businesses.
"There's definitely the idea that you can get a cheaper location or cheaper office if you are out in the suburbs, but there's kind of a feeling that being downtown is bigger than just having your office there," says Kyle Johnston, marketing and promotions manager for the Tulsa Downtown Coordinating Council. "It's being part of the community."
A downtown location has multiple advantages for companies. The daytime population of downtown Tulsa is more than 40,000 people, which creates an area ripe for businesses to reach out and create a network. Johnston also notes there has been an increase in retail space in downtown Tulsa.
"The biggest reason [for the increase of retail business] is just the large amount of people during the day, but what has really boosted it lately is the new residences that are coming online," he says. "We have three new apartment buildings that have come up in the last three months. We've got four more coming up, probably before December. There are going to be hundreds of new residents downtown, so there are going to be new places to shop."
Whether companies choose to locate downtown to appeal to employees looking for a downtown lifestyle, to network with the other businesses or to provide services for a growing population, the bottom line is the same: downtown is open for business.
Working Downtown
Two companies talk about how a downtown address provides a benefit to them.
ust as people who choose to live downtown make that decision for different reasons, businesses based downtown often use a number of factors that may vary by company.
Oseberg, a company providing data analysis for the oil and gas industry, isn't new to Oklahoma City's downtown, but it did recently move its office from Bricktown to Automobile Alley, which is part of OKC's Innovation District.
"Oseberg is a startup, and we feed off of the energy of other entrepreneurs, innovators and startups," says Oseberg CEO Evan Anderson. "One of the great things about the innovation district and Automobile Alley is that other like-minded, innovative companies are nearby, such as Exaptive or Tailwind, and we can meet them easily for coffee, exchange ideas and hear about what they are up to."
Moving offices to a thriving, interesting district also helps companies attract the best talent.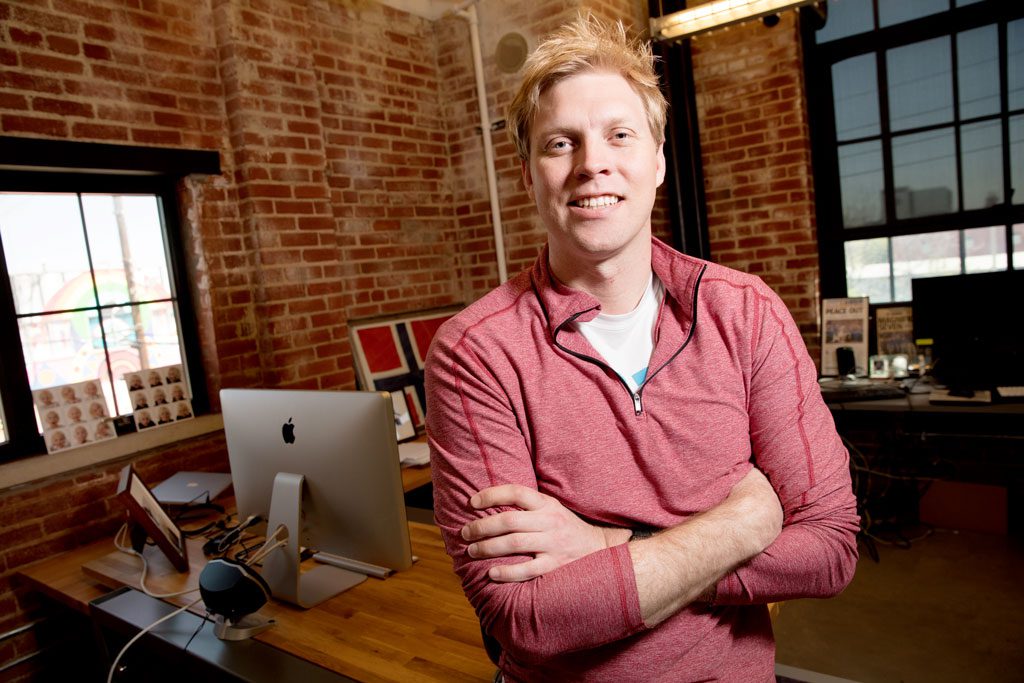 "New recruits love that we are located in the innovation district," Anderson says. "Being able to walk to coffee shops and restaurants is a huge draw since most of Oklahoma is not very walkable. Also, our office is made with exposed bricks on the wall and has lots of great natural light. It just looks and feels cool."
In Tulsa, Blue Sky Bank is the only community bank with offices downtown – and the company chose to locate in The Boxyard, a complex of shipping containers that Blue Sky principal owner Gentner Drummond says matches the attitude of the bank.
"The Boxyard is an unconventional development that is reflective of Blue Sky Bank's unique approach to banking," Drummond says. "We aspire to meet our customers where they are and to exceed expectations. The Boxyard permits us to bring needed banking services to Tulsa's downtown and East Village."
Drummond says there are multiple benefits to locating a branch of Blue Sky Bank downtown. As a community bank, it gives downtown residents and employees a convenient option for keeping money in Tulsa instead of using a regional or national bank. And many of the bank's employees enjoy the convenience of the location.
"Many of our employees live or aspire to live in Tulsa's downtown," Drummond says. "Irrespective of their residential location, all of our employees who work in The Boxyard are delighted to be in such a vibrant and growing district of Tulsa."
The Innovation District
OKC is focusing on creating an area for startups with its innovation district, an area that stretches from Automobile Alley to the Oklahoma Health Center. The area, which houses the city's bioscience sector, has already demonstrated success is incubating startup businesses.
The Oklahoma City Chamber of Commerce and other organizations and community members are working with the Brookings Institution and Project for Public Spaces on an 18-month study on the district. The study is part of the Bass Initiative on Innovation and Placemaking, a joint initiative of Brookings and Project for Public Spaces that was launched in late 2015.
The area not only provides a place for startups to meet and share ideas, it also has retail businesses that include coffee shops, yoga and fitness studios, restaurants and multiple breweries.
"I feel that the innovation district constantly pulses with energy, and Oseberg and our team can feed of of that energy," says Evan Anderson, CEO of Oseberg.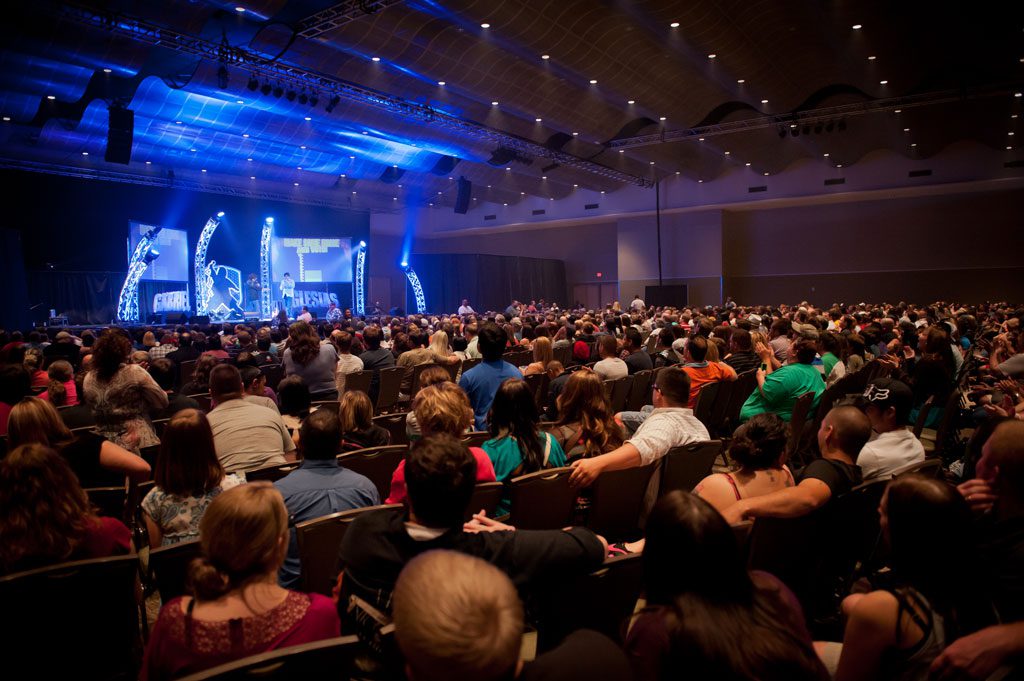 Bringing Business to Town
Conventions provide revenue and a chance to showcase revitalized downtowns.
While businesses setting up permanent residence in OKC and Tulsa provide economic boosts to these cities, they also take advantage of the opportunities offered by hosting conventions, which bring visitors and tourism into the state. While making the downtowns attractive to visitors is an important step, it takes a good deal of work to increase the convention trade.
"The meetings and convention business in OKC is comprised of both corporations and associations, and we go about attracting them in essentially the same way," says Dennis Johnston, vice president of sales and services for the Oklahoma City Convention and Visitors Bureau. "If the company is located in Oklahoma, that makes it much easier. Most companies like to show off their home base, and we work directly with them to make that happen. Otherwise, we identify what companies and organizations would be a group fit into our facilities and solicit directly to them."
The staff at the bureau will attend more than 30 events this year to promote OKC as a destination for conventions. Johnston says many businesses or organizations are interested in what options are within walking distance after the meetings are done.
"Once they see Bricktown, it's a pretty easy sell," he says.
Tulsa has benefited from an increased presence from the convention industry, says Kerry Painter, general manager of the Cox Business Center.
"We are now hosting some conventions are that exponentially growing and are almost to the point of outgrowing us," she says. "Thank goodness for the new Vision package – this will save these groups from leaving us and going to another city."
Painter says the impact on the city during local events is clear. Conventions fill restaurants with large crowds at meal breaks, and people stayed in hotels all over the city when the Bassmaster Classic was held in Tulsa.
Tulsa continues to benefit from conventions after they close, however, as people may return for personal vacations later. If a destination visit is positive, more than 75 percent of attendees will consider returning for leisure travel, Painter says. If the experience is negative, only 4 percent are likely to return.
"The thing that people often miss is that if the experience is great when they are here, if the town is friendly, safe and enjoyable, they are shown to return for the same convention many times over and also for personal leisure visits with friends and family to 'see more' and spend more time," she says. "Which equals more money!"
The impact has been felt in OKC as well, where the city has seen a 41 percent increase in the number of groups booked into the city.  In 2016, the economic impact of conventions and meetings was more than $65 million, Johnston says. That number is expected to increase as efforts continue, including goals to double the size of OKC's convention center.
"If you want to know the positive impact of conventions on OKC, just talk to the restaurant and bar owners, retail operators, rental care operators and taxi drivers," Johnston says. "They understand the direct impact of meeting/conventions and amateur and pro sports and all the horse competitions that are held at Norrick Arena every year.
"Without tourism, and this is really what we are talking about, every household in Oklahoma would have to pay $1,192 more in local, state and federal taxes."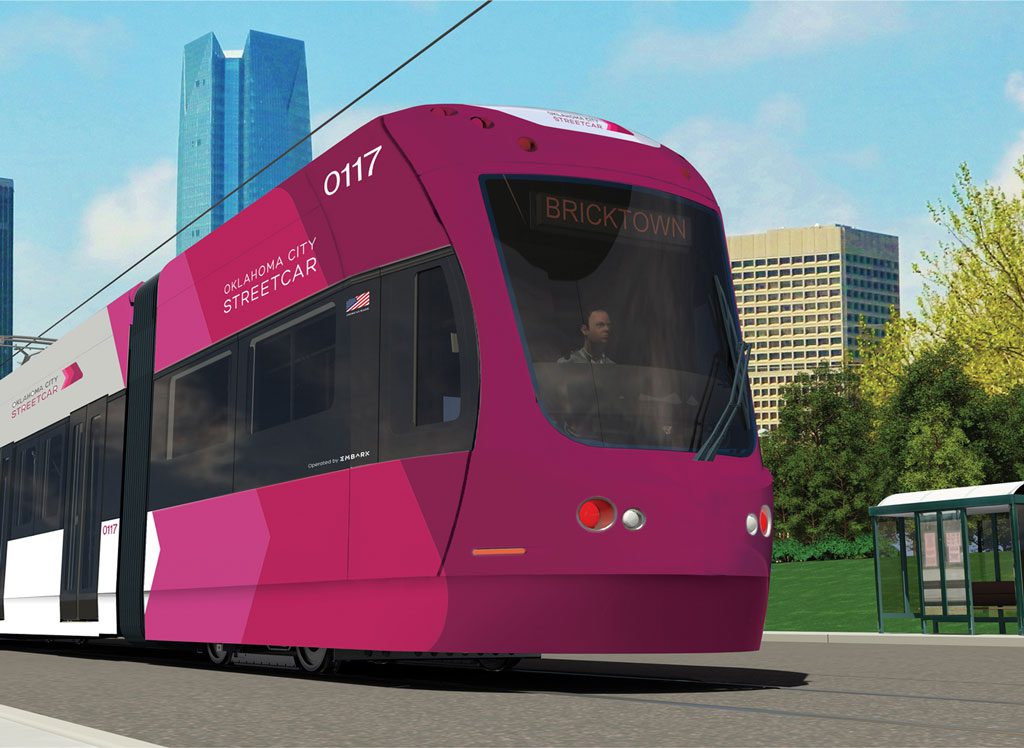 Downtown Transit
Big changes are underway for transportation in downtown OKC and Tulsa.
Ah, there's nothing like the sound of jackhammers in the morning.
OK, maybe not, but those are the sounds of progress in downtown Oklahoma City as the MAPS 3 Streetcar moves nearer to completion. Scheduled to open in early 2019, the streetcar will connect downtown and its surrounding districts, including Midtown, Automobile Alley and Bricktown. At the time of writing, the streetcars themselves are being fabricated in Pennsylvania, while the historic Santa Fe Station on Gaylord Boulevard is being renovated to serve as the downtown transit hub. And there are more good things to come, according to David E. Todd, MAPS project manager.
"It is anticipated that it [the streetcar] will take some cars off the street while providing an alternative mode of transportation," he says. "While it is limited at this time, it will serve as the beginning of a larger alternative transportation network."
Jane Jenkins, president and CEO of Downtown Oklahoma City Inc., says that "across the country, modern streetcars have proven to be effective in supporting downtown development. In Oklahoma City, we expect the new streetcar system to be highly popular with residents, downtown employees and visitors, adding character, convenience, business development and improved quality of life. The Oklahoma City Streetcar will support and add to the urban lifestyle that is critical to attracting and retaining young professional workers, but I anticipate that retirees, baby boomers and tourists will also use it heavily."
Michael Scroggins, public information officer for EMBARK, says that in addition to the streetcar and the renovation of the Santa Fe Station, the re-launch of the Spokies bike share program and the completion of Project 180 will contribute to the revolution in downtown OKC transit options.
"Each of these projects is uniquely different," Scroggins says. "However, a common thread is that they all work in tandem to improve our ability to connect and make connections."
Downtown Tulsa is experiencing its own transit renaissance. Since fall 2015, the Loop has connected some of downtown Tulsa's most popular areas, including the Brady Arts, Deco and Blue Dome districts. The route runs Friday and Saturday nights until 2 a.m., and according to Tulsa Transit Interim General Manager Debbie Ruggles, there are plans to expand the route to the Gathering Place in 2019.
"The service from downtown to the Gathering Place will allow downtown residents and visitors to the area to experience a world-class park as well as the Arkansas River," Ruggles says. "While the route is not yet final, it may also serve Brookside, Utica Square and Cherry Street, giving downtown residents and visitors the opportunity to buy groceries, shop, and frequent restaurants and bars."
Also launching in 2019, the new Peoria Avenue bus rapid transit will serve downtown northbound and southbound every 15-20 minutes.
"Tulsa Transit once had a much more robust transit system than it has today," Ruggles says. "Economic downturns have continued to reduce fleet size, shrink the service area, and increase the time between routes. There is a renewed interest in public transit today as the baby boomers are facing the loss of their cars and millenials either do not want a car or want to use their money on things other than car-related expenses. With the overwhelming passage of permanent, dedicated funding for transit in the spring of 2016, many people believe there may be a resurgence of interest in public transit in Tulsa."