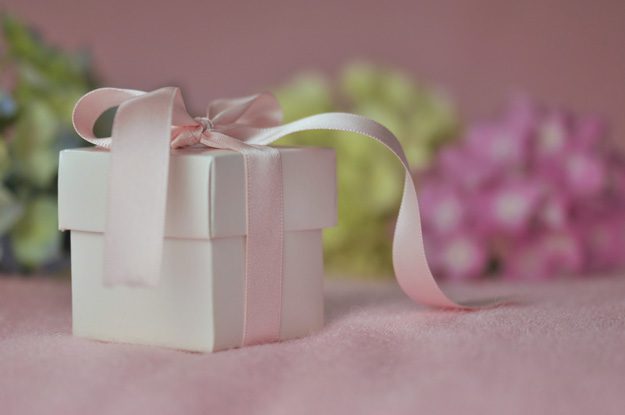 [dropcap]Weddings[/dropcap] can be a lot of fun, but when it comes to gifting, guests can find themselves stressing out over the dos and don'ts, not to mention investing a sizable sum in the happy couple by the time the actual "I dos" have taken place. With wedding season right around the corner, we've done our research when it comes to wedding gift etiquette and have come up with the following advice, thanks to helpful websites like Theknot.com.
Is a wedding gift mandatory?
While no one is going to get arrested by the wedding police if they don't provide a gift, it is traditional etiquette that people who are invited to a wedding bring one, even if they can't make it to the ceremony. That being said, it has also been written that a card or note will suffice in the event that you receive an invitation from someone to whom you aren't close, or to whose ceremony you will be unlikely to attend. Basically, the choice is yours.
To shop or not to shop from the registry?
It's always a safe bet to choose a gift from the couple's registry – you can't possibly buy a gift they won't like. You're not, however, obligated to do so. It's perfectly acceptable to purchase off-registry if you know something else the couple would like. It is also fine to write out a check as a gift. Many brides and grooms actually prefer it, and in some cultures, money is actually more commonly expected. One thing is for sure: what you give should be a personal choice.
How does one navigate a registry?
Many retailers make shopping more convenient by allowing guests to access registries online, or just head to the store to purchase in person.
Don't know where the couple has registered? Try a search of their names on some common  registry sites. It is also acceptable to call the bride or groom, members of the wedding party or even the couple's parents.
What are some new trends in registries?
Some experts note a trend of couples opting for modern twists on traditional wedding gifts. Companies like IDOFoundation.org allow guests to make a donation to the couple's favorite charity, and some couples have honeymoon registries set up where different elements can be given such as a night at a hotel, limo service, dinner or an evening of drinks. Where a gift of cash is concerned, websites like Tendr allow you to send a monetary gift with a credit card.
How much to spend?
According to TheKnot.com, what you choose to spend on a wedding gift depends on how well you know the couple and your personal budget. In general, expect to spend $50-$150. If the couple has registered for an item that's outside your budget, go in with some other guests. If you're heading to a destination or an out-of-town wedding, it's okay to spend less on the gift due to the expense of travel, but you should still give something.
How many gifts do you have to buy?
Members of the wedding party, family members and close friends are often invited to numerous celebrations in addition to the actual wedding. Do you have to buy a separate gift for each affair that you are invited to? Bridal showers are technically a gift-giving party and one should not show up empty-handed (unless it has been declared a gift-less shower); but bringing a gift to the shower does not excuse you from a wedding gift where etiquette is concerned. The easiest solution is to split a gift-giving budget among showers, engagement parties and the wedding.  Figure out how much you can afford to put into a gift. Then, Theknot.com recommends the following allocation: 20 percent on the engagement gift, 20 percent on the bridal shower and 60 percent on the wedding gift.
Last but not least, don't wait a year after the wedding to send a gift. Guests should plan to gift the bride and groom before or at the wedding – or, at most, within two months of the wedding. Theknot.com recommends not bringing a gift to the wedding; have it shipped straight to the couple.