Tall and narrow like a loblolly pine, Chile stretches for more than 2,650 miles along South America's Pacific coast and averages a width of 109 miles – and a good part of that is occupied by the formidable Andes Mountains. Most Chileans live in the country's fertile Central Valley, a ribbon of land anchored by the capital, Santiago.
South of the Central Valley's vineyards, in the Los Lagos region, is Puerto Montt – the gateway to the country's glacial lakes, national parks and striking volcanic landscapes.
The port is also home to a more than 100-year-old German settlement as well as indigenous Mapuche communities. Adventure travelers often base themselves here when planning treks to Isle Chiloe and Patagonia. Even a short visit, however, provides a fascinating look into Chile's diverse cultures and offers a taste of the country's stunning scenery.
Angelmo Market
Famous for its laid-back ambiance, the market offers crafts carved from alerce trees, Mapuche jewelry and wearable art created from horsehair, woolen goods, ceramics … and fish. Angelmo is a working fish market where boats come in with their daily catch for purchase on the spot or via one of the area's many restaurants, some built on stilts over the water.
Known as Chile's Lake District due to its dozen large lakes carved by glaciers and dozens more smaller lakes, Los Lagos has some of the country's richest freshwater fishing. At nearby salmon farms, young freshwater fish are placed in large metal tanks and trucked to nearby ports, where they undergo a metamorphosis, allowing them to survive as adults in salt water.
Savvy shoppers should also check out the Fundacion Artesanias de Chile, a nonprofit foundation featuring a melting pot of crafts from more than 2,000 Chilean artisans. Many Mapuche groups are represented, as well as creators of home goods such as carved, wooden bowls and wonderful, one-of-a-kind souvenirs.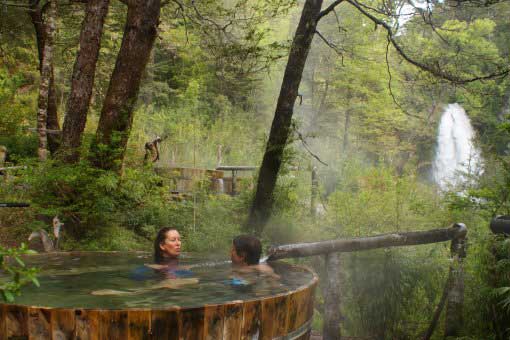 Horse country
Chileans love their mounts – riding stables abound and rodeos are everywhere. Huasos (horsemen) wear flat-brimmed, flat-top sombreros to protect against the sun and frequent patches of rain. All wear colored ponchos to identify their ranches. Champion rodeo riders in Chile are revered like sports stars in other countries.

Lakes and falls
Eat, shop and play in nearby Puerto Varas on beautiful Lake Llanquihue, Chile's second largest. The German influence is readily seen in the town's architecture and gardens as you stroll the waterfront, punctuated by spectacular views of Osorno and Mount Calbuco, perpetually snow-capped ancient volcanoes.
In addition to summertime beaches and bathing resorts, outdoor attractions lie a few miles away: the Petrohue River and Lake Todos los Santos, where whitewater rafting, zip-lining, salmon fishing and hiking within Vicente Perez Rosales National Park are the order of the day.
Also in the park, the Saltos de Petrohue (or Petrohue Falls) is a snow-fed waterfall surrounded by lush woodlands, complete with paths. Be on the lookout for torrent ducks, powerful swimmers and divers that brave the rapids with their chicks.
Sixteen miles north of Puerto Varas, also on Lake Llanquihue, is the charming town of Frutillar, known for crystal clear water, black sand beaches, German-style wooden buildings and cuisine, and plethora of culture, highlighted by the town's love of classical music.
Getting there
Drive to Puerto Montt on the Pan-American Highway, fly into Santiago, or make sure it's a stop on your cruise ship itinerary.