[dropcap]Whether[/dropcap] you're looking for the host of one of the most popular St. Patrick's Day parties in Oklahoma or a bookstore and bistro with a popular lunch menu, there are options to serve any taste for those looking for some Irish ambiance with their food.
O'Connell's Irish Pub and Grille
If you've never celebrated the most (in)famous Irish holiday at O'Connell's Irish Pub and Grille, you've been doing Norman wrong. Since the late 1960s, hundreds of patrons have flocked to O'Connell's each St. Patrick's Day for a marathon of music, mastication and (mostly benign) mayhem. This classic campus icon may not be unique in its approach to the annual March 17 bacchanalia – it's about as Irish as a bald eagle soaring majestically over Washington, D.C. – but it is especially beloved by townies and students all the same. Many line up Black Friday style the night before, the better to get through the door at 7 a.m. That golden hour starts every St. Patrick's Day with a hearty traditional Irish breakfast of green eggs and ham before moving on to emerald beer in honor of the Emerald Isle. At the old location on Lindsey St. and Jenkins Ave., it wasn't unusual to spy revelers lost in the mystical, enchanted forests of the Duck Pond nearby. Although O'Connell's moved from its original freestanding location to Campus Corner a decade ago, they brought the party with them. Luckily for those who may not be up to braving the St. Paddy's Day crowds, they also brought the food. Frequently voted the Best Burger in Norman, O'Connell's is just as treasured for its grub as it is for its traditions. Each day of the week is home to a regular rotation of reasonable specials, and the loaded cheese fries are the best in Norman. A word to the wise: O'Connell's is just as likely to be rowdy on game days as it is on St. Patrick's Day, but here's a pro tip – produce an OU ID any time and get 20 percent off your food order. (Don't even think about trying it with your bar tab.)
Saints Pub
Once upon a time (okay, back in 2010), Saints was the new kid on the block – the 1700 block of 16th Street, that is. As the only anchor restaurant during the tenacious renaissance of Oklahoma City's Plaza District, it was go Irish or go hungry for diners and drinkers in the fledgling arts area.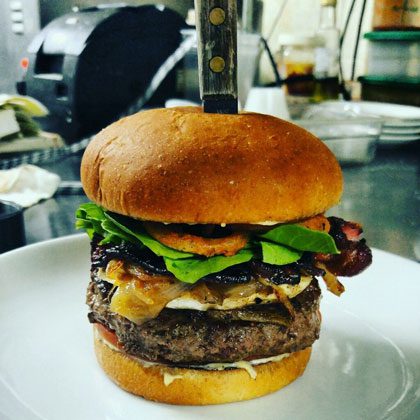 Over the past seven years, the neighborhood has wholly transformed. Hungry diners have access to some of the most popular restaurants in OKC, from homemade bowls of Japanese ramen or Guatemalan delicacies to artisan ice cream and (seriously) addictive pies. Fair-trade coffee, local brews and food trucks abound. But despite the influx of culinary delights, one thing in the Plaza hasn't changed: the good food, copious drinks and excellent vibes to be had at the corner of NW 16th Street and Gatewood Avenue. Offering "contemporary Irish cuisine" and a substantial variety of beer and house cocktails, it's hard to go wrong with a meal from Saints' small but stellar menu. Enjoy dinner and a drink in their open and comfortable dining room or while people-watching on the patio as the hip kids of the Plaza parade by. Everything from the Shiner Bock fish and chips to the house-made bread and butter with smoked Maldon salt is worth a taste. In short, Saints is everything you'd want from a local pub in the Old Country: relaxed but fun, comfortable yet elegant, and utterly devoid of shamrocks and rainbows. -Tara Malone
McHuston's Booksellers and Irish Bistro
Located in the heart of Broken Arrow's Rose District, McHuston's Booksellers and Irish Bistro is not just one of the few independent bookstores left in Tulsa County; it also serves a popular Irish lunch from 11 a.m. to 2 p.m. Monday through Saturday.
Co-owner Larry Hoefling has sold books in Broken Arrow for more than 10 years, but it wasn't until McHuston's moved into its current location five years ago that he began serving food, mostly stews and soups. When co-owner Dustin Hoefling, his son, started working at the store and took over the bistro side of the business, the menu expanded to include shepherd's pie, along with other favorites like bangers and mash (mildly spicy sausages served over mashed potatoes and topped with the house stew gravy).
The bistro also offers sandwiches and low-point beer. -JM
Paddy's Irish Restaurant 
Who better to serve you authentic Irish fare than a chef from the heart of the Emerald Isle? That's what you'll get when you stop in to Paddy's Irish Restaurant on 99th and Mingo in Tulsa. Chef Kenny Wagoner, Oklahoma Magazine's pick for Chef Chat this month, was born and raised in Dublin, and that influencial upbringing translates into the food created at Paddy's. Although the restaurant closed its doors in 2008, Wagoner and his twin brother, Keith, reopened the joint in 2016 to bring back all the old culinary favorites.
There's the traditional Irish breakfast – fried eggs, bangers (sausage), rashers (bacon), beans and more – plus sheperd's pie, Bushmill steak, bangers and mash, and of course, fish 'n' chips. Paddy's also serves up pasta, stew, sandwiches, drinks, desserts and a slew of Irish-inspired appetizers.
Along with delicious, bona fide Irish cuisine, Paddy's prides itself on a warm, friendly and family-oriented atmosphere – just like what you'd get in Ireland. There's live music on the weekends, and Wagoner claims people often get up and sing with the band. Regardless, Paddy's is a restaurant best experienced in person – so do yourself a favorite and visit. –MWA