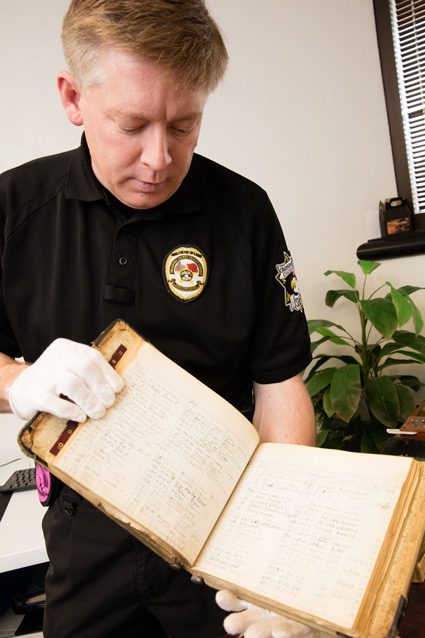 [dropcap]The[/dropcap] functions of the office of Sheriff in Oklahoma County date back more than 100 years.
Located in present-day Oklahoma City, this sheriff's office was in existence pre-statehood, then-Oklahoma Territory of 1890.
"It appears that we may be the oldest organized police department in the state," says Bradley Wynn, a full-time deputy and the office's historian.
In operation since 1890, it makes sense that the office has been working on a project collecting and recording photographs, documents and artifacts representative of the agency's 125-year, 22-sheriff tenure.
Sheriff John Whetsel initiated the idea of researching and recording the past, rich in historical trivia, in 1997. Wynn knew that there was a story to be told and approached the sheriff in 2013 to write a book titled Badges & Brass: The Untold Story of the Oklahoma County Sheriff's Office. Whetsel officially named him the office's historian, and Wynn went to work.
While researching for the book, Wynn rediscovered thousands of photos, clippings, journals and numerous artifacts. The growing project now needed a dedicated work space.
"Sheriff Whetsel graciously offered me a rarely used office in the county jail's administration area," says Wynn. "The downside was that I would have to keep everything stored in plastic totes to prevent damage from the inevitable ceiling leaks caused by the inmates on the upper floor."
The Oklahoma County Sheriff's Office Fraternal Order of Police Lodge #155 purchased and donated protective totes for the collection. All needed office equipment and funding has also been donated, along with Wynn's donated time.
"I am only able to work on the collection as a volunteer during my days off, or after hours from my full-time work schedule," he says.
Resurrected records from Oklahoma's shadier side include infamous killer Roger Dale Stafford and notorious 1920s gangster George "Machine Gun" Kelly.
[pullquote]I am hoping our future jail will incorporate some public use for a museum about our history that can be seen and experienced by guests,"[/pullquote]"I've found original files from cases like that of Theodore 'Ted' Cole, who would become most famous for escaping from Alcatraz in 1937," says Wynn. "The files contain his fingerprint cards, mug shots and a handwritten rap sheet from 1924 to the day of his escape."
Among the articles that have been donated back to the cause are sheriff identification cards and badges from the 1950s, and a Winchester riot shotgun manufactured in 1907.
Most recently discovered are six file cabinets filled with fingerprint cards, mug shots and FBI records from the 1920s and '30s, "an amazing era in crime fighting," adds Wynn.
He says the most impressive part of the collection thus far is hand-written jail ledgers and journals found in the basement; among them are those that were kept by the territorial-elected Sheriff C.H. DeFord, who took office on June 30, 1890.
"We've learned about a sheriff we never knew existed," says Wynn. "And even a murder," as was the case with Sheriff George Washington Garrison who was shot and killed in Blaine County while attempting to arrest a wanted man in 1908.
The handling of the pieces has been limited to Wynn and an intern, Jason Knight, from the office's Police Explorers program.
"The majority of what we are working with is in a fragile state, so it is not something that we can just let people physically handle," says Wynn, adding that the lengthy process of digitally preserving the century-old documents has begun. The goal is to make all of the information available to the public.
Wynn has consulted history professionals and visited numerous museums to learn how to preserve collections similar to this one.
"I am hoping our future jail will incorporate some public use for a museum about our history that can be seen and experienced by guests," says Wynn.
Ed. note: To view photos and other information visit  www.facebook.com/badgeandbrass.