Phyllis Gardner has changed her mind about a few activities since going to live at Inverness Village, a retirement community in Tulsa.
"I made fun of yoga before I came here," she says. "Now, I recruit people all the time to come to our class. It's amazing how much that class can make you feel better for days afterward."
Nursing homes and retirement communities have become increasingly creative with activities to nurture residents' bodies, minds and spirits.
Inverness Village features independent living, assisted living and skilled nursing on one campus, so some residents switch from one area to another as their needs and conditions change, but their choices of activities remain the same.
"We put everything under one umbrella," says Jana Decker, director of wellness at Inverness Village. "We want residents who move through the continuum to not see any kind of changes in how things are offered."
When musical entertainers come to Inverness, independent living residents might walk over to the skilled nursing unit for the concert, Gardner says. The next day, assisted living residents might go to a lecture in the independent living activity area.
"It blurs the lines between the living levels," Decker says, and helps with "transitional trauma," which can occur when residents move to a higher level of care.
Gardner, a retired oil and gas landman who has an independent living cottage, says: "There's such a variety that you can pick something new almost all the time. I've been here 13 years and I don't feel like I'm repeating myself. If you suggest something, Jana will go after it. Last year, they did sky diving for heaven's sakes. And they did zip lining. I tried to force myself to do that one, but you have to climb these towers. I got weak in the knees."
In Oklahoma City, residents of Epworth Villa can do some thrill-seeking of their own, says Beth Case, community outreach coordinator in the independent living area. Epworth partners with the Ageless Aviation Dreams Foundation to allow eight residents, preferably veterans, to go on an open-air cockpit flight.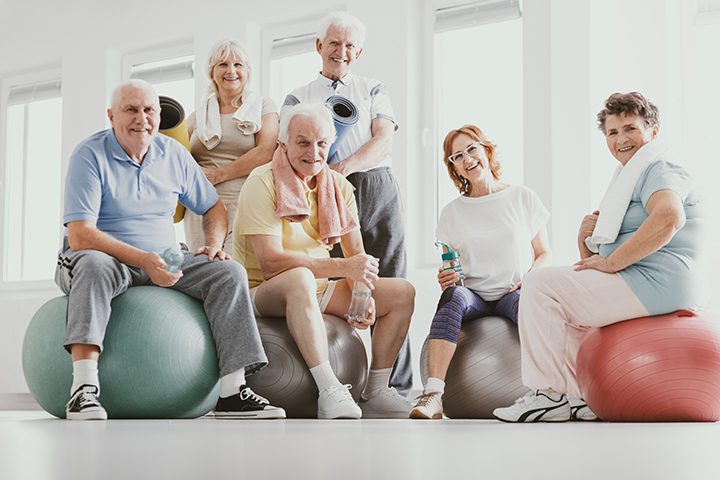 Residents also flock to classes offered by wellness coordinator Blaine Jackson, Case says. The schedule includes water aerobics, a balance class, flexing and stretching, line dancing, tai chi, chair yoga, and golden swan classes taught by the Oklahoma City Ballet. One man found he no longer needed a cane or a walker after signing up for fitness classes, Case says.
At Inverness, residents can take annual fitness tests and choose classes based on their abilities.
"So there's a lot of support before you even get to the class," Gardner says. "You don't feel afraid to try anything."
Residents of Senior Star at Burgundy Place in Tulsa are always ready to try something new, program director Sonya Pratt says. On Taste Test Tuesdays, she gathers residents of the independent living community to sample a food or beverage they likely have never tried. Pickled pig's feet, jackfruit and new flavors of Oreos and M&Ms have appeared on recent menus.
"They prove that they are still up for adventure," Pratt says. "Their favorite new M&M flavor was jalapeño."
"There's a lot of support before you even get to the class. You don't feel afraid to try anything."
Taking matters into their own hands, Inverness residents often teach classes and present programs.
"We have quite an extensive resource list available, with residents sharing from their backgrounds, travels, careers and hobbies – everything from art to history to science," Decker says.
Community partnerships also bring the world to residents.
"Gilcrease Museum comes every Wednesday with a presentation about current exhibits," Decker says. "University students come and do technology classes. A veterans group comes."
Case says Epworth Villa residents volunteer on and off campus. They can go next door to Quail Springs United Methodist Church to help with the mother's day out program.
"We call them grandfriends," Case says.
Residents organized a clothing drive for Skyline Urban Ministries, and Sunday school is led every week by a resident.
Epworth Villa has a book club, a movie club and a Monday night discussion series called Inquiring Minds.
"A body in motion stays in motion, and that applies to your brain, too," Case says. "That's why we have so many educational events. A geologist just came and did a rock show."
The Senior Star Comets, a Wii bowling team, competes against other retirement centers, Pratt says. Residents also have a drama club, study Spanish together or share their memories of roaming the world during travel club meetings.
If something is happening in Tulsa, an Inverness resident is likely to be there.
"Many are avid season ticket holders in the arts community, to the ballet and symphony," Decker says.