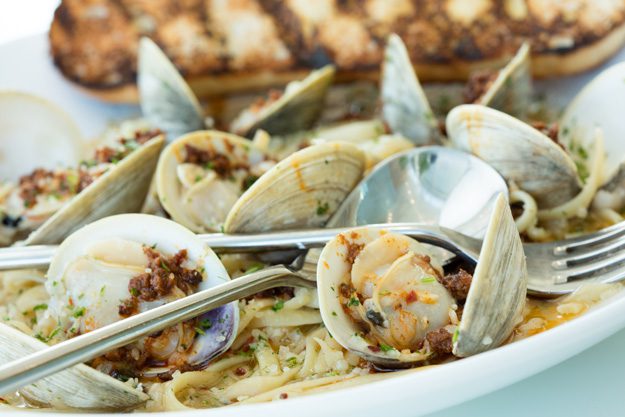 New to Oklahoma City and located in the heart of the Uptown 23rd District, one can't miss the bright blue lights of The Drake, a new seafood restaurant. Owned by A Good Egg Dining Group, who has ownership of many successful Oklahoma City restaurants, including Cheever's Cafe, Tucker's Onion Burgers and Kitchen No. 324, The Drake does not disappoint.
The Drake provides a family-style dining experience, where customers can choose from two or three items and share them as a group. This, combined with freshly caught seafood, makes The Drake an Oklahoma City gem.
"A Good Egg Dining Group really tries to fill the holes when it comes to providing Oklahoma City with different types of restaurants, one of those being fresh seafood," says The Drake General Manager Jon Clark. "We get new seafood deliveries five times a week. The fish is caught and farmed in a way that is sustainable to the population of fish that you are eating. What is served on your plate was most likely swimming in the ocean not even 24 to 48 hours ago."
The freshness is obvious. The calamari and lobster roll, The Drake's most popular dish, tastes like it could have been ordered at a restaurant straight off of the coast – it's enough to make any customer forget that they are in landlocked Oklahoma City.
Another big hit are the oysters. The Drake offers six varieties of fresh oysters every day for customers to try. Because oysters are so new to the city, Clark says that they cannot determine which ones in particular are the most popular, because customers always come in and try new ones.
"When we first started, we would have been happy going through 300 to 400 oysters a day, but when we first opened we were going through over 1,000 oysters a day," says Clark.
Not only is the food delicious, but the the atmosphere is simply unforgettable. The Mad Men era décor is combined with the blue waves of the sea.
"Everything was designed to look like waves. We have 'scallops' coming from our ceiling that are supposed to resemble waves, and if you actually look at our booths from above they resemble waves as well," Clark says.
The Drake has only been serving customers since August 2015, but its success has caught on. The Drake tries its hardest to make room for walk-ins, but reservations are definitely recommended, especially on busy weekends.
The Drake provides a flawless experience to any seafood lover. Whether it's for lunch or dinner, The Drake offers something that Oklahoma City has been asking about for years and, in looks and taste, it doesn't disappoint. 519 NW 23rd St., #111, Oklahoma City. www.thedrakeokc.com