Venues 101
The voice over the phone was sweet but clear: she and her fiancé were dead-set on going to the chapel of love soon. Could they please book the ranch chapel for June?
"Couples are just ready to get married," says Janet Young, owner of event venue Pecandarosa Ranch, based in Claremore. "I'm booking just as many or more weddings for this year than next year."
Couples can begin their search online, scoping out the best locations, considering travel required by guests, capacity, and whether they envision a rustic feel, a contemporary feel, a combination or something special interest.
"You should start at a minimum six months in advance," says Mary Ellen Alexander of Eventures, an event planning company based in OKC. "A year ahead is heaven. You can be more creative in your interpretation."
Venues tend to take a big bite out of the wedding budget, so two big questions are: What is the rental fee? And what services are covered? Oklahoma venues range from less than $100 to $100,000. The Knot estimates the state's average venue cost at around $9,000.
Other venue questions include:
How much is the deposit and when is the balance due?
Are other weddings booked for our date?
What is the cancellation policy?
When can vendors set up?
How much parking space is available,
and will guests be charged?
But business questions and concerns about convention don't need to become a wedding day buzzkill. The happy couple should stay true to their wedding day vision.
"There are no rules," says Young. "I ask brides what they want to do. They can toss the bridal bouquet or not. They can have boutonnieres or not… It's their day. That's what they need to remember."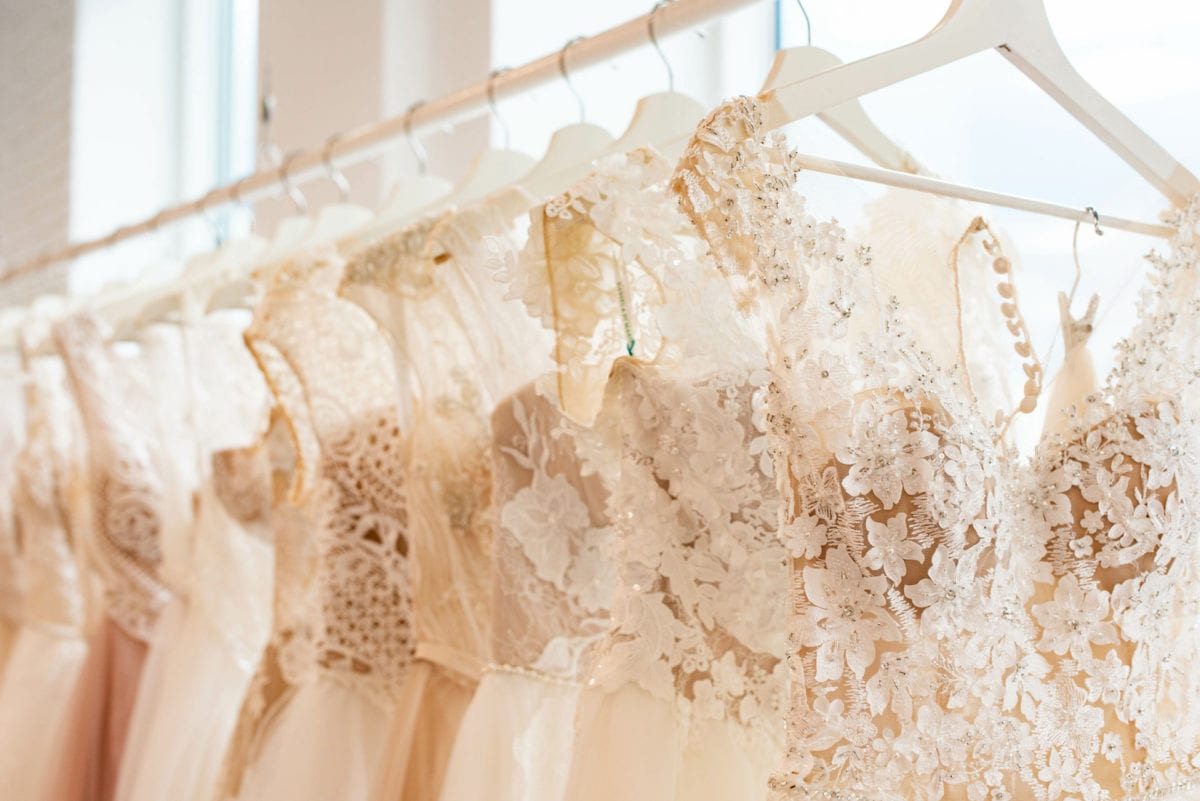 Registry Must-Haves
No wedding registry is truly complete until these 10 often-forgotten items are included:
Toast and Coffee Connoisseurs
Today's modern espresso machines can turn mere mortals into baristas right in their own homes. Models range from plain Joes (about $200) to elegant Ellies (about $2,000-plus), boasting a built-in bean grinder and milk frother.
And there will be no more tears over burned toast when newlyweds bring home their new high-speed smart toaster. The Revolution Cooking toaster, for example, features a touchscreen display with 63 settings to customize the toasting time and temperature.
Granny-Approved
Other fine, sometimes-forgotten gifts include air fryers, Ninja blenders, wine decanters and grandma-approved Dutch ovens.
Robotic vacuum cleaners whisk up the inevitable crumbs left from all that cooking. Some of these powerful gifts, like the Roomba 3S, use Google Assistant or Alexa support to start on voice command.
Safe and Secure
More and more couples are wanting their smart homes protected by their smart phones through security systems like Ring and SimpliSafe.
Thank You
When another mixer or fancy bread knife won't quite cut it, couples can add the option for making a charitable donation. Many wedding registries have built-in giving options. Otherwise, couples can create a separate charity registry through sites like GoFundMe or JustGiving.
Finally, including stationery on the registry list can make it easy for couples to acknowledge their friends' and families' good wishes and properly say, "Thank you."
Wedding Traditions:
Keep or Toss?
Today's couples are taking a breath of fresh air, casually tossing some wedding traditions aside while clinging to the best ones.
"Everything's very personalized," says Ashley Porto, owner of Farthing Events in Tulsa. "Could that entail doing away with some traditions? Yes!"
Rather than the church wedding, many couples are opting for outdoor weddings in tents aglow with twinkly lights. Some couples are forgoing those massive, multi-tiered wedding cakes that reigned pre-pandemic. Instead, today's showstoppers are individual mini-cakes decked out as elegantly as big cakes. And what about tossing the bridal bouquet and the garter? Well, local brides seem divided about 50-50 on that custom, experts say.
"One tradition that's always here is something old, something new, something borrowed, something blue," adds Alexander.
The time-honored tradition was once believed to bring good luck, fertility and prosperity. Some modern brides are taking a cue from Kate Middleton, who had a blue ribbon sewn into her iconic white gown. She also borrowed Queen Elizabeth's crown for her royal wedding to Prince William, while Meghan Markle borrowed Queen Mary's tiara when she married Prince Harry.
Brides still love the romantic wedding veil, believed by ancient Romans and Greeks to thwart evil spirits. The wedding crown or headpiece remains just as popular today. Indeed, much like the British royals did, some brides are getting the best of both worlds by pairing the veil with a headpiece or crown. But the veil can be a source of calamity as well as charm.
"We've had the veil … fall during the kiss because it wasn't secured properly," says Casey Williamson, owner of Casey Williamson Photography in Oklahoma City. Now, the photographer insists that brides do the tilt test. No more veil malfunctions for her clients!
How the Pandemic Changed Weddings,
Maybe Forever
COVID-19 stormed in last year and became history's rudest wedding crasher, pushing nearly half of couples to postpone part of their wedding. By some estimates, 7% of couples flat-out canceled their plans.
"The pandemic caused everyone to freak out and put everything on hold," says Sharon Holm, owner of Tulsa Weddings and Design. "And then we had some clients that were like, 'I'm not waiting for anybody else to tell me when I can get married. I'm just going to do it.'"
Now many couples have decided they have waited long enough to hear those wedding bells ring.
"People are ready to party," says Porto.
Hitch artists helped their few clients get married safely over the last year by planning everything online, facilitating social distancing and creatively using multiple large flower arrangements to take up space that might have otherwise been crowded with guests. But wedding venues that were hurting for business last year are now busy booking weddings this season, as well as one or even two years in advance. Wedding planners, designers, caterers, florists and photographers whose businesses survived the wedding crash are putting in long hours and struggling to find help and supplies to meet the exploding demand.
Amid this growing party-time fever, some changes brought about by the pandemic may persist. Pandemic-inspired (or reinforced) trends such as tent weddings, individual meal servings, canned drinks rather than an open bar and elaborate social media planning may be as lasting as true love.
"No buffets – always a served meal," says Alexander. "And they'll do an 11 p.m. or midnight snack and have a food truck come and serve mini-burgers, mini-chicken, popcorn, that sort of thing."
Fewer buffets and more plated dinners may well continue for some time, says Jared Jordan, CEO and general manager of the Summit Club in Tulsa. The club is serving wedding parties of about 50 to 150 guests now as mask and spacing requirements lessen.
"One of the things we'll probably see initially is a little bit smaller-sized weddings," he says. "But as we get later in the year, we'll probably return to the bigger weddings," around 200 to 300 person events, he guesses.
"It has been," says Jordan, "quite an interesting year."
The Social Media Effect
Social media and all things digital became even more essential when the pandemic twisted conventional social interaction. So it's no wonder the digital craze is driving the wedding industry from planning through finale. Today's weddings and receptions feature specially designed photo booths and photo ops, so partiers can light up social media.
"People are still wanting to incorporate fun elements," says Porto. For example, she recently put together a stockyard theme emboldened with neon lights, carried out in everything from the cake backdrop to the photo backgrounds. Really, it's all about increasing social media traffic and going viral. Guests are snapping candid couple moments and posting selfies taken in photo booths decorated with balloons, greenery, flowers and lights, lights, lights.
Bands and DJs are also primary components of today's weddings. But that first dance simply cannot take place on just any old plain floor.
"One thing that is major league popular is the monogrammed dance floor," says Alexander. "Every wedding we've done, they have wanted to do that."
Other wedding trends include:
Short wedding dresses
Incorporation of the color blue in dresses, linens, shoes and flowers
Ruffles and feathers adorning dresses
Welcome boxes
Outdoor tent weddings
Masquerade weddings
Signature cocktails
Fireworks