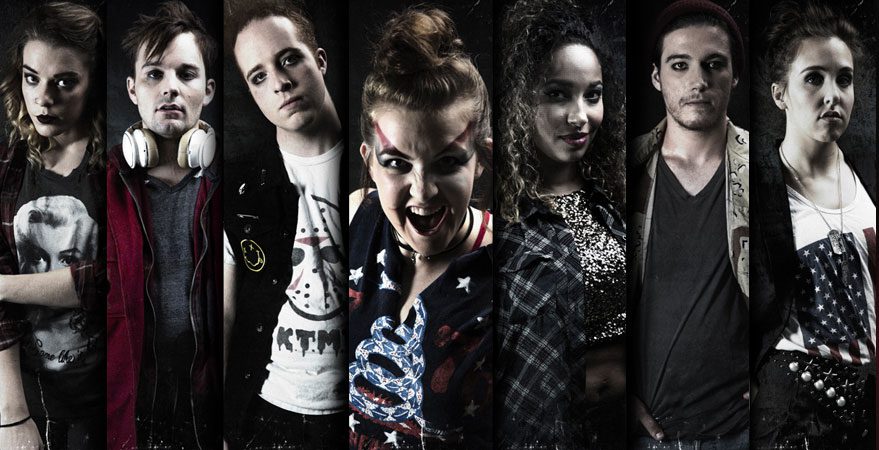 Sept. 22 through Oct. 1 – 
From theatretulsa.org: Based on Green Day's Grammy Award-winning album and featuring the hits "Boulevard of Broken Dreams," "Wake Me Up When September Ends," "Holiday" and the blockbuster title track, American Idiot boldly takes the American musical where it's never gone before. The musical won two Tony Awards after it opened on Broadway in 2010.
American Idiot tells the story of three lifelong friends, forced to choose between their dreams and the safety of suburbia.
"American Idiot is bold, brash and bursting with energy. It's a great show for Green Day fans, but also people who like their musicals to be lively, vibrant and lots of fun," said Sara Phoenix, executive artistic director of Theatre Tulsa.
The cast for "American Idiot" includes Caleb Ricketts, Powell Barca, Thomas Williams, Aarika Trabona, Cat Maddox, Marissa Hess, Kaley Durland, Robert Young, Cody O'Steen, Caleb Stirewalt, Ryan Devlin, Ben Rodriguez, Dustin Harmon, Jacob Brockunier, Troy Cope, Macy Lapham, Sam Callahan, Sally Trtan and Natalia Rossi-Lough.
The show is directed by Tony Shanks, who previously directed Theatre Tulsa's productions of Hedwig and the Angry Inch and Glengarry Glen Ross.
"American Idiot" runs for two weekends, September 22 through Oct. 1. Evening performances are at 8 p.m., with a 2 p.m. Sunday matinee on Oct. 1. Parental guidance is suggested.
For tickets and more information visit theatretulsa.org.