Health boxes by Rebecca Fast
Doctor profiles by Tracy LeGrand and Rebecca Fast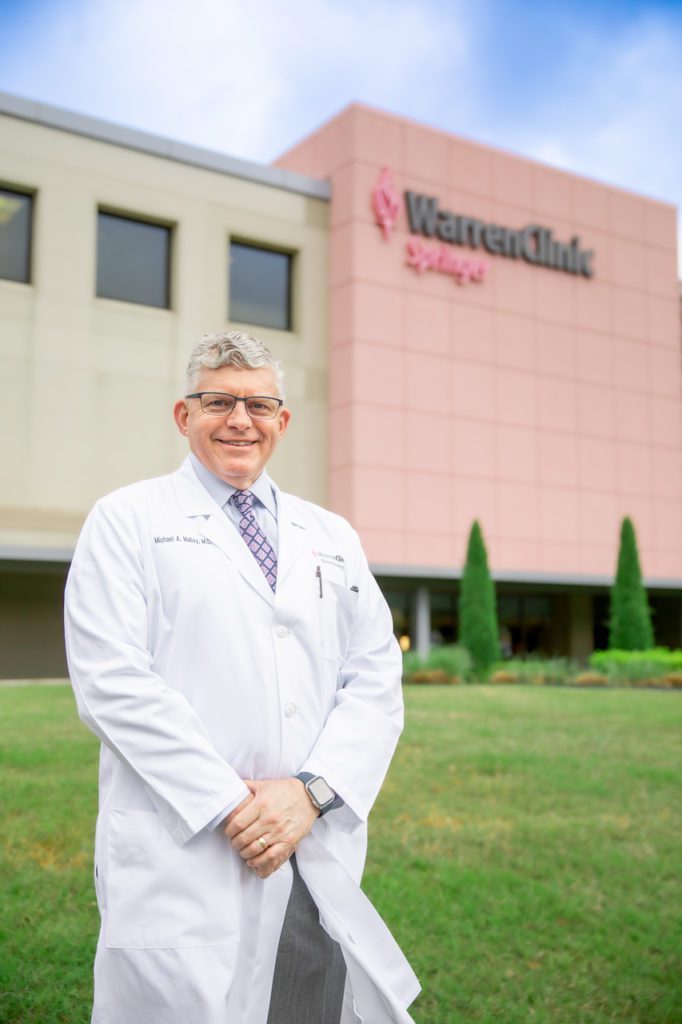 Michael Malloy, M.D.
Rheumatology
Saint Francis Hospital, Warren Clinic
Tulsa
During his residency at Madigan Army Medical Center in Tacoma, Wash., Michael Malloy, M.D., rotated through the field of rheumatology and quickly realized it was the perfect fit for him.
"I loved the long-term relationships with patients, the science and art of diagnosing, and treating the various immune and musculoskeletal related conditions," says Malloy, who works at Saint Francis Health System's Warren Clinic – Rheumatology. "Rheumatology is a specialty that combines the immune system and musculoskeletal system in a unique way."
He says it's fulfilling to see patients with any sort of disability (such as not being able to close their hands or walk without assistance) receive specialized treatment and then later do those skills, as well as other activities, in their daily lives.
Malloy began his career in the advent of biologic medications within rheumatology.
"I feel like the discovery of biologic medications has truly been the most significant breakthrough in the field of rheumatology in the last 30 years," he says. "There are also numerous other medications which have been developed recently, including JAK inhibitors."
Malloy is quick to share the spotlight, and says he works with a wonderful team at Warren Clinic Rheumatology. He mentions that the practice is expanding soon.
"I also feel like what I do is a ministry, and I am reminded daily of the mission statement of the Saint Francis Health System: 'To extend the presence and healing ministry of Christ in all we do.'" – RF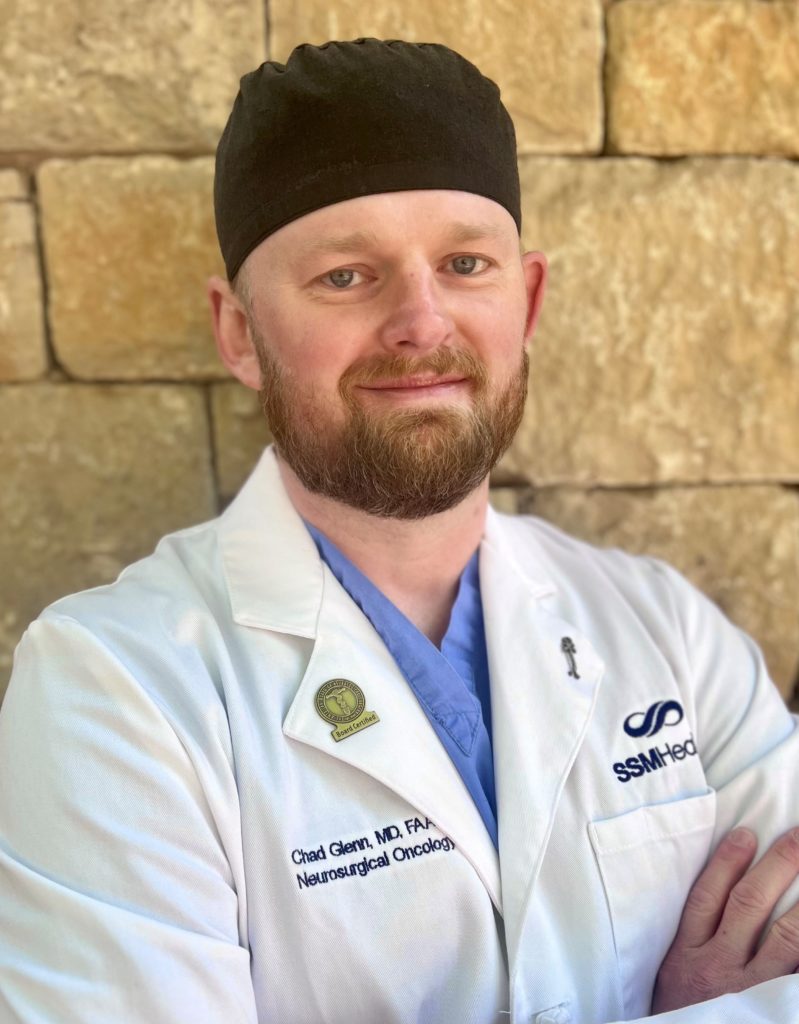 Chad Glenn, M.D.
Neurological Surgery
SSM Health St. Anthony Hospital
OKC
A board-certified neurosurgeon specializing in brain tumors, Chad A. Glenn, M.D., is a Louisiana native who earned undergraduate and medical degrees at Louisiana State Univ. – Shreveport before completing his neurosurgery residency at the University of Oklahoma Health Sciences Center. He completed his fellowship – which specialized in the skull base and cerebrovascular issues – at Case Western Reserve University and served as faculty at the University of Oklahoma before transitioning his practice to SSM Health.
The most rewarding part of Glenn's vocation is helping people during stressful times. He says neuroscience builds "deeper, longer-term connections with patients. Neurosurgery is, no doubt, an opportunity to integrate medical science into many aspects of my job, but the subspecialty where I focus my time allows me to see fewer patients for longer periods, which helps me get to know them and, I hope, helps me make a positive impact on their health and their lives."
Glenn has amassed a pro team that offers the best possible care.
"Because I focus my practice primarily on brain tumors and other cranial issues, we are able to be very specialized in what we do," he says. "I'm so fortunate to have been able to select a team that I know is the best of the best; we not only work well together, but everyone keeps patient advocacy at the top of their minds, no matter their role. When a patient has been referred to a brain tumor specialist, they are often very anxious. To us, being present, caring and comforting to them and to their families goes hand-in-hand with providing top-notch medical care."
Cutting-edge medicine draws patients and referrals to Glenn from around the state to provide individualized treatment.
"There are no 'one-size-fits-all' technologies, but rather, we evaluate each person's unique needs and work together to build the care plan that works best for them," says Glenn. -TL
George Monks, M.D.
Dermatology
Tulsa Dermatology Clinic
Tulsa
Harboring a passion to help people, George Monks, M.D., who works with the Tulsa Dermatology Clinic, was drawn to his specialty because he could care for patients of all ages.
"I love the patient interaction, visual nature of the field, and that it combines so many different disciplines," he says. "It's very rewarding to alleviate the pain and suffering – both physical and emotional – that skin conditions can cause."
He says people may not realize that dermatology is a blend of all medical specialities, requiring a knowledge base of multiple fields.
"Our skin is often a window to understanding manifestations of systemic disease," he says. "Dermatology residency is the most competitive residency to be accepted into, and major advances in cutaneous therapeutics have revolutionized our field."
With a special interest in skin cancer and psoriasis, Monks says every day is different, and he performs numerous in-office procedures and surgeries. He also served as president of the Oklahoma State Medical Association during the pandemic, from 2020 to 2021.
"Dermatology has recently undergone a renaissance in treatment advances," he says. "We now have much more effective treatments for skin cancer, psoriasis and eczema with the development of biologics, JAK inhibitors and other small molecule medications. It's a very exciting time." – RF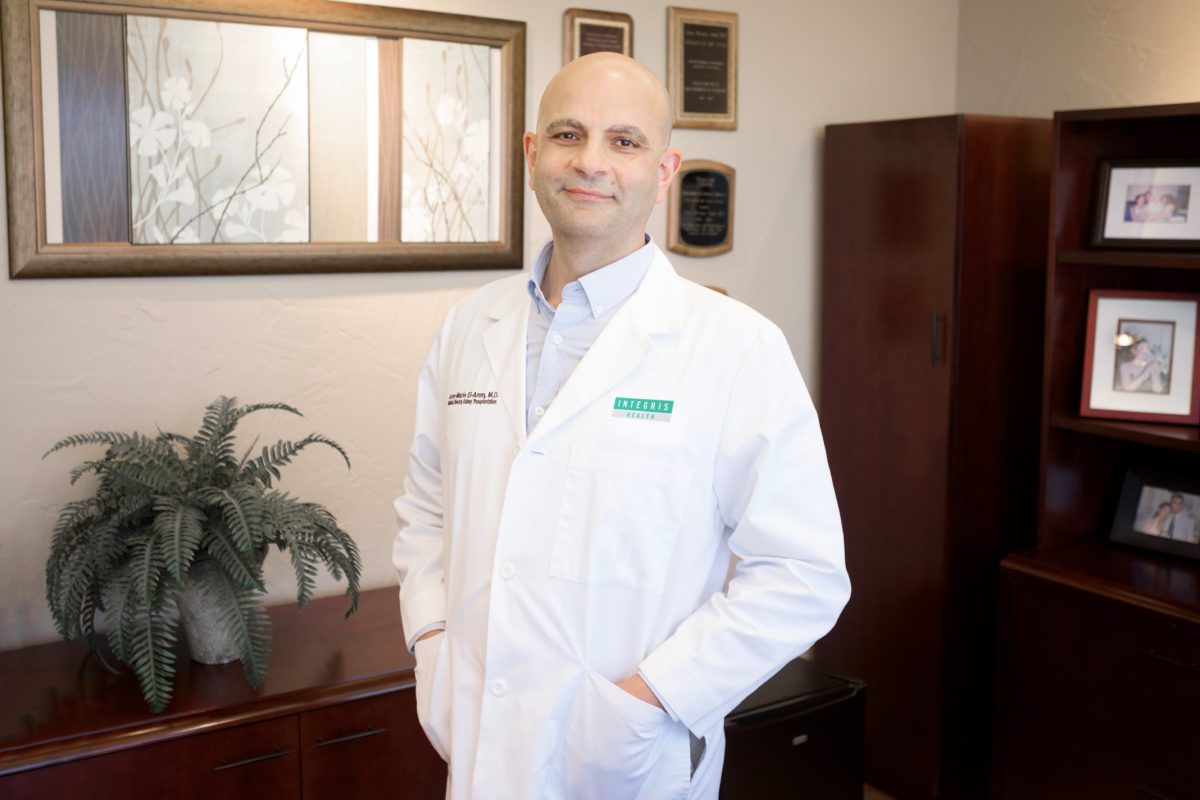 Jose El-Amm, M.D.
Nephrology
INTEGRIS Baptist Medical Center, Nazih Zuhdi Transplant Institute
OKC
As the medical director of the INTEGRIS Nazih Zuhdi Transplant Institute – kidney transplant division, Jose El-Amm, M.D., says the most rewarding part of his career is visiting patients after a transplantation.
"The hope and relief on the patients' faces and family members is indescribable," he says. "Physicians and surgeons get the most credit, but none of this is possible without a dedicated transplant team. Transplant coordinators, social workers, pharmacists, financial coordinators, administrators, floor nurses and physician assistants are intricate parts of the team and are a must for a successful transplant. And none of this will happen without the extreme generosity of the organ donors and their families."
When El-Amm relocated from Michigan to Oklahoma City in 2008, he says transplant nephrology was a budding subspecialty. He credits the referring nephrologists for trusting him to take care of their patients following transplantation. Today, the institute performs around 100 kidney and pancreas transplants a year.
El-Amm's special interests and research in the field of transplantation includes desensitization, paired kidney donation, newer immunosuppressive medication with less toxicities and high risk transplant recipients.
"Transplant patients have to routinely undergo lab testing for the rest of their lives to check on their kidney function and drug toxicities," he says. "They are usually on multiple medications that suppress the immune system, and unfortunately these drugs have multiple side effects. We try to find the best combination of medications that will protect the kidney and/or pancreas without harming the patient." – RF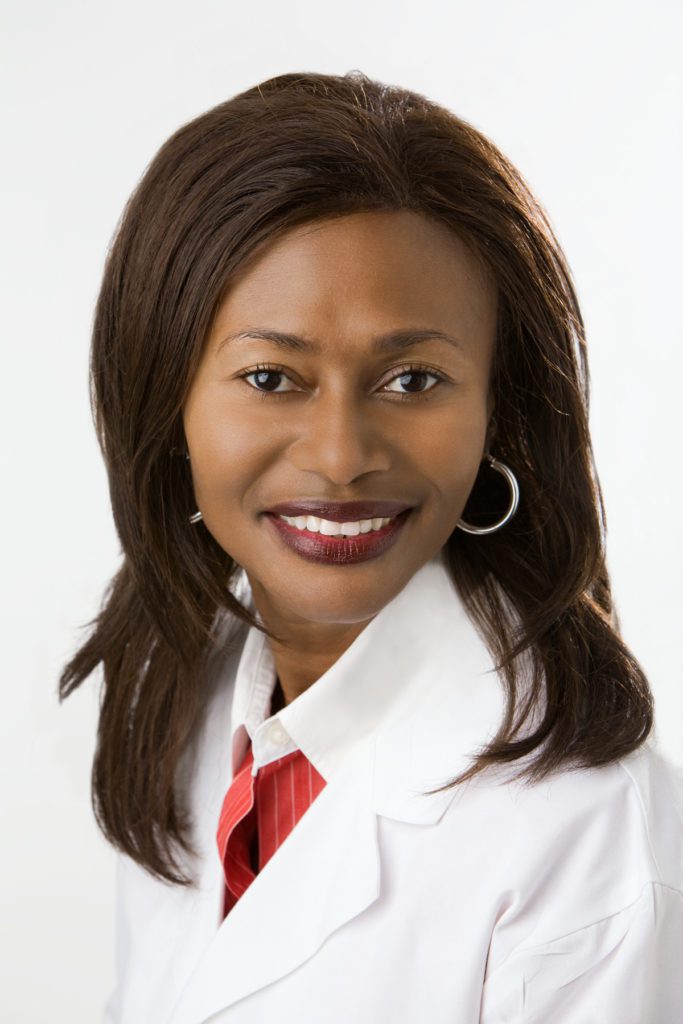 Marilyn Appiah, D.O.
Obstetrics & Gynecology
Norman Regional Health System, Care for Women
Norman
Marilyn Appiah, D.O., helps to bring new life into the world. An Oklahoma native and graduate of Oklahoma State University's College of Osteopathic Medicine, Appiah completed her residency in Akron, Ohio, before returning to Oklahoma to be near family. She joined Moore Medical Center soon after the facility had been ravaged by a May tornado, and later joined Norman Regional Health Center.
The doctor says she continues to be humbled and moved to work in the field of reproductive health, providing best-in-class care to women.
"It has truly been a journey, and continues to be," says Appiah. "I was called by God at an early age to become a physician and did not deviate from it. Obstetrics and gynecology – OB/GYN – is an exciting field, which can be both rewarding and heartbreaking.
"The most rewarding part is being part of bringing new life into the world," she continues. "I love hearing the sound of babies [first] crying and seeing patients with their significant others, bonding with their baby, or in some cases babies – plural. I enjoy educating patients, watching them grow in their knowledge, and, in doing so, becoming their advocate."
Appiah's typical day includes performing deliveries and then "going back to the office and getting home late at night, only to repeat the next day," she says. "There is rarely a dull moment. OB/GYN is a complex, evolving field – and an exciting field."
Giving birth is as old as time, and is a process often enhanced by modern medicine when the need arises.
"One of the biggest breakthroughs are robotics," she says. "Patients recover faster and are able to return to their everyday lives quicker." – TL
Barish Edil, M.D.
Surgery
University of Oklahoma Medical Center, OU Health Stephenson Cancer Center
OKC
Barish Edil, M.D., F.A.C.S., a Wisconsin native and University of Wisconsin graduate, came to the University of Oklahoma for a general surgery residency and research fellowship in surgical oncology. He was inspired by both his patients and his mentors to enter "the very technical and challenging field of pancreatic surgery," he says. He went on to complete highly specialized training at John Hopkins Medicine, and served as faculty there – where he delved deep into cancer vaccine research. Edil was later recruited back to Oklahoma and now serves as the chair of the surgical department at OU, and serves as surgeon-in-chief for OU Health.
"Now as I'm older and more reflective, what drives me in the field are my patients," says Edil. "They're very brave in dealing with challenging problems, and to help them through that process is very rewarding."
With administrative duties involving the oversight of 60 surgeons, Edil spends much of his day ensuring his department is functioning well, and keeping up with the clinical component of his work – seeing patients. In addition, he embraces the role of educating the next generation of physicians in the OU residency program.
Around 50% of people will be diagnosed with a form of cancer in their lifetimes, and pancreatic cancer in particular typically inspires some nihilism, says the doctor. He's working to change that.
"Cancer care is amazing, and it's become a team sport," he says. "I'm a surgeon, and I'm part of a team. We're hitting for the fences to get as long a life as possible. People should know that care of cancer is changing dramatically and quickly. I'm just one of multiple people taking care of cancer patients. Cancer care is a lot of people."
Helping people to live longer is Edil's primary motivation. To that end, during his Hopkins residency, Edil developed a minimally invasive laparoscopic whipple technique; today, the technique is lauded as one of the biggest surgical advancements in thirty years.
"Back in the '80s, there was a 30% mortality rate with the operation, and in the '90s, the guy who trained me at Hopkins took it down to 2%," says Edil. "In the early 2000s, I was part of the generation that made it minimally invasive." -TL
Mahmoud Khaimi, M.D.
Ophthalmology
Dean McGee Eye Institute, University of Oklahoma Medical Center
OKC
A native of Detroit, Mahmoud A. Khaimi, M.D., received his medical education in Michigan, including a residency in ophthalmology. Applying nationwide for a fellowship in the subspeciality of glaucoma, Khaimi was thrilled to join the world-renowned Dean McGee Eye Institute, moving his wife and then-one-month-old baby to OKC. Khaimi was recruited to stay as a glaucoma specialist and cataract surgeon and, a decade later, says his six children are true 'Okies.'
Khaimi's non-surgical days start early – seeing patients from newborns to those in their 90s who've been battling glaucoma for decades. He finds the most rewarding part of his career involves daily efforts to prevent patient blindness.
In 2015, the doctor pioneered a new type of canaloplasty – a glaucoma surgical procedure – and recently developed a corresponding ergonomic surgical device to perform it. His surgical innovations have stood the test of time and are now used internationally "so that ophthalmologists worldwide can treat their patients with glaucoma," says Khaimi.
Preserving eyesight starts with vigilance, he says.
"The biggest thing with glaucoma is awareness, because it can be brewing in your eyes and you have no idea of it. By the time you do, it's pretty far along in the disease process," he says. "It can be the silent thief in the night, stealing your vision – and you don't know until you wake up. It's a progressive disease, so getting to an eyecare provider to get your eyes dilated and checked out is key. It's especially recommended if there are risk factors of age, family history, and race – as Black and Hispanic populations are much more likely than other races to develop it. Also, eye trauma and other conditions can lead to glaucoma. You want to have a baseline comprehensive eye exam for comparison."
Khaimi is pleased with breakthroughs in his field, such as minimally invasive glaucoma surgeries, and is especially proud of the work he and his colleagues are doing at Dean McGee.
"I think I was always a closet Okie, and I would love Oklahoma to know that we at Dean McGee are doing amazing, groundbreaking things that send ripples worldwide," he says. – TL
Health Boxes
Mental Health
According to the National Alliance on Mental Illness, a mental health crisis is any situation in which people's behavior puts them at risk of hurting themselves or others, and/or prevents them from being able to care for themselves or function effectively. Behaviors surrounding a mental health crisis can include social withdrawal, rapid mood swings, abusive behavior, psychosis and paranoia. If you believe an individual is a threat to him/herself or to those around him/her, call 911 and explain that this person is experiencing a mental health crisis, and ask for someone who is trained to work with people with mental illnesses. – National Alliance on Mental Illness
Heart Health 
Cardiovascular disease includes heart disease, stroke, heart failure and hypertension, or high blood pressure – and the United States experienced a steep rise in cardiovascular disease deaths during the first year of the COVID-19 pandemic. Heart disease also remains the leading cause of death in the United States and globally. Preventative care is key to avoiding cardiovascular disease and should include knowing your familial risk, eating healthy, being physically active, maintaining a healthy weight, living tobacco free and closely monitoring your blood pressure and cholesterol levels. – American Heart Association
Digestion 101
Constipation is typically described as fewer than three bowel movements a week and can be occasional or chronic. Treating constipation depends on the underlying cause – which can range from having a poor diet and getting too little exercise to more complex issues such as blockages and/or neurological problems in the colon and rectum. To avoid constipation, eat plenty of high-fiber foods, stay active and hydrated, keep stress levels low and try to create a regular schedule for bowel movements. – Mayo Clinic
Common Cancers
Approximately 39% of men and women will be diagnosed with cancer during their lifetimes. Common cancers affecting men, an estimated 43%, are prostate, lung and colorectal cancers. For women, an estimated 50% of all new cancer diagnoses will include breast, lung or colorectal cancer. While cancer symptoms vary, they can include bladder issues, a persistent change in bowel habits, a persistent cough, unexplained weight loss or weight gain, and changes in breasts – a lump or firm feeling, nipple discharge and/or itchy, red, scaly, dimpled or puckered skin. – National Cancer Institute
Sleep Recommendations
Nightly sleep recommendations vary by age, with suggested quantities being at least 7 hours of sleep for adults, 8 to 10 hours for teenagers, and 9 to 12 hours for school-aged kids. A sleep deficit is created when a person consistently gets less sleep than needed. Despite the number of hours, if you can wake up feeling rested and productive throughout the day, then you're more than likely getting enough shut eye. – Sleep Foundation
Vision Health 
A healthy lifestyle not only supports your overall health, it helps protect your eyes. Diabetes, high blood pressure and high cholesterol can all cause eye health and/or vision problems – and smoking increases your risk of macular degeneration and cataracts. To care for your eyes, have routine eye exams, wear sunglasses and protective eyewear when needed, and allow your eyes the chance to rest when working on your computer with the 20-20-20 rule – every 20 minutes, look at something 20 feet away for 20 seconds. – National Eye Institute