In the morning, Carla Grogg drives south on Mingo Road in Tulsa. She turns east at a taco shop, passes two small strip malls, a golf shop and a school built like a fortress, and turns left through a gate.
Past it, she is in the hidden world of a miniature farm, a tiny fruit orchard, a buzzing apiary and, beside it, a restaurant dubbed Grogg's Green Barn, open only half the year and serving just two meals a week.
Almost everything on the plate at that restaurant is grown on the farm. In the middle of winter, Grogg carefully places seeds into the soil of the raised beds, which ultimately yield lettuce, kale, carrots, cabbage and broccoli.
Meanwhile, a thousand miles to the east, a veteran chef mulls an intriguing job offer from Tulsa. On the drive from Charlotte, N.C., west toward Asheville (immortalized in Look Homeward, Angel), there's a point where the flatlands end and the Great Smoky Mountains begin. That's where Andrew Donovan grew up. His earliest food memory is of his grandmother teaching him how to pick strawberries in her garden, which was a tiny farm much like Grogg's.
Donovan's father, more sophisticated in the kitchen than grandma, took cooking classes in Italy and inspired his son to set his sights on the world outside North Carolina. Donovan became a chef at New York's Core Club – "exclusive and mysterious," he says, with a $50,000 initiation fee for those lucky enough to be invited – and, later, the executive chef at Tia Pol, where legions of devoted fans waited in line for hours nightly to try his creative take on Spanish tapas. ("I was scared to death until I realized I mustn't get hung up on what was authentic, but should concentrate on what's good," he says.)
These experiences formed a prelude to realizing his dream: opening a seasonal, small-plates restaurant in a North Carolina seaside town. Brine and Bottle became so famous that the Food Network sent a celebrity chef to Nags Head just to film it.
"Everyone said, 'It won't work,'" Donovan says, "but we made it work."
Five years down the road, Donovan, married with children, realized that since he had to work 80 hours a week in the restaurant, he'd never see his children grow up. He couldn't do that.
Some time later, he accepted the offer at Grogg's Green Barn. He planned his first menu. He'd be far from home, so he let himself be inspired by comforting childhood memories. And there'd be a lettuce salad.
Meanwhile, months after planting the seeds, Grogg and her staff carefully tend the fragile lettuce plants by watering them and covering them on cold nights.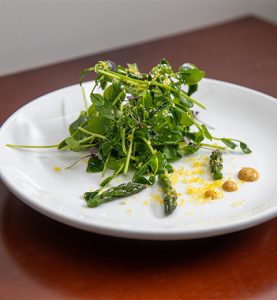 "It sounds simple," she says, "but it's a labor of love. We sweat and get dirty."
In the spring, leaves cover the fruit trees and brash yellow flowers enliven berry bushes. It is time to plant tomatoes, peppers, okra and squash.
"Now those are really high maintenance, a lot of work," Grogg says. "Still, I could never imagine going back to a desk job."
In the evening, dinner guests arrive. The smart ones come early so they can tour the farm and see where their dinner was grown.
Donovan begins plating the first courses in a tiny kitchen that forms one side of the bright, airy dining room.
"This salad has several varieties of lettuce – Nancy, tennis ball, dragoon, rouge d'hiver," he tells the diners. "The lettuce, the thyme, the honey all come from the property out back. The radishes are from a small local farm in Vinita, and that's as far as anything you'll be served tonight has traveled."