Retired Jenks High School football coach Allan Trimble is not from this world, according to his friend Troy Taber.
"He knows where he is from and where he is going," Taber says. "'Spectacular servant of the Lord.' Those are the four words I would use."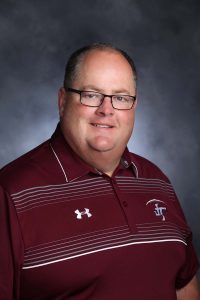 Trimble, 55, was diagnosed in June 2016 with amyotrophic lateral sclerosis, commonly known as ALS or Lou Gehrig's disease. Two years later, physical limitations forced him to stop coaching, but he was far from ready to stop working. The Trimble Strong Foundation began in February 2018.
"So many people who get diagnosed with ALS want to create awareness for the disease and raise money for treatment," Trimble says. "My goal and my life's work have always been to try to coach and encourage people to live life to the fullest, even when life is hard. So my wife and I decided not to change that. The foundation just kind of carries on what I've done my whole life as a coach."
Among its services, the foundation supports a school in Honduras; provides local scholarships for "kids with great character," Trimble says; assists foster families; and helps with child adoption expenses.
Courtney Trimble says her husband "probably has done a lot better than I would ever have done" since being diagnosed with a disease that will shorten his life. She has taken a leave of absence from her job to care for him.
"He's staying busy, focusing on the things that are important, still teaching at church when he can," she says. "He e-mails and encourages people. That kind of lets him forget about the physical things that might not be going as well."
Trimble adds: "My disease has progressed to where I have to have people helping me most of the time now. It slowly takes away all of your physical abilities. As the provider and protector of your family, that is very frustrating. Sometimes it can kind of wear you down."
He says his faith "is the only thing that has carried me through. In a strange but very real way, my journey with ALS has really blessed me with spiritual growth."
Trimble graduated from Northeastern State University in Tahlequah, where he played football, and landed his first teaching job in Owasso. He was hired by Jenks High in 1990 and, by 1996, was head coach, a job he held for 22 seasons. In that role, he and his teams captured a record 13 state titles, with notable winning streaks from 1996 to 2001 and from 2013 to 2015.
Keith Riggs, who succeeded Trimble as head coach, was his assistant for 15 years.
"Through all his success, Allan is one of the most humble people I've ever been around," Riggs says. "Throughout his life, he has always searched for ways to serve others: his players, his coaches, fellow teachers, the community, and now with his foundation."
Brent Sharp, a builder who lives in Jenks, played for Trimble from 1998 to 2000.
"We won the state championship all three years that I played varsity," Sharp says. "You didn't realize what you were doing; you just went out and won. But now that I'm mature and think with a full brain, I know that it was because at the top of his list of teachings was that perfect practice leads to perfection."
When he learned of Trimble's diagnosis, Sharp says "a little part of me died a little bit. Someone who has done so much and affected so many people, you find yourself asking, 'Why him?'"
But Trimble, Sharp says, "wants to use this to affect as many people as he can while he's here. That shows you his depth of character. He cares very little about his own legacy."
Taber, who serves on the foundation's board, says he and Trimble grew close while working on outreach projects for Park Church of Christ in Tulsa. Trimble says that while he's the CEO of the foundation, Taber is "the face of the place. He does the fundraising, public awareness and education."
In starting Trimble Strong, the Oklahoma Sports Hall of Famer says: "I had no idea what the foundation was going to do. We just wanted to serve people. But the biggest gift has been how it has brought so many people together."
One project includes a June trip to the Honduran school.
"They will do professional development with the faculty, a soccer camp and repair work on the buildings," Trimble says. "They will do a vacation Bible school. It will be people from all walks of life – men and women and two high school kids."
The Trimbles have two daughters. Tylar, an educator, takes care of the foundation's website, and Tori is a junior at Oklahoma State University.
Taber says Park Church has a tradition of surrounding the homes of its members in need to pray and sing. After Trimble was diagnosed, many suspected his neighborhood would not support such a rowdy gathering … so they moved it to the school gym.
"Three thousand five hundred people showed up for that prayer vigil," Taber says.