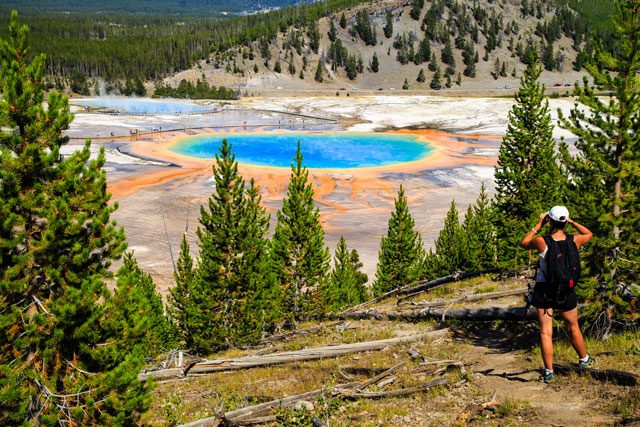 [dropcap]Yellowstone[/dropcap] National Park is the world's first national park. This American treasure is a geological and wildlife experience full of flora, fauna and Old West ambience. Located in Wyoming, Yellowstone also borders small areas in Montana and Idaho. Geysers, geothermal pools, waterfalls, fumaroles, mud pots, hot springs and lakes are part of the beauty of this splendid destination.
LODGING:  
One of the most popular choices for lodging is Old Faithful Inn, but the pine lodge chateau known for its 85-foot stone fireplace is closed for renovations and will not reopen until 2017. Fortunately, there are multiple other options for travelers.
Lake Yellowstone Hotel and Cabins, located on the lakeshore, was built in 1891 and is on the National Register of Historic Places. The hotel has been expanded and renovated multiple times.
Mammoth Hot Springs Hotel and Cabins, a departure point for motor coach tours, will be undergoing renovations through during the winter seasons for the next two years but will still be available for summer lodging.
The Hampton Inn West Yellowstone is another option that may appeal to families who are looking for lodging with a swimming pool.
LUXURY LODGING:
For those seeking cabins and lodging with more amenities, you can consider the following accommodations all still within driving distance to Yellowstone.
Big Sky Vacation Rentals, which is located 45 minutes from Yellowstone National Park, provides loding for those who wish to experience nature without getting too rustic.
Brooks Lake Lodge was a pioneer of glamorous camping, known as glamping, and features a spa.
ACTIVITIES:
No matter where you stay, the real attractions of Yellowstone are the sights and activities.
Grand Canyon of the Yellowstone is a 20-mile chasm that includes cascading waterfalls and alpine pastures. Kayak across Yellowstone Lake, take scenic boat cruises or rafting trips. Southwards to Teton Range, there are scenic lake cruises and float trips on Snake River.
Preserved hydrothermal vistas and wild animals are part of Yellowstone's allure. The ongoing volcanic activity can be studied at the Canyon Visitor Education Center to learn how volcanoes, geysers and geological history influenced the area.
Check out Wild West Adventures to experience Yellowstone as the pioneers did with stagecoach and horseback rides among the sagebrush, complete with a traditional cowboy-style, western cookout dinner. You can ride along Garnet Hill or ride out to Yancey's Hole and enjoy cowboy food and coffee brewed over the campfire.
There are also motor coach and historic yellow bus tours available for visitors. A four-hour tour departs from either Mammoth Hot Springs Hotel or Canyon Lodge.
EcoTour Adventures Jackson Hole offers experienced guides who point out wildlife for observation and photo opportunities.
Perhaps the best part of visiting Yellowstone is that you can make it part of your route to other wonderful states and landmarks in that region of the United States. A minimum visit of two days to as long as a week is recommended depending on your preference.

TIPS
• Travelers have recommended flying to Salt Lake City or nearby airports and renting SUVs from there. Driving the trails, with their children as a captive audience, is a favorite activity for many parents.
• Visiting in mid to late June will allow you to see Yellowstone with snow on the ground, but the warmer weather means roads will be drivable. You also won't miss the experience of seeing the park's abundance of wildlife.
• Day hiking is an option, but be prepared for brief but intense lightning and hail storms that may occur.
• A couple of nights at a bed and breakfast in nearby Jackson Hole is worthwhile, especially to see the roaming elk.