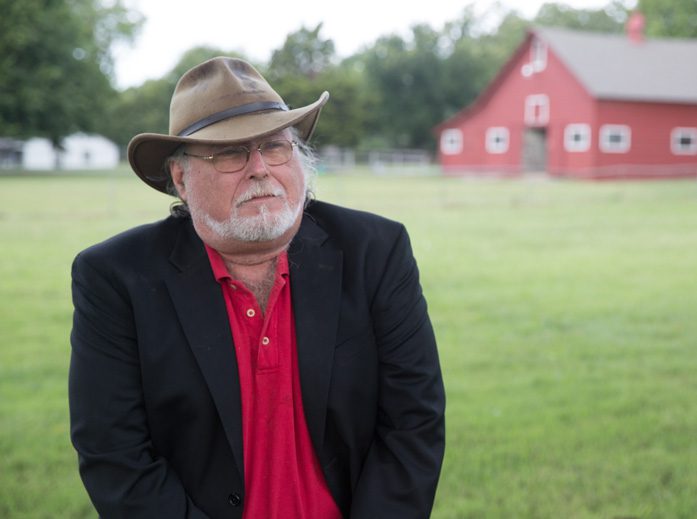 [dropcap]Listen[/dropcap] up, and listen very carefully. W.B. Ward, a 57-year-old Tulsa native and show biz veteran is in high demand as an audiobook reader after only a year and a half in the business. The reason, he says, is that recording an audiobook isn't just a reading gig; it's show business.
"I got into a debate with a fellow audiobook producer some time back," he recalls. "I declared this to be show business. He said, 'No, it's something else.' It's show business. It's not just reading. You're acting. It is an acting gig, and it's no different from producing a TV show, a motion picture or a radio drama. It is entertainment and you have to know how to perform."
Ward ended up in the audiobook world after a pair of strokes two years ago forced him to reinvent himself. They left him with the inability to stand for long periods of time. He sought out a way to make a living that would work with his new limitations.
A spectator in his home recording studio, would, he says, laugh when they see him in action. Though listeners only hear his voice in the finished product, he physically acts the parts as he reads, gesturing constantly to nail the portrayal of this or that character.
"I had to keep adjusting the windscreen on my microphone because I kept slapping it. Most of the time when I do a retake, it's because I've been gesticulating so much I've actually moved my microphone a few times while recording. If I have another stroke and end up losing my arms, I doubt that I'd be able to do anymore audiobooks," he says.
Ward reads a variety of material. He just put the finishing touches on a recording of a biography of Plato and Aristotle. His favorite genre, though, is the classics.
[pullquote]If recorded well, it doesn't require you to see a picture. If done correctly, the listener can see the entire image in their mind without any assistance from a screen and with no visual references whatsoever.[/pullquote]"My favorites that I've done so far was Charles Dickens's A Christmas Carol and an anthology of Edgar Allen Poe short stories. I'm getting ready to do H.G. Wells's War of the Worlds here in the next few months. You just can't beat writing like that. I love reading those because they're just so well-written. And because they're so well-written, they're very easy to perform," he says.
Also among his favorites are the novels of Oklahoman Joe Harwell, author of Welcome to Utica, which is set entirely in Tulsa. Harwell had been on the hunt for an audiobook publisher when he met Ward in 2012. They hit it off, and a chance meeting turned into a partnership when the two discovered ACX, a division of Amazon that facilitates self-published audiobooks. They work together through ACX on a revenue share basis. Harwell provides the material, and Ward provides the voice talent.
"He has a great voice," says Harwell. "His delivery is just completely awesome. All of my books are set in Arkansas and Oklahoma. He's lived and worked here for a long time, and he understands how people from this area talk, the dialect. I write with a little bit of colloquial language. He understands that completely and delivers it without a hitch."
To hone his craft, Ward often listens to classic radio shows like Father Knows Best and Gunsmoke. He pays close attention to how characters are developed and used in the stories, picking up tricks along the way that he uses in his own readings.
Ward insists that his entry into the audiobook market, though galvanized by accident, was a natural progression of his entertainment career. In previous lives, he's performed stand-up comedy, magic, mentalism and worked in circuses and sideshows. He's done his fair share of radio broadcasting, too, and returned to it after his strokes.
He produces a radio show, Ward's Daily Almanac, a syndicated drop-in feature, a sort of "this-day-in-history" that covers trivial and overlooked, but also compelling, historical events. The show airs around the country and is followed by Tulsans on Blacklightradio.com. It airs seven days a week, seven times a day.
Ward just wrapped his 25th audiobook. He's grateful for the reception he's received and plans on continuing. He will, he says, never lose sight of what makes a good audiobook.
"Creative expression is key in an audiobook," he says. "If recorded well, it doesn't require you to see a picture. If done correctly, the listener can see the entire image in their mind without any assistance from a screen and with no visual references whatsoever. If you're unable to do that, then it wasn't recorded well."