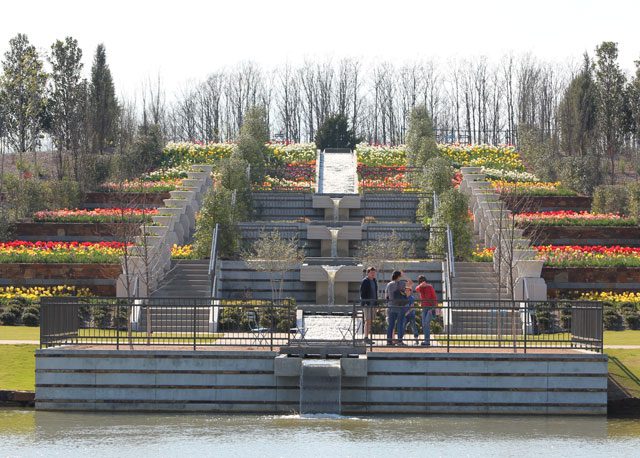 [dropcap]What[/dropcap] greater way to shake off the cold and welcome the warm than by reveling in spring's greatest gift – flowers? In March, visit Myriad Botanical Gardens in Oklahoma City or the Tulsa Botanic Garden to see their newest floral-laden attractions.
In OKC, Kaleidoscope of Colors will offer viewing of hundreds of orchids and other spring bulbs in a "rainbow of colors," says Nate Tschaenn, Myriad's director of horticulture.
"I expect to have as many colors as possible," he says. "The exact colors and types of flowers will depend on availability at the time, but one of the main features of the show is orchids. The show has been moved back a month to coincide (hopefully) with the spring bulb displays."
Tschaenn also says he and other employees of Myriad have gone above and beyond this year to make the show visually dynamic for visitors.
"We've planted more tulips than ever before, added even more daffodils, and are experimenting with some other kinds of bulbs like crocuses and striped squill," he says.
As for the Tulsa Botanic Garden, the Botanic Blooms event has been in the works for quite some time.
"The planning for the spring bulb display begins the summer of the preceding year, as the horticulture staff begin choosing a color palette and then specific bulbs for the planting design," says Lori Hutson, communications and programs director at Tulsa Botanic. In addition, the staff strategically plants these blooms to ensure the utmost longevity for viewers.
"When the flowers begin to blossom is dependent on weather – usually March-April. Our staff chooses a mix of early, mid-season and late blooming bulbs to extend the display," says Hutson.
Kaleidoscope of Colors runs from March 10 to April 15, and Tulsa Botanic Blooms runs throughout March and April, depending on the weather. For details, visit oklahomacitybotanicalgardens.com or tulsabotanic.org.