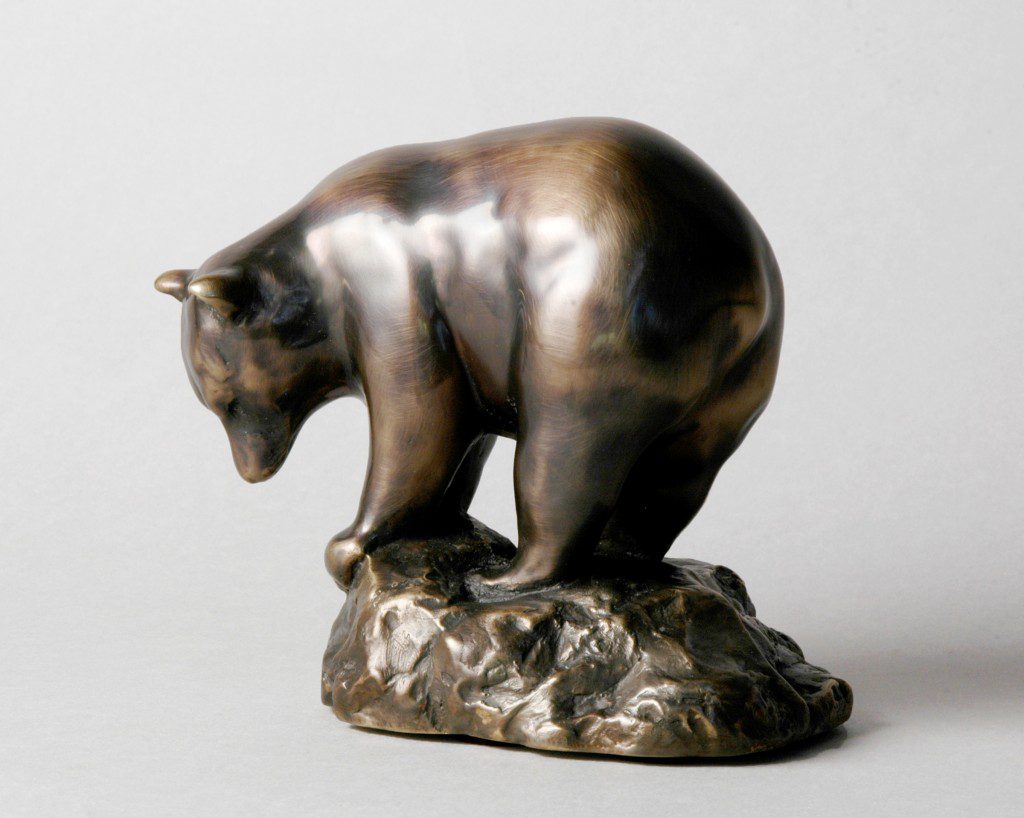 The two artists chosen for the 2014 Rendezvous Artists' Retrospective Exhibition and Art Sale at Gilcrease Museum have much in common. Both love the habitats and wildlife of the Pacific Northwest. Both were influenced by their family's respect for nature. And both sculpt or paint the natural settings and animals that inhabit the region.
Gilcrease will showcase the art of sculptor Ross Matteson and painter Greg Beecham in the show opening Thursday, April 10 and continuing through July 13. The artists have been professional friends for 25 years and will speak about their art Friday, April 11, in a public forum at Gilcrease. Beecham will speak at 10:30 a.m.; Matteson will talk at 1:30 p.m.
"During Rendezvous, which began in 1980, we carry forward the legacy of Thomas Gilcrease, the museum's founder, by supporting contemporary artists who capture the spirit and imagination of the West," Duane King, Gilcrease executive director, says.
Matteson, a resident of Olympia, Wash., grew up in a family deeply connected to the natural world. His father was a bush pilot, biologist and a falconer. His mother was an educator and political activist who encouraged her son to be aware of world events and their impact.
"With my parents' influence, I was exposed to many multicultural opportunities. My parents instilled in me a romance for history, a knowledge of world affairs, creativity, invention and a respect for scientific and religious education," Matteson says.
Although Matteson's first career was in the music recording industry, he's been creating sculpture for the past 28 years – since he graduated from college. In that time, his art has been featured in 16 countries and more than 150 exhibitions, including the annual Prix de West exhibition at the National Cowboy & Western Heritage Museum in Oklahoma City.
"I love working with a wide range of permanent media. Materials such as stone, glass, metal and wood express qualities so beautiful they inspire what I pursue in a sculpture," he says. "I am relentless in carving, forging and sculpting to bring emotion and life to these inanimate materials. I engage in a high level of craftsmanship and work diligently to express what I believe is the originality and spiritual essence of my subject and concept.
"I test the bending, breaking, melting, shining and roughing point of every bronze, stone or other material I work with," Matteson says. "I test the reflectivity and light absorptions of these surfaces in different kinds of natural and artificial light."
What is most expressive about his sculpture is how he applies this technical knowledge to reveal a bird's behavior, its pose, distilled silhouette and its relevant support form and context within the confines of each media.
His sculptures often explore the subject's relationship to its environment, while hunting with trained birds of prey.
"Even though the visual language of my art often reflects the wilderness and indigenous cultures of the Northwest, my themes are more broadly inspired by personal experience throughout the world. I have had the enriching opportunities to travel extensively. These experiences have been open windows to observe social and political events and environment trends, which have impacted my art," Matteson notes.
One of his pieces in the show is a glass sculpture born of the Sept. 11, 2001, tragedy at New York City's World Trade Center.
Titled The Structure of Love is Indestructible, the work confronts fear and tragedy in every form – from ignorance, war and racism to tornadoes, hurricanes and gang violence. I wanted the sculpture to help bring to light the overwhelming goodness at the heart of humanity," Matteson says.