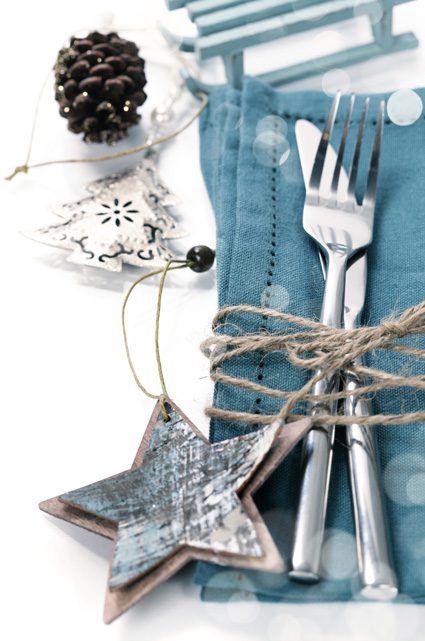 [dropcap]The[/dropcap] holidays seem to be the best time for relaxing meals and conversation with family and friends, right? After all, that's what we see in movies, on TV shows, or on all those sappy commercials. However, we all know that the holidays can be a rough time to navigate the manners and etiquette of family get-togethers and dinners.
Knowing proper table manners is the first step to letting your cousins and aunt know you weren't raised in a barn.
"Manners are simply about being polite and considering the comfort of others," says Jana Christian, president of the Etiquette School of Oklahoma.
Growing up, we all heard about the "no elbows on the table" rule. According to Christian, this is one rule we all should still follow, even though it might seem old-fashioned.
"The guideline for elbows is, where the wrists bend, that is always acceptable to be on the table," says Christian. "Mid-arms may rest sometimes on the table, for example if you are in conversation and are leaning in; however, full elbows are never appropriate on the table."   
Etiquette can prove trickier when someone asks for the salt.
"Always pass salt and pepper together," says Christian. "If a person asks for just one, pass both anyway."
Now, which fork to use? Most of us have sat down for an informal dinner with our families and have used just a knife, fork and spoon. Maybe a salad fork was thrown in. However, at most formal dinners, at least eight pieces of silverware are present.
"Depending on the style desired and the number of courses, it could be a simple setup of rolled silverware and a stack of plates next to a buffet, to individual place settings with multiple flatware and wine glasses per person," says Angel Gonzalez, a faculty member of Oklahoma State University's School of Hotel and Restaurant Management.[pullquote]A good rule of thumb is to always have three to four extra place settings, just in case you have extra guests or you break a dish."[/pullquote]
"One rule of thumb for knowing which utensil to use if you find yourself at a more formal occasion is to start with the one farthest from the plate and work your way in," says Gonzalez.
Christian also endorses that technique, but says whether it's formal or informal, it is important to pay attention to how you are holding your silverware.
"What you should know about using utensils, is that they should be held like you hold a pen or pencil," says Christian, which means the thumb and index finger should grip the utensils towards the end of the handle.
"Avoid clutching the utensil with your hand looking like a fist," says Christian. "Remember, it's a fork, not a shovel."
For hosts setting the table, Christian recommends taking the formality of occasion into consideration as well as the number of courses.
Gonzalez gives similar advice.
"For a nice, sit-down dinner, the minimum should include a plate, fork, spoon, knife, napkin and glass," says Gonzalez.
What if you don't have fine china? No problem, says Christian. Today, it is acceptable to mix and match.
"It doesn't matter if you have fine china or expensive silver," says Christian. "Just keep in mind, you want to stay with the same style of dishes throughout each course."
For example, it is acceptable to use different patterns and styles of fine china on the table at once, but everything should be fine china, explains Christian.
"You wouldn't want to mix fine china and stoneware, but it is okay to be creative with your table settings," she adds.
She also encourages hosts and hostesses to use real plates instead of paper.
"Again, be creative, decide what style you would like to use and visit antique stores or thrift stores until you have the number of settings you need. A good rule of thumb is to always have three to four extra place settings, just in case you have extra guests or you break a dish."
Gonzalez also recommends decorating the table with linens, lighted candles and fresh flowers.
"Softened lighting makes for a better dining atmosphere," says Gonzalez. "Music at a low volume is important so people can enjoy both the music and the conversation."
Conversation should include everyone present, adds Christian.
"Strive to include everyone at the table, unless it is a large group, then only those closest to you. Mealtime should be enjoyable, so the conversation should be kept light," she advises.
Family dinners can be fertile ground for arguments, so if a disagreeable topic arises, simply agree to discuss the topic later or change the subject.
"Avoid engaging in conflict," says Christian. "The table is not the place for a heated discussion. If things are headed in the wrong direction, change the subject."   
Barring amiable discussion on a hot topic, both experts agree that being polite is not exempt from the dining table.
"In my opinion, you are not going to change a person's opinion by entering into an argument with them," says Gonzalez. "It's best to avoid difficult or challenging topics."
Finally, it is always a thoughtful gesture to take a host gift when invited to someone's home for a meal or party, says Christian.
"If you take wine or food, don't expect the hostess to use it with the meal," notes Christian. "They probably have everything all planned. Instead, suggest they enjoy it later."
When trying to decide what to take for the host, think about what they enjoy, says Christian. Books, flowers, candles, wine or stationery are usually good ideas.
"Being a professional in the hospitality industry, I believe that it is necessary to always bring something with you," says Gonzalez. "Wine is appropriate if you know that the host enjoys it. Flowers or a small gift are a nice touch as well."
Lastly, remember to say thank you.
"If someone has invited you to their home for food and drink, always send a handwritten thank you card within the week after your visit," says Christian.