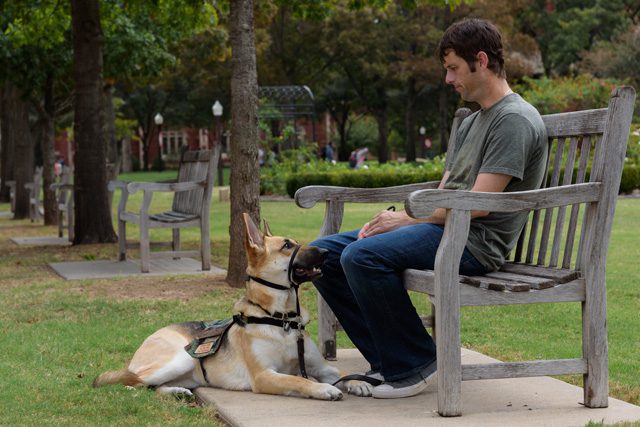 [dropcap]While[/dropcap] most dogs may be valuable companions and pets, many people use service dogs to save lives. Whether it's a K-9 unit helping keep the city streets safe or a service dog that provides assistance for military veterans suffering post-traumatic stress disorder who need help with their day-to-day routines, dogs can be important life changers for many Oklahomans.
Finding Help with PTSD
A chance meeting at the Veterans Affairs hospital helped veteran Ryan Perkins gain control of his life again.
A veteran of the Oklahoma Army National Guard, Perkins says he wanted to be in the military since he was a child. He joined the OKARNG in his senior year of high school and worked full time at Camp Gruber in Braggs before being promoted to sergeant, E-5. As part of his promotion, he was transferred to the 120th Combat Engineers out of Muskogee and deployed to a base in Iraq's Sunni Triangle, near Fallujah, from February 2004 to February 2005. Perkins served as part of his unit's convoy security team, escorting vehicles such as civilian and military supply trucks and defending them during attacks.
After returning from Iraq, Perkins says symptoms of post-traumatic stress disorder, including a fear of crowds and being in public, made it difficult for him to lead a normal life. Counseling helped some, he says, but was unable to completely resolve the problem.
While at the VA hospital, Perkins met another veteran dealing with PTSD who had received a service dog to help him recover. After some careful thought, Perkins decided to put in an application.
"I pretty much lived almost like a prisoner in my own home for several years," Perkins says. "I was afraid to go out, afraid to do anything. I was seeking something to help me get my life back. To be able to get the freedom to go back into public again."
After a lengthy application process, Perkins was paired with Ruby, a nearly 2-year-old German shepherd. He worked with Ron Miller, president of the board of directors of Therapetics in Tulsa, who was also paired with a service dog to help him with PTSD.
Perkins says talks with Miller and other veterans who had been paired with a service dog encouraged him to make the step to get one of his own.
"Ron was able to guide me, kind of tell me how much difference it had made in his life," he says. "Between speaking to the different veterans that had a dog and Ron, it was pretty evident it really made a big difference."
Ruby was placed with Perkins at the end of the summer – just before he started the fall semester at the University of Oklahoma, where he's majoring in environmental geology. He had previously attended Oklahoma City Community College and the summer semester at OU, but was nervous about the crowds at the college and large classes of the fall semester.
Fortunately, he says Ruby has made an immediate impact in his life. He says he feels more comfortable going out in public, and is even able to attend a large lecture class with around 200 students.
"The biggest thing that she has helped me out with is she can sense if I'm getting upset or having a panic attack," he says. "She can pretty much sense that stuff just about every time. She'll start nudging me with her nose under my arm. She'll force me to pay attention to her, and basically she'll continue to do that until I calm down. She won't leave me alone until I calm down."
Perkins has become passionate about the use of service dogs to help treat PTSD, which is currently not offered through the VA. He says he knows many veterans who face the same difficulties he does, and he knows some of them may end up taking their own lives.
"It really breaks my heart, because I wish all these people could get help," he says. "If a dog can make a difference in saving somebody's life, then by all means, the VA needs to be providing that."
Ruby helps Perkins not only by helping to keep him calm when necessary, but the sight of a service dog causes people to give him more room so he feels less crowded, he says.
He says overall, people at OU who know about his PTSD have been very kind and accepting. He acknowledges, however, that using service dogs to treat nonphysical issues is new, and he encourages people to be accepting of that use.
"Not everything is visible," he says. "People could be hurting on the inside. It could be a lot of things, and the dog could be a huge help to them. Just be kind and courteous to people who are using them for help. They're depending on them for their day-to-day lives."
From Rescued to Rescuers
Tulsa firefighter and Oklahoma Task Force 1 member Adrienne Seibel jokes that Gunny, her yellow Labrador retriever who has been qualified to do search and rescue, has a less interesting story than many of the dogs on the task force.
A search and rescue handler in California intended to use Gunny as a hunting dog, but Gunny had too much drive for the task – a common theme among the dogs in Oklahoma Task Force 1 that were trained by the National Disaster Search Dog Foundation. The foundation recruits dogs for their motivation and boldness – traits that can find the animals in a shelter for being difficult to manage. The foundation rescues suitable dogs and partners them with handlers to respond to natural disasters.
Several of the dogs on the task force were rescued from kennels with days left before they were scheduled to be euthanized, Seibel says. Now the dogs work with their handlers to help save lives.
Seibel got her start with the task force after talking with her cousin, who is a member of one of the search and rescue task forces in Texas. She initially worked with a dog for about a year and a half before it became clear the dog was not cut out for search and rescue work before being partnered with Gunny. The two were paired in the fall of 2012 and received their State Urban Search and Rescue Alliance (SUSAR) Type II Certification in March 2013 – and were deployed shortly thereafter in the Moore tornado that May. Gunny received his SUSAR Type I Certification a month later.
"The dogs got out of the truck ready to work, and we knew the scale of the deployment," Seibel says. "It was gratifying just to say that we got to be there. We got to go work, and we did the job we were supposed to do."
The number of deployments the team is sent on each year depends largely on the weather, but Seibel says there has been one or two deployments each year since she received her certification. The Oklahoma team may also be called in to neighboring states to help out when needed.
The dogs need to be kept in a state of continual readiness, however. That means the members of the task force, who come from all over the area – many of them working for police departments, fire departments and sheriff's offices – volunteer their time for weekly training at a facility near Owasso.
In addition, Seibel takes Gunny with her to work. All that time together has helped form not only a professional bond, but has helped make Gunny part of the family.
"He's definitely my partner," she says. "Other than just training, we're together a whole lot. We go out and do fitness together. We go to the playground and play. My son loves him, he listens to my husband. He's part of my family."
Hunting the Bad Guys
Master Sergeant Coy Gilbert of the Oklahoma City Police Department describes himself as a "get your hands dirty, work graveyard shifts type of cop" who enjoys hunting the bad guys. Fortunately for Gilbert, his partner, Dezel, enjoys that just as much.
Gilbert has been partnered with Dezel, a six-year-old German shepherd, for nearly five years. Gilbert worked with the K-9 program at the Yukon Police Department before starting with the Oklahoma City Police Department as a patrolman. He joined the K-9 unit in Oklahoma City in 2003.
The K-9 units give officers several advantages, Gilbert says.
"There are businesses everywhere, and there are alarms going off all night long," he says. "A dog can clear a building in a quarter of the time it would take a bunch of cops to do it. And that's the fun part – searching for people. That's what it's all about."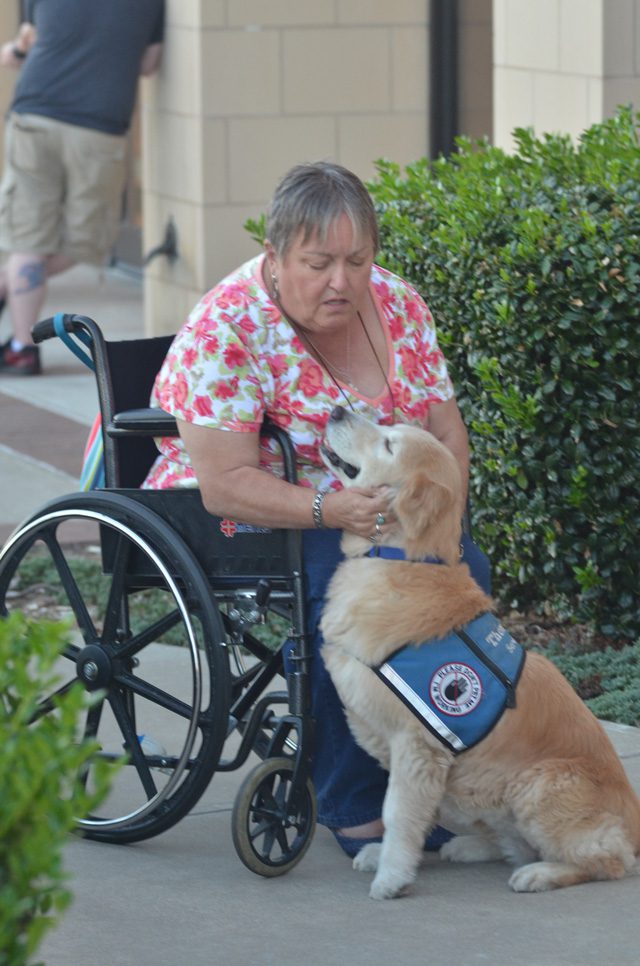 Dezel is also trained to find evidence, sniff out drugs and locate people who may need help, including lost children and dementia patients. He wears a special harness when tracking people who need help, which allows him to differentiate between hunting suspects and helping people who have been lost.
While Gilbert and Dezel have a strong working relationship, Gilbert says Dezel is part of his family when they're off the clock. While each police dog is different and some may not be able to mix with other dogs when not working, Gilbert says he has been fortunate that all the dogs he has worked with are no different from a house dog when it's time to go home.
"When we're at work, we're partners. When we're at home, he's Dezel. He's just one of the pack," Gilbert says. "I allow him that opportunity just to be a dog, because that's really important too. When he's at work, he gives me 100 percent, so when he's off duty, he's off duty."
Unlike other pets, though, Dezel puts himself at risk alongside Gilbert every day.
"It's a partnership, and based on the job I'm asking him to do, he's leading both of us right into potentially a very dangerous situation.  If we are successful, he has taken us on a string straight to the bad guy, and the bad guy always typically has the advantage. He sees us before we're coming. We have ballistic vests we use for our dogs, so we try to use good, sound tactics, but a lot of time tactics go out the window when you're using a dog because he's taking you straight to the bad guy who's lying in wait."
Tulsa Officer Chris Butterfield of the Tulsa Police Department has been with the K-9 unit for 10 years and says the best part of the job is being able to provide support to other officers. Like Gilbert, Butterfield is often used to find people when there has been a forced entry, and says there have been several times he and his partner have found suspects that never would have been found otherwise.
"It's just amazing to see what they're capable of," Butterfield says. "He's doing what we worked so hard for him to do, and it's coming to fruition. It was a bond I wanted, and once you have it, it's unlike anything else."
A Trusted Partner
Tulsa resident Starr Davis, who has used a wheelchair since 2003 as a result of strokes and suffers from congestive heart failure, is quick to talk about all the ways in which Grace, her mobility dog, helps her on a daily basis – but she's even quicker to point out what a good dog Grace is.
Take, for instance, a recent visit to a restaurant.
"Grace laid down, and the man who waited on us did not realize she was lying there by me, and she was in plain sight," Davis says. "When I started to leave, I called her and she got up and gave me her leash and off we went."
Davis's stories about Grace are tinged with a bit of sadness – Grace has been a presence in her life for five years, and will be turning 10 years old next year and will retire as a service dog. Davis adds that she has been told Grace can still come for visits even after she retires.
When that day comes, Davis will be paired with another service dog by Therapetics. The organization relies on volunteer trainers to prepare the animals before partnering them with people, and Davis will have opportunities to bond with her new service dog while it is being trained.
Until then, Grace will continue to help her as she has for the past five years – doing things such as helping Davis navigate through a store, taking laundry out of the dryer and opening the refrigerator.
Davis has gone through a service dog transition before and still speaks fondly of Boomer, her first service dog. While she was unsure if she wanted a service dog at first, she quickly warmed to her new helper.
"Boomer was a rescue, but he was a trained service dog," she says. "He'd been starved, beaten. I had to put 50 pounds on him."
In addition to helping her with daily tasks, Boomer also would respond to changes in Davis's health, waking her up one morning when she needed medical attention and even providing notice two to three days before Davis had a stroke.
"My doctor just flat out told me, 'When he alerts, let me know,'" she says.
While many people are familiar with seeing-eye dogs, there are many other types of service dogs. Dogs can be used as mobility assistance dogs, like Grace, and also as hearing dogs, seizure alert and response dogs, diabetic alert and response dogs and psychiatric service dogs.
In all cases, the dog's first responsibility is to its human partner. Davis says children are often excited to see Grace, but they cannot pet her while she is working.
While Davis may have been initially reluctant to use a service dog, her experiences with Boomer and Grace have shown her how important the animals can be in helping lead a better quality of life.
"I think service dogs are the best thing that ever happened for me," Davis says. "They're really, really special."