Top collegiate athletes don't have to clunk helmets or make three-pointers; sometimes, elite athletes wear big hair bows and take a 15-foot spinning plunge into their teammates' arms.
Cheerleaders Caylin Cannady and Maggie Grappe often devote around 25 hours a week during football season to training and fitness.
"And then we have school," says Grappe, a pre-med student. "It's a lot."
Grappe is an Oklahoma State University flyer, the cheerleader who gets tossed into the air during stunts. Cannady is a University of Oklahoma back spot, responsible for helping support and toss said flyer.
"You have to put in the grind, put in the work," says Cannady, who's studying to become an air traffic controller. "You've got to trust your skills and trust your personality."
Cheerleaders tackle a three-times-weekly regimen of tumbling, dancing, lifting weights, running and performing stunts.
Part athlete, part entertainer and part crowd psychologist, cheerleaders help energize football games. They also cheer sports like basketball and wrestling, plus make up to 45 special appearances in a year.
Along with glitz and spirit, though, collegiate cheerleading accounts for 70.5% of catastrophic female sports injuries. So, yes – there's plenty of risk involved in the sport. Grappe says sometimes her coach will ask: 'Hey, you think you can do this?'
"I'm like, 'Probably not. But we can try it,' and she'll say, 'OK. Cool.' We'll try it, and maybe it works. Sometimes it doesn't. The boys are really good at keeping us safe because they know the moment they don't, it could be a tragedy. That's what's really scary – but that's also what is so thrilling about it."
Squad tryouts can be scary, too.
"The try-out process is really competitive," confirms Cannady.
More than 100 women and men typically submit performance videos in hopes of progressing to in-person tryouts and winning 60 to 70 spots, confirm both OSU cheer coach Lindsay Bracken and OU cheer coach Miranda Noel Hubbard.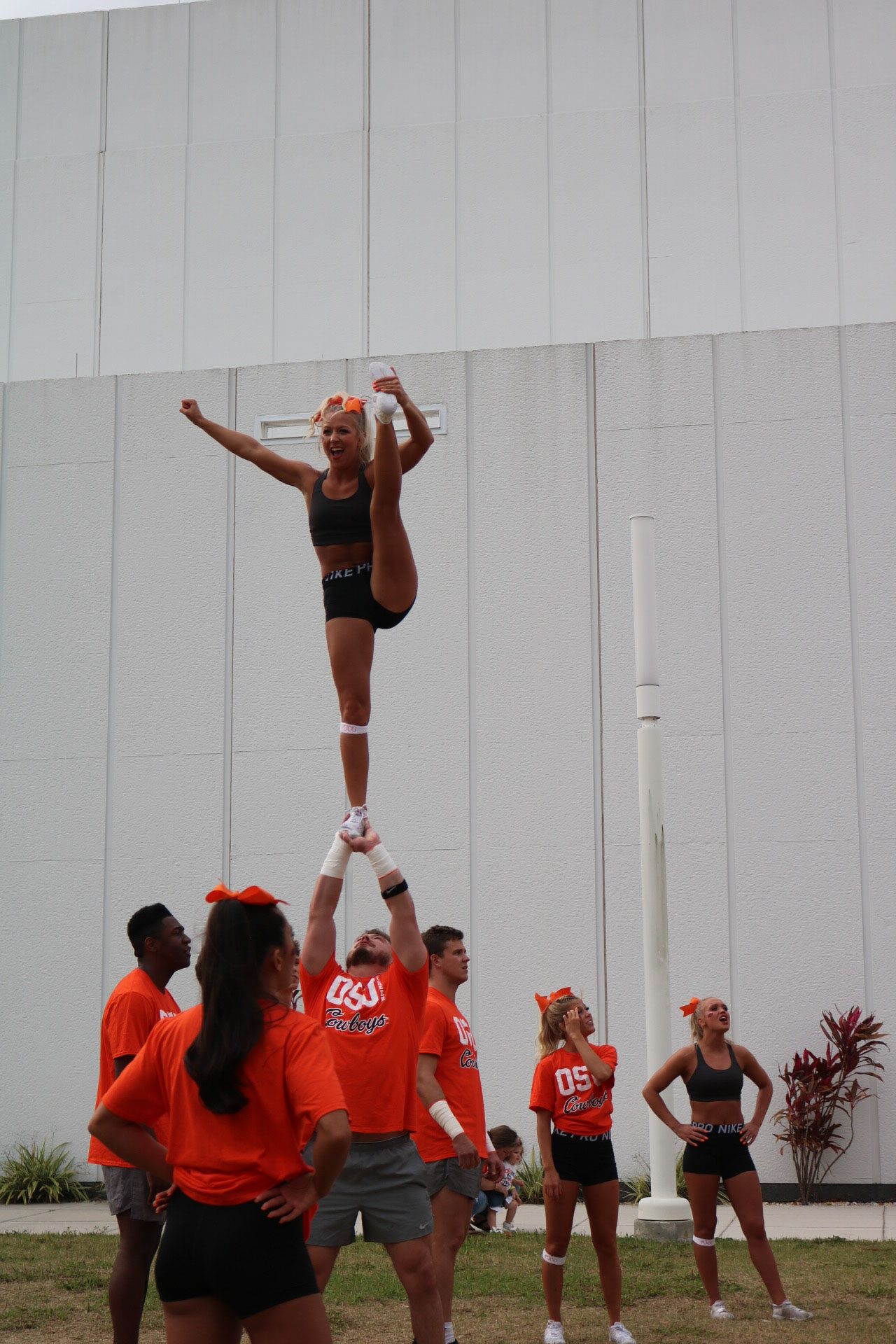 The (Non-Existent) Off-Season
Oklahoma's collegiate cheerleaders don't find it too difficult to stay fit during off season.
"What off-season?" asks Hubbard with a laugh. "Our only month without games or practice is June."
OU cheerleaders do get a brief breather from cheering for football, basketball, gymnastics, wrestling, volleyball and occasionally softball. Coach Hubbard says cheerleaders then download high-intensity training workouts and lifting regimens to follow as they wish.
Cannady also enjoys working out at local gyms or calling a few teammates to get together.
"I know my goals and have always been motivated. There are times when … it can seem overwhelming. But you have to stay on track," she says.
OU's rivals 185 miles to the south don't have much time to kick back, either.
"We don't really have an off season," seconds Coach Bracken. "We are going, literally, all year."
Summertime appearances and practices transition into football season, which transitions into basketball and wrestling. And the OSU division format means the squad is tumbling, dancing and soaring ahead of April's national competition, which the advanced large co-ed squad won at the NCA Cheer Nationals for the second consecutive year.
Grappe says she and the rest of the team remain diligent when left to their own devices.
"What I do is try to run a mile every single day when we're not in season," she says. "Because it's really easy to get out of shape."