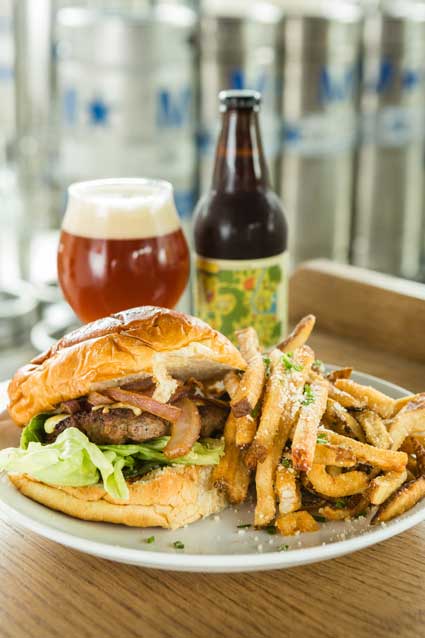 [dropcap]Judging[/dropcap] from his staid, sober photographs, Daniel Goh is not the sort of man who is easily impressed, but an email he received after closing his bar on a sultry Singapore night had him gushing. Was it true, the email asked, he had installed a keg of Prairie Bomb ale? Goh replied he had, and the keg had sold out in a few hours despite the $13 price. He also asked that his name be mentioned to Chase Healey, the brewmaster.
More than 9,500 miles to the east, in Tulsa, it was 3 p.m. and the partners' meeting was in full swing in the newly opened Prairie Brewpub. "Partners' meeting" means that a bunch of guys in jeans who have known each other since college, or even childhood, sit around a big oak table and chat about the hundreds of issues that come up each day. They were amused by the email from Singapore. They still hadn't quite come to terms with Prairie Brewpub's fast and meteoric rise to worldwide fame. Chase Healey, the ordinary guy whom they all knew for his wild dreams and nonstop ideas for beers (beers made with brettanomyces, usually viewed as a contaminant; beers made with yeast captured from Tulsa air) had suddenly achieved movie star status. And to think, says Josh Royal, "Chase is the most laid back man you'll ever meet."
"Yes," adds Pauly Sorrentino, "but laid back like a genius, you know, all those genius ideas buzzing in his head nonstop."
Royal and Sorrentino are pretty laid back individuals themselves. They are partners at the sleek, fashionable Brookside watering hole R Bar. One day Healey phoned them and asked if they wanted to start a brewpub in a 100-year-old former Ford showroom in the Brady District. The idea came from the Kaiser Family Foundation, which had renovated the classic building. In the end, Royal, Sorrentino and former insurance maven Bill Grant, all from R Bar, as well as Ryan Stack, a tattooed bartender from MixCo, joined Chase and his brother Colin in the venture.
"Look over there," Royal says, gesturing toward a long array of gleaming metal vessels all linked together like a Rube Goldberg special. "Chase will be brewing full strength beer there, and we're building a whole other room of equipment. We've bought a lot of oak barrels so we can have barrel-aged brews too. And all Chase's wild wonderful beer experiments? You'll be able to taste a new one each day!"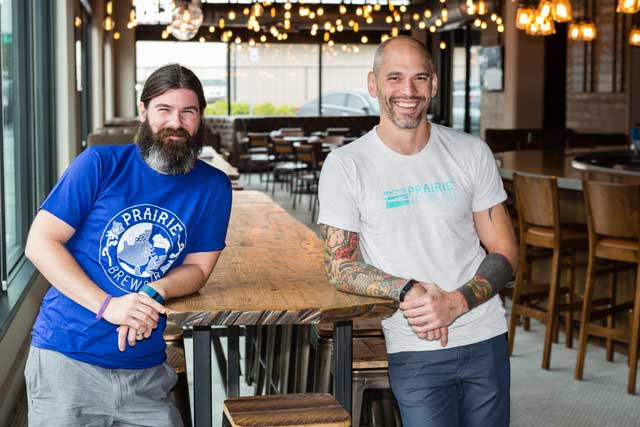 All the decor was done in house, and a repurposed foeder – a large wooden barrel used to age wine or beer – houses the taps. And indeed there are all the Prairie favorites; the sour saisons fresh as can be; the world-famous Prairie Bomb, a knockout-strength 13 percent Imperial Stout with notes of espresso beans, chocolate, vanilla and chili peppers and the first Prairie beer to get a perfect rating by various beer sites; and others with evocative names like Cry Baby Pils and Ape Snake. Bartenders are gathering around the taps.
By now the line cooks are busy at work in the small kitchen. "Food is important to us," Royal says. "We want people to come for the beer and stay for the food." Chef Craig Norred is young and a bit shy, but he gains confidence when he talks about his menu. After all, he trained with the best. He worked with Jakub Hartlieb at River Spirit and with Grant Vespasian at Oaks Country Club. He's excited about the rotisserie chicken, which is slow-cooked for 90 minutes at 275 degrees to keep it rich and juicy. The pork chop, with its tangy marinade, is excellent too. He takes extra care with the sides, made fresh and from scratch. Prices are reasonable. The most expensive entree is the $16 half chicken. Desserts are made by Matthew Wallace, formerly from Bodean.
It's now 4 p.m., and the most important people stream in: the customers. Sometimes a line forms before the restaurant opens. There are drinkers crowding the bar, and there are families coming for dinner seated around the big round tables. Yes, surprisingly, Prairie is kid-friendly. "We're definitely a family business," says Ryan Stack, gesturing to the family of partners around the bar.
"We've been open only a few weeks, and already we have regulars," Royal says. "People who live nearby come in all the time. We are well on our way to becoming a neighborhood bar, a family bar, a bar where you know everyone in the place. And that's how we want it to be."
Prairie Brewpub is located at 223 North Main Street in Tulsa.