William Lyle
The Summit Club, Tulsa
Dish: Shrimp and saffron basmati stuffed tandoori chicken wings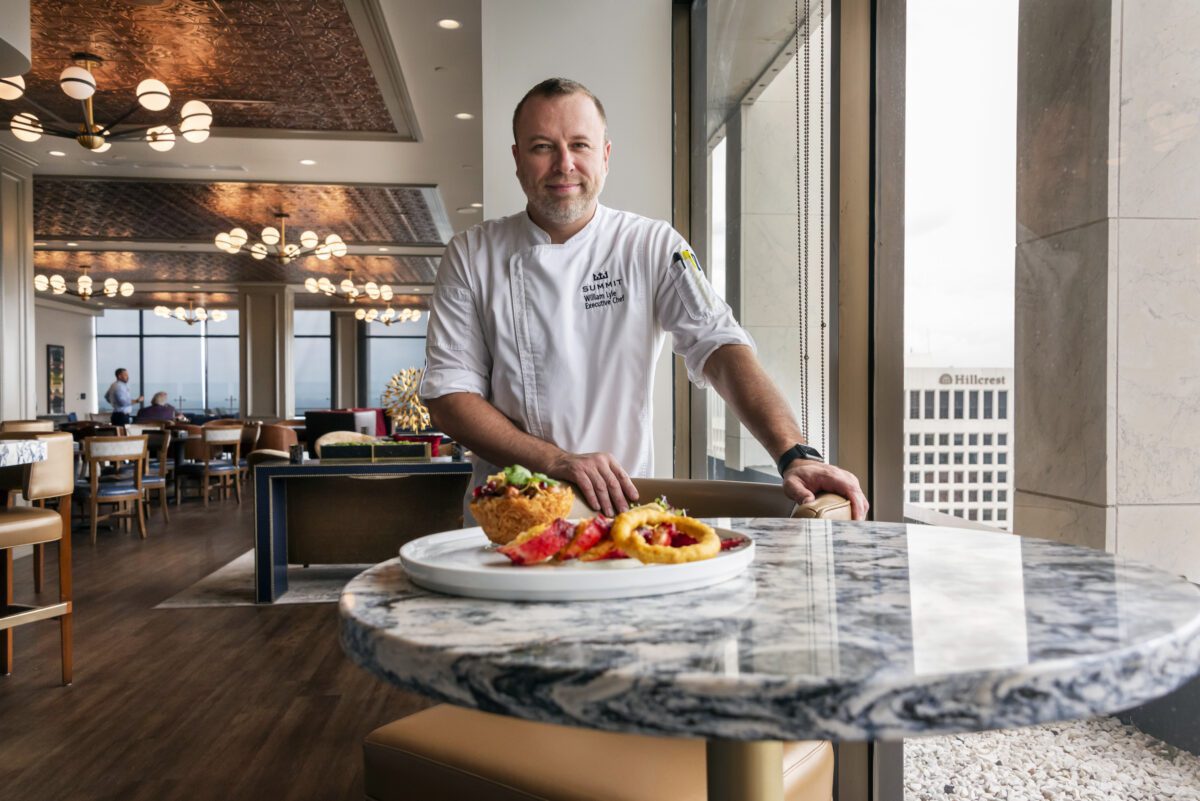 William Lyle's cooking is as global as it gets. From early childhood, he was exposed to food from all over the world. He grew up in New Hampshire, but his father is British, so he spent summers close to the Scottish border in a cottage by the North Sea. His mother was a flight attendant for Trans World Airlines; she learned four languages to qualify her to fly the global routes, and she took young William all over the world.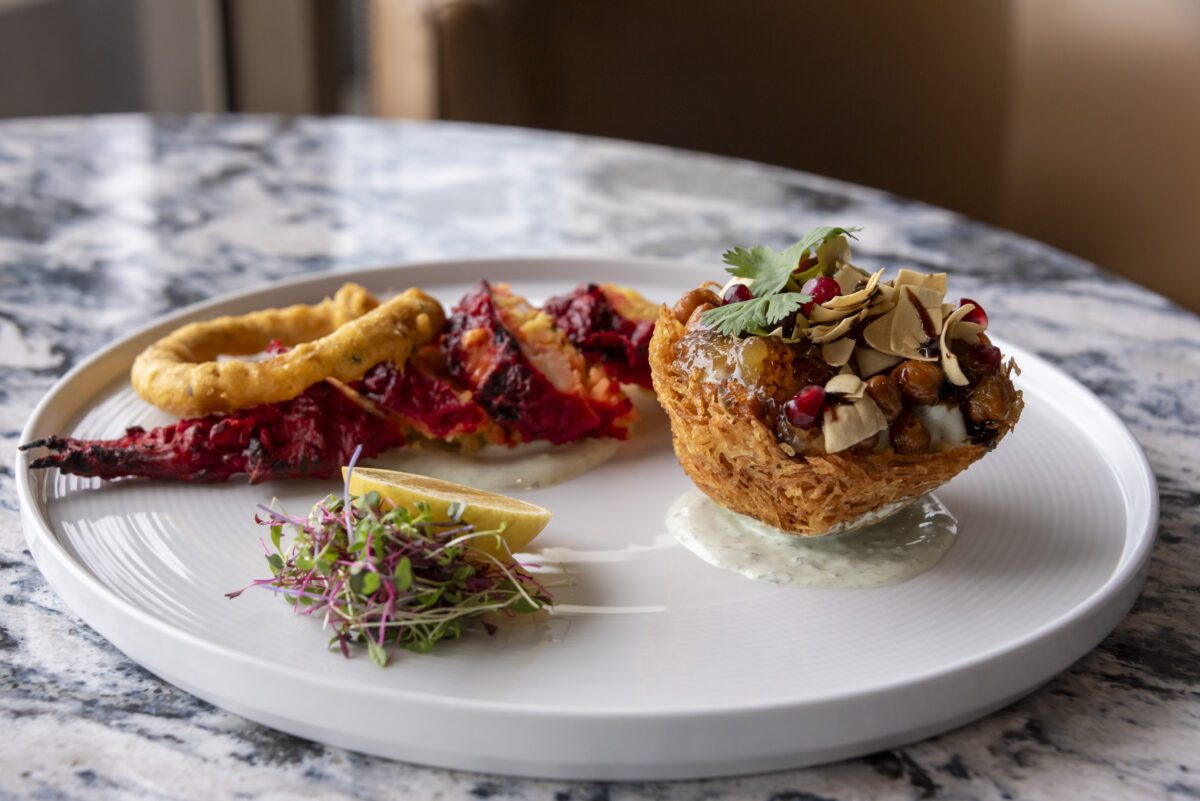 He has memories of being confronted at age 13 with a dish of eels (which he loved) at a 300-year-old restaurant in Madrid. He never made it to India – though his mother did – but somehow, Indian became his favorite cuisine to prepare.
His chicken wing recipe features an aloo tokri, which is a "bird's nest" basket made of potato dough. It's filled with chickpeas and poached potatoes, with a powerful mix of flavors including tamarind sauce, sweet yogurt, mango chutney and pomegranate.
"It's a pain to make," admits Lyle, "but people love it."
Andrew Black
Grey Sweater & Black Walnut, OKC
Dish: Squash carpaccio with spicy wasabi ice cream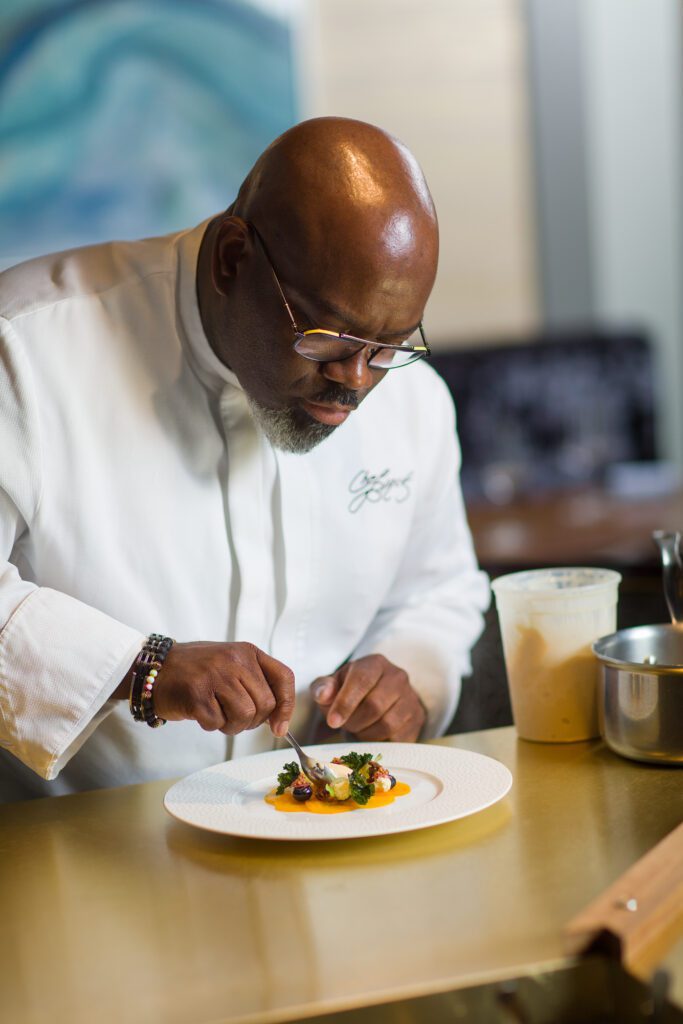 "Creating a menu," says chef Andrew Black, "is like a rock group composing a music album. You want each song to be a hit and also a part of the whole concept. And no one cares about yesterday." So Black is rarely satisfied with a dish. He's always trying to improve it. But he's pleased with this one; it's a squash carpaccio full of surprises.
"Most people are accustomed to beef or fish carpaccio," says Black, "but I wanted to be different. So here you have a vegetable carpaccio, and just when you think it can't get weirder, I put a scoop of spicy wasabi ice cream on top! I put black lava salt on top of the ice cream, and on top of the squash, I scatter pickled shallots, fermented purple cauliflower, burnt pepita seed and fermented microgreens – and that brings it all together."
Andrew Donovan
Amelia's Food Fired Cuisine, Tulsa
Dish: Espresso roasted antelope
He was a James Beard semi-finalist. He was chef at exclusive New York clubs and at Manhattan restaurants where foodies waited hours in line for the chance to try his complex, carefully plated dishes. But before all that, he was a little boy growing up in the part of North Carolina where the mountains meet the plains. Some of his most creative work is fueled by his rich childhood memories, and this dish is one of them.
"Game meats remind me of the North Carolina mountains I grew up in," says Donovan.
This dish features antelope from the Texas hill country. The antelope racks are cut into two-bone portions and then "generously seasoned," he explains, "with a rub made of ground espresso beans, brown sugar, ground ginger, sweet pimenton, cumin, dry mustard and kosher salt. The antelope is then seared on the wood burning chapa before being finished in the oven." It's accompanied with chanterelle mushrooms roasted in brown butter, and acorn squash with maple syrup and honey. There's a sauce made with caramelized mirepoix, cherries and wine.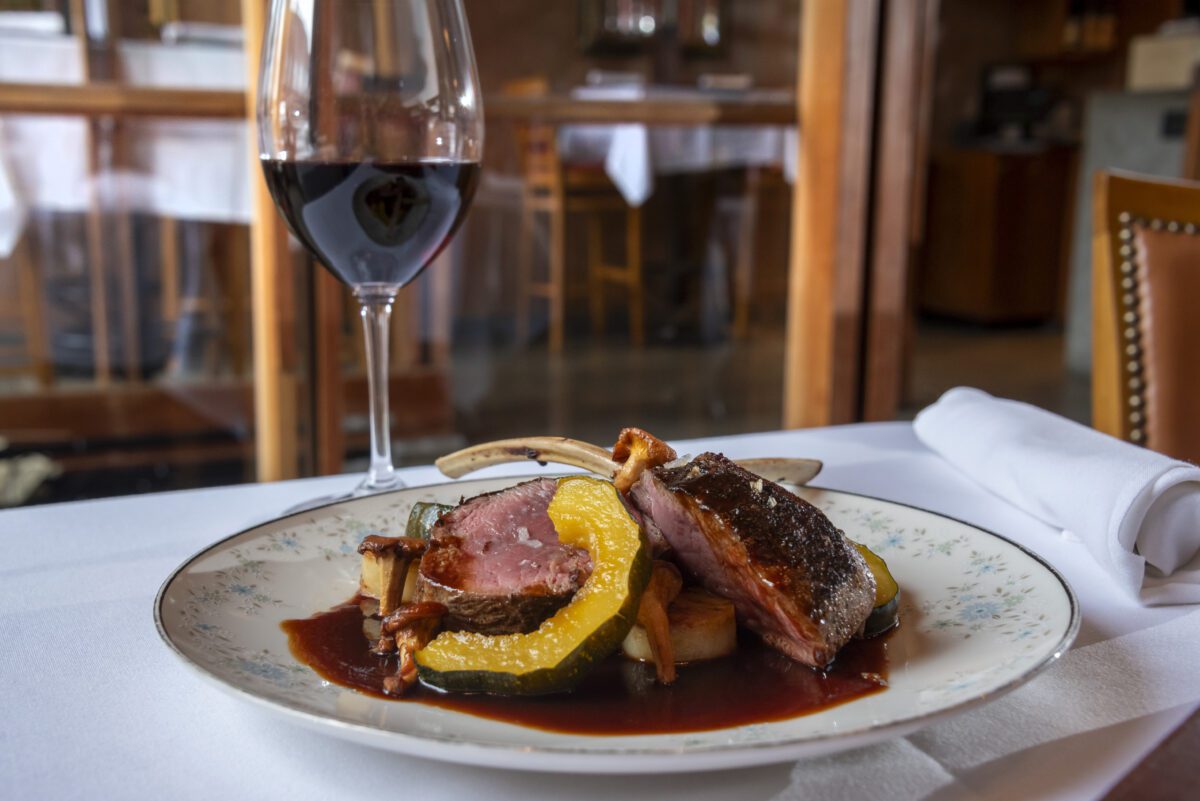 This is not an easy dish to make, but it's one of Donovan's favorites. Why put in the effort?
"Seeing people happy through food you created," says Donovan, "is one of the greatest pleasures of this business for me, particularly the longer I've spent in the culinary world. If I can accomplish that through something unique, or an ingredient that's a new experience, all the better."
Lisa Becklund
FarmBar, Living Kitchen & il seme, Tulsa
Dish: Yellow zucchini bisque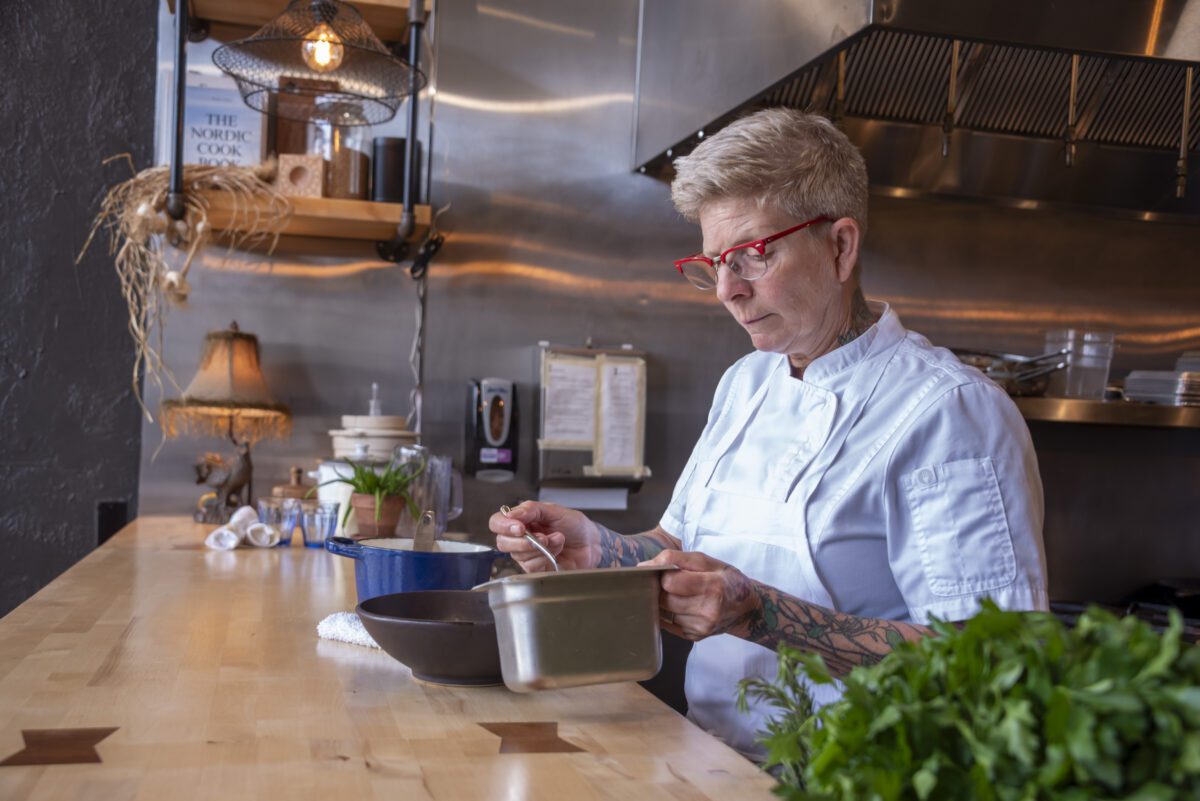 Lisa Becklund is best known as a supremely talented chef and semi-finalist for a national James Beard award. But she is also a farmer, tilling the land around her restaurant in Depew, putting in year after year of sweat and labor.
Some of those years were rough. Once, she planted 1,000 pounds of potatoes, only for a big flood to come and wash it all away. A year or so later, drought scorched the land, destroying her carefully planted seedlings.
So, she's learned to appreciate the priceless miracle of the summer harvest – its joy, bounty and deliciousness. This recipe showcases both her roles – chef and farmer – and highlights the harvest's glory.
"It's my favorite thing to do with summer produce," she says. "Yellow zucchini bisque with preserved lemon. It's really bright, super-flavorful and vegan, too. Zucchini is so prolific, you can't eat it as fast as it grows, and this is a good way of saving it for the autumn. When you eat it, it's a big loud reminder: Summer was here!"
Sonny Dalesandro
Dalesandro's, Tulsa
Dish: Pesto pasta
Ask Sonny Dalesandro and he'll tell you with pride that he is the least creative chef in Tulsa. He considers himself the guardian of his family's old recipes – the food he grew up with.
This pesto recipe was created by his father and served at his restaurant at Sixth and Main in the 1990s. Sonny started working there when he was twelve – "I wanted to be outside playing!" he recalls – so this sauce is part of his childhood memories.
But that's not why it's been a mainstay at Dalesandro's on Boston since opening night. Sonny loves the rich, complex flavors.
"We add Pecorino Romano cheese three times," he says. "At the beginning, while it's in the pan, and then at the end as a garnish. There's a richness from the way we add the cheese, from the butter and from the chicken stock we use."
It's an easy dish to make, he says, and a great way to use any basil that's left over from your summer garden.
Abel Ramos, Jr.
Abel's Mexican Restaurant, OKC
Dish: Lengua with salsa verde
Abel Ramos, Sr., can ride a bull. He can plant seeds behind a moving plow. He can build a house. That's what you learn if you're the son of a tenant farmer – moving from hacienda to hacienda in northern Mexico. He also learned to cook. These skills served him well when, almost 50 years ago, he emigrated to Los Angeles.
He did construction and worked many years at a Mexican restaurant, starting as dishwasher and ending up as manager. Later, he bought a rundown building in Warr Acres in Oklahoma City, rebuilt and renovated it himself, and opened a restaurant serving the dishes he grew up with in Aguascalientes.
Abel's son, Abel Ramos, Jr., who now runs the restaurant (his father is happily retired and living in Mexico), was born in Los Angeles and grew up working with his father at the restaurant.
"I started washing dishes at 13," he recalls, "from there I moved to the kitchen, and by the age of 16 I'd been chef, server, busser – done it all."
The dish he chose to feature, beef tongue (lengua) with salsa verde, is one that his father, Abel Sr., ate as a child in Mexico and which he, Abel Jr., has happy childhood memories of eating in Los Angeles.
Zack Walters
Sedalia's, OKC
Dish: Mussels and fries
About 10 years ago, Pulitzer Prize winning food critic Jonathan Gold gave a rave review to a Los Angeles restaurant named Salt's Cure.
"A meaty place," he wrote. "Best pork chop in town." Zack Walters was the chef.
But Walters's roots are in Oklahoma – "my great great grandfather came here from Indiana," he says – and a few years ago he returned home. His new restaurant, Sedalia's, has almost no meat at all. Instead, it features seafood with Bolivian touches. Silvana, his wife, co-owner and front-of-house manager, is from Cochabamba, a city many say has the best food in Bolivia.
It might seem a total change of direction, from meat to seafood, but Zack's style remains the same. He prizes freshness, surprise and a whirlwind of flavors. Sedalia's is an exciting place to eat. Lively, colorful dishes arrive with flavors that explode off the plate. Snapper crudos, octopus anticuchos, tuna conservas … you quickly learn to expect the unexpected.
This recipe is different. Mussels and fries is the kind of thing that Zack eats on his day off.
"It's one of my favorite meals," he says. "There's nothing better than sopping up mussels with a rich wine sauce. It's comfort food. If I ever had a last meal, I'd pick this as the appetizer."
Loretta Barrett Oden
Thirty Nine Restaurant, OKC
Dish: Chilled corn soup
One of Loretta Barrett Oden's earliest memories is of standing on a chair in her grandmother's kitchen, cooking beside her mother, grandmother and great-grandmother. Later on, she got married, raised four children and was a rancher for 30 years. Then, she decided to open a restaurant in Santa Fe, New Mexico. Inspired by what she'd learned from her Citizen Potawatomi family, she served Native American cuisine. She researched it thoroughly. She traveled the country, living with the Tlingit in the Northwest, the Blackfeet on the Great Plains and the Pueblo people in the Southwest.
This chilled corn soup recipe recalls her Santa Fe days.
"We did a lot of corn there," she recalls. "Corn plays a vital role in Native American foods all over the Americas."
The edible flowers and sumac pay tribute to the important place that foraging has in Native American cuisine.
"People think of sumac as Middle Eastern," Oden says, "but in Oklahoma, you see bright red staghorn sumac growing wild everywhere. My mom used to make lemonade from the berries."
Oden is also no stranger to recipes. Her latest cookbook, Corn Dance, was just published.
"All it took to write it was 35 years," she says with a laugh.
---
Steaks Galore
Sometimes you just need a juicy cut of beef and a nice glass of wine.
TULSA
Fleming's – Serving up everything from filets to seafood towers
PRHYME Downtown Steakhouse – The go-to steakhouse for downtown visitors
Bull in the Alley – Sleek, delicious, top-quality … if you can find it, of course
Ruth's Chris – Upscale steakhouse at the River Spirit Casino Resort
Boston Title and Abstract – A stunning speakeasy vibe with only the best cuts
The Hemingway – A steakhouse offering rebellious elegance and a dining experience like no other
OKC
Mahogany Prime Steakhouse – An Oklahoma institution with rave reviews
Red PrimeSteak – The place to be for quality cuts and ample, mouthwatering sides
Mickey Mantle's Steakhouse Restaurant – One of Bricktown's staple restaurants with a gorgeous interior and choice meals
Cattlemen's Steakhouse – Over 100-year-old steakhouse offering delicious steaks and legendary breakfasts
Sushi Sensations
Whichever way you like your sushi, Oklahoma has options.
TULSA
in the raw – Offers traditional and nouveau sushi, sashimi and nigiri creations, in addition to a fully cooked menu and excellent cocktails with locations on Brookside, Tulsa Hills and Broken Arrow
Kirin – Asian fusion restaurant serving tasty sushi rolls, fried rice, steam buns and more
Fuji Sushi Bar – Offers ramen bowls, sushi burritos, and authentic Japanese food
OKC
Sushi Neko – Sleek eatery with delicious sushi rolls along with other Japanese favorites
Musashi's Japanese Steakhouse – Offers an extensive variety of sushi, plus steak and seafood
Volcano Sushi Bar and Hibachi – Visit for sushi, hibachi dishes, sake and more
Italian Eats
Pizza, pasta and everything palatable.
TULSA
Ti Amo Ristorante Italiano – Two locations serve up outstanding Italian cuisine and seafood, plus a full bar, delicious desserts and more-than-notable friendly service
Mondo's Ristorante Italiano – Family owned and operated, this delicious Italian restaurant is hard to beat
Andolini's Pizzeria – One of Tulsa's favorite joints offering pizzas, plus meatballs and salads
OKC
Stella Modern Italian Cuisine – Brick-oven pizzas and inventive pastas make this a must-visit destination in OKC
Moni's – Described as "passionate Italian food," Moni's serves up pizza, pasta, soups and salads in cozy, romantic digs
Osteria Basilico – Casual Italian eatery featuring craft cocktails
BBQ Country
Oklahoma is known for its barbecue … but a few restaurants rise above the rest.
TULSA
Rib Crib – Oklahoma-based BBQ restaurant specializing in hickory smoked barbecue and smoked meats in a casual, comfortable setting; locations are around the state and even the pickiest eaters will find something to enjoy
Albert G's – Serving up tasty, slow cooked meats since 1992, Albert G's is a Tulsa institution for everything from brisket and sausage to pulled pork and turkey breast
Oklahoma Joe's – Delicious barbecue with a unique blend of spices and sauces
BurnCo – Locally owned and operated BBQ joint offering uniquely flavored smoked meats
OKC
Billy Sims BBQ – Traditional backyard BBQ created by the Oklahoma football legend himself
Clark Crew BBQ – Serving up competition-quality BBQ
Earl's Rib Palace – Rich, hickory smoked meats with delicious house-made sides
Edge Craft – Central Texas-style craft BBQ in Oklahoma City
A Little Liquor
If you prefer a cocktail at home, frequent these liquor stores.
TULSA
Old Village Wine and Spirits – Conveniently located on Brookside, Old Village offers a blend of local brewery/distillery goodies alongside popular global brands and hidden gems
Parkhill's Liquors and Wine – No matter the spirit, Parkhill's will have what you need
Ranch Acres Wine and Spirits – A Tulsa staple for all your alcohol needs
OKC
Byron's Liquor Warehouse – Friendly service and a massive inventory of spirits make this a must-visit in OKC
Pancho's Liquortown – Dependable stop for local goodies as well as major brands
Camelot Square Wine and Spirits – 6,000 square feet of inventory for any aficionado
Watering Holes
Places to wet your whistle.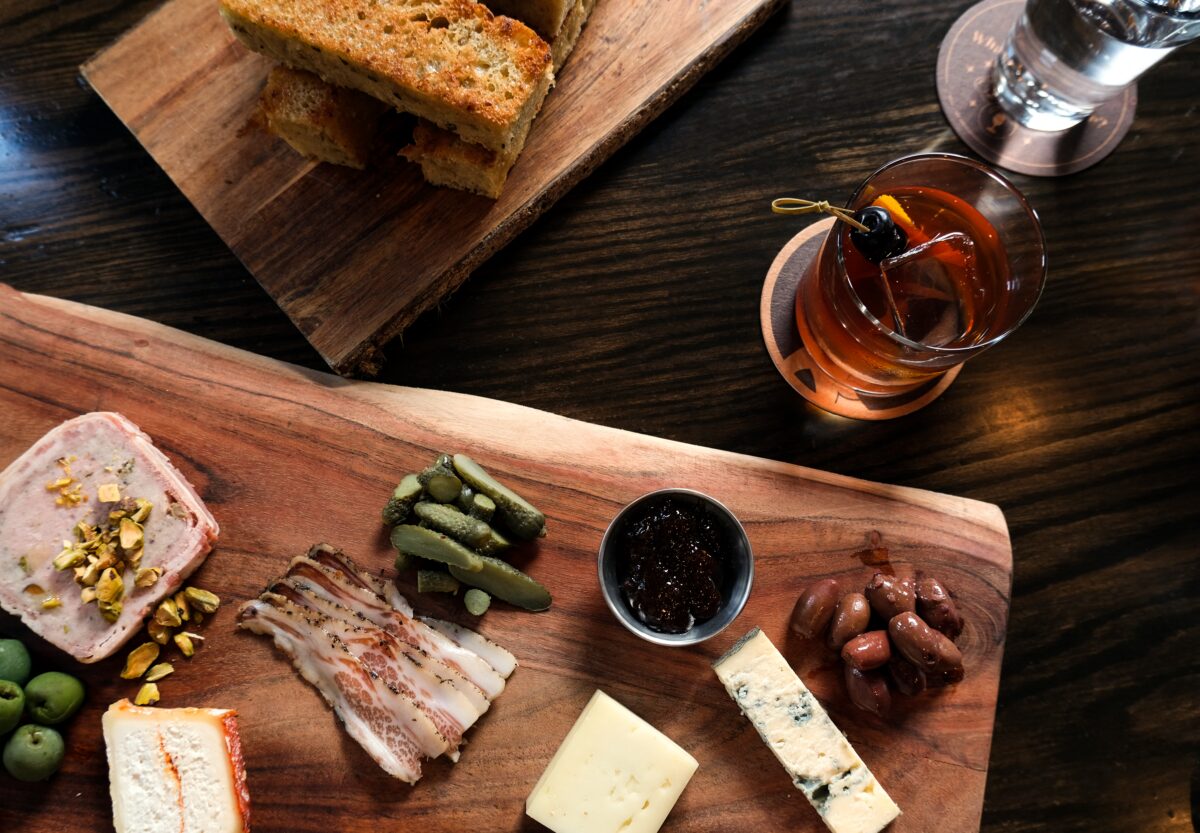 TULSA
American Solera Brewery – A sleek and stylish craft brewery and taproom 
Valkyrie – A destination bar with a playful yet upscale feel
Hodges Bend – Hot spot for coffee, wine and cocktails (Head to hodges-bend.com for updates following the September fire)
Cabin Boys – A craft brewery with games, grub and two locations
Vintage Wine Bar – Excellent selection of wines, plus cocktails and small bites 
McNellie's – A welcoming pub with ample beers and cocktails
OKC
The Bunker Club – A hip place for cocktails and bar bites
The Pump Bar – A watering hole featuring snacks, brunch on the weekends and a pet-friendly patio
RadBar – An artsy dive in the Plaza District
Library of Distilled Spirits – A unique destination located in the basement of the historic First National Bank building
The Joinery – A family friendly location featuring craft beer and cocktails
Build-A-Dinner
If you want to make multiple stops this evening, we have recs.
TULSA
Appetizers
Roka – Asian fusion restaurant that features delicious and inexpensive apps during happy hour
Bar Serra – Don't miss the chicken tikka meatballs and the chips and guac 
Mains
FarmBar – Farm to table, multi-course dinners that are as delicious as they are beautiful
Juniper – Culinary ingenuity, warm service and quality cuisine 
Desserts
Kilwin's – Locally owned and operated storefront serving up chocolate, confections and ice cream
Braum's – Ideal if you're hunting for a quick pitstop and a sweet treat
After Dinner Drinks
Cellar Dweller – One of Tulsa's oldest speakeasies specializing in delicious drinks and offering multiple weekly events
Four. Seven. Three. – Plant and patio bar featuring craft cocktails, local beer and local art
OKC
Appetizers
The Other Room – Sister to Picasso Cafe with half priced appetizers all day, every day
Hefner Grill – A timeless seafood joint with lakefront views
Mains
Vast – Located 726 feet above the ground, Vast offers upscale American fare with a spectacular view
Ludivine – Offers a rotating menu based on local farm's availability, plus delicious cocktails
Desserts
Green Goodies – Locally owned bakery serving up cupcakes, cookies and more
Pie Junkies – Small bakery creating better-than-grandma's pies
After Dinner Drinks
Edna's – A favorite dive bar among OKC locals and home of the "Lunchbox"
Lost Highway – Eclectic bar featuring drink specials, karaoke, live music and more
Keep On Truckin'
For some mouthwatering cuisine on the go.
TULSA
The Red Tacos – Traditional, no fuss tacos that are wildly delicious 
El Ranchero Food Truck – A traditional Mexican food truck with over 1,500 glowing reviews 
Dope Soul – Dubbed "culinary bliss on wheels," you'll find a variety of cuisines at Dope Soul
DogHouse – Tulsa's go-to for a variety of hot dog iterations 
OKC
Big Truck Tacos – Perhaps the most lauded food truck in OKC, Big Truck offers any taco you could image 
The Saucee Sicilian – On Diners, Drive-ins and Dives, the joint serves Neapolitan-style pizzas and meatballs
Taqueria El Dolar – No-fuss traditional Mexican cuisine with 700+ rave reviews 
Abu Omar Halal – Kabobs, rice bowls, shawarma, gyros galore
Oklahoma Classics
Tried-and-true favorites.
TULSA
Hank's Hamburgers – Old-timey hamburger joint turning out burgers, fries and milkshakes since 1949
Savoy – Homemade breakfast, lunch and larger-than-life cinnamon rolls since 1918
Weber's Superior Root Beer Restaurant – Small, landmark joint offering burgers, corn dogs and signature root beer since 1933
OKC
Neptune Submarine Sandwiches – Fresh buns baked daily since 1974
Big Ed's Hamburgers and Gyros – Family restaurant serving up fresh sandwiches since 1982
Florence's Restaurant – Classic Southern comfort food since 1952
Rooftop Rendezvous
Views, food, drink … what more could you need? 
TULSA
Roof Sixty-Six – Atop the Hotel Indigo serving up various cocktails in luxury digs
The Vault – Slinging breakfast, brunch, lunch, dinner or cocktails in the Vault's upper level, whether inside or out
Sidecar – At the top of a multi-use building on Cherry Street with bar bites, craft cocktails and sleek vibes
Summit Club – A member's only experience with upscale dining and gorgeous views of downtown Tulsa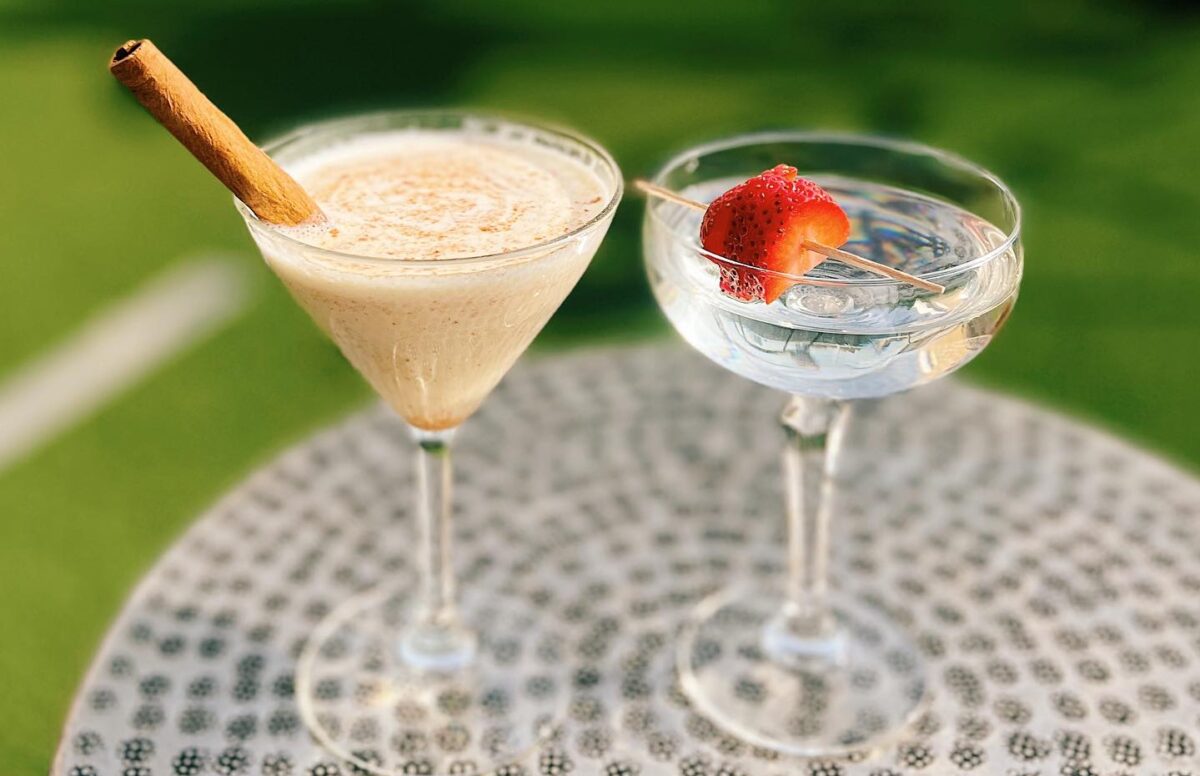 OKC
O Bar – Perched on the top of the Ambassador Hotel with excellent selfie vistas and delicious cocktails
Social Capital – A craft beer haven with a garden and plenty of room to socialize
The Collective – A trendy food-court style destination with a rooftop terrace and bar 
Coffee Corner
For your morning or afternoon pick-me-up.
TULSA
Topeca Coffee Roasters – One of the first farm-to-cafe coffee companies in the world
Cirque Coffee Roasters – Eccentric coffee house roasting wild brews
Fulton Street Books and Coffee – Prime spot to revel in delicious coffee and meaningful discourse
SheBrews Coffee House – Employs formerly incarcerated women and provides other resources from housing to mentorships
Black Wall Street Liquid Lounge – Independent coffee shop located in the Greenwood District
DoubleShot Coffee Co. – Spacious coffee house (or rather, barn) with a dazzling atmosphere
OKC
Clarity Coffee – Contemporary coffee house serving up reimagined roasts
Perets Dessert and Coffee Bar – Craft coffee served in a cozy, urban "living room"
StellaNova – Serves up small-batch coffee that's sure to liven up your day
Spiked. – Black-owned coffee cart-turned storefront
Joe's Addiction – Pay-what-you-can coffee house fostering community by supporting those experiencing homelessness, mental illness, hunger and more
Gettin' Groceries
Quality produce and cuts of meat from local stores.
TULSA
Harvard Meats – Old fashioned meat market that's been serving the Tulsa area since 1964
Tulsa Farmers' Market – Premier market in the Kendall-Whittier district supporting over 100 local farmers, ranchers, chefs and artisans. 
Jerusalem Market – International grocery store specializing in Middle Eastern foods and spices
Albarka Food International – International grocery store providing halal, local meat to the Tulsa community
OKC
OKC Farmers Market – Market offering dairy, vegetables, baked goods, meat and much more
Flora Bodega – Co-op and fresh food hub that prioritizes supporting local producers 
Eastside Fresh Market – Market providing fresh produce, eggs, beef, bread and more
Prairie Earth Gardens – Small, locally owned farm and market
---
By the District – Tulsa
Tulsa Arts District:
The French Hen – Classic French dishes, an ample wine list and swanky digs
Que Gusto – Empanadas galore with fun outdoor seating
Duet Jazz – One part culinary experience, one part state-of-the-art jazz club
Pearl District:
T-Town Tacos – Serving up delicious tacos while helping Youth Services of Tulsa
Ike's Chili – Tulsa's oldest restaurant and former spot frequented by Okie legend Will Rogers
El Rancho Grande – A 70-year-old Tulsa mainstay for Mexican food
Brookside District:
Brookside by Day – Casual breakfast eatery and a Tulsa staple
Oren – Progressive American cuisine with a foundation of French and European techniques
Greenwood District:
Lefty's on Greenwood – Sports-centric downtown restaurant and bar
Wanda J's Next Generation – Locally owned family business serving up delicious southern comfort food
Fixins Soul Kitchen – Tasty soul food in a friendly, stylish environment
Deco District:
Elote – Serving fresh and innovative Mexican food using local products and sustainable practices
Roppongi – Lively ramen, boba tea and spring roll hot spot
Deco Lounge – A live music cocktail lounge and restaurant
Blue Dome District:
Dilly Diner – All day diner serving up breakfast, lunch and dinner
JINYA Ramen Bar – Traditional, sleek and delicious ramen bar
La Tertulia – The taste of New Mexico in the heart of the Blue Dome
Cherry Street District:
Palace Cafe – Chef operated and locally owned restaurant with a focus on a seasonal menu
SMOKE. Woodfire Grill – Locally sourced New American fare in a bistro setting
Nola's Creole and Cocktails – Relaxed Cajun-Creole restaurant offering a chandelier-lit bar and Prohibition-era cocktails
Kendall-Whittier District:
Calevera's Méxican Grill – Serving fresh and authentic Mexican food since 2014
Bill's Jumbo Burgers – A stop for the biggest and tastiest burgers in Kendall-Whittier
East Village District:
East Village Bohemian Pizzeria – Italian wood fired restaurant with an eclectic feel and a popular patio
Fajita Town – An authentic fajita and taco concept
Lowood – Relaxed yet upscale restaurant specializing in wood-fired dishes made with locally sourced ingredients
(Head to lowoodtulsa.com for updates following the September fire)
Utica Square:
Stonehorse Cafe – A Tulsa institution serving only top-notch fine dining
Queenie's – A breakfast and brunch hotspot with classic American fare
Polo Grill – Extensive wine lists, upscale dining and expert service
By the District – OKC
Asian District:
Cafe Kacao – Breakfast hot spot featuring a menu full of homestyle Guatemalan favorites
Fung's Kitchen – Chinese restaurant serving dim sum, noodles, fried rice and other favorites
VII Asian Bistro – Asian bistro that's a favorite among savvy locals
Automobile Alley:
Nashbird – Hot chicken counter-service restaurant and bar
Iguana Mexican Grill – Classic Mexican cuisine served in style
Saj Lebanese Cuisine – Family owned, authentic Lebanese food made with fresh ingredients
Bricktown:
Pearl's Crabtown – Eclectic, bustling seafood restaurant
Bricktown Brewery – Serving American bites and craft and local beers
Downtown:
Black Walnut – Thoughtful New American cuisine from chef Andrew Black
Packard's – In the historic Packard dealership building with rooftop views and New American cuisine
Deep Deuce:
The Wedge Pizzeria – OKC's original wood-fired pizza established in 2005
The Blok Bar – Causal and tasty American bar bites in a cool atmosphere
Midtown:
Edie's Grill – Delicious and innovative African food
Kitchen 1907 – Specializing in Indian tacos and other fry bread delicacies
GHST Restaurant and Bar – One of Midtown's newest spots for vibrant food and drinks
Paseo Arts District:
FRIDA Southwest – Contemporary restaurant serving elevated Southwestern-inspired dishes
Gorō Ramen – Japanese noodlehouse and bar offering a variety of ramen dishes
Picasso Cafe – Artsy kitchen and bar featuring a farm-to-table menu plus vegan options
Plaza District:
The Press – Serves up reimagined American bar food with excellent sandwiches
Ma Der Lao Kitchen – Critically acclaimed, delicious and traditional Laotian food
The Mule – Locally owned and operated restaurant serving hot melts and local beers
Uptown 23rd:
Cheever's Cafe – Elegant bistro offering upscale Southwestern and Southern cuisine
Formosa Street Food and Bar – Restaurant creating a variety of Taiwanese and Chinese dishes
Thai House – Family-owned, authentic Thai food serving OKC since 1994
Western Avenue:
Rococo – Upscale American cuisine and cocktails
Milo – American restaurant influenced by local ingredients
West Village District:
The Jones Assembly – Live music venue offering regional American fare and craft cocktails
Joey's Pizzeria – Creative pies, subs, salads and bar in a spacious urban environment
Mary Eddy's – Casual eatery serving New American bites and cocktails
---
Chef's Recipes
Chef Walters' Mussels and Fries
Fries:
1 pound Kennebec potatoes
8 cup Peanut oil, or vegetable if allergic
4 quarts Water
Mussels:
1 pound Good quality mussels, like Hollander de Koning
1 Garlic clove
1/2 teaspoon Black pepper
4 ounces Good quality white wine, preferably something without oak
4 ounces Butter
Handful Roughly chopped soft herbs – parsley, chive, chervil, tarragon
2 ounces Olive oil
Salt To taste
Juice Of one lemon
Mayonnaise:
2 Egg yolk
1/8 cup Lemon juice
1/8 cup Distilled vinegar
1 cup Grape seed oil
Salt To taste
For the fries:
On low to medium heat, warm oil inside a heavy bottom Dutch oven to 300 degrees.
Cut potatoes to as close to 1/4"x1/4"x length as the potato as you can while being safe.
If you like skinnier fries, cut the potatoes thinner.
After cutting potatoes, let them soak in cold water for 30 minutes to release the starch.
Drain potatoes through a colander, then transfer to sheet tray lined with paper towels. Pat dry.
Using an oil thermometer, check oil temperature. Once it hits 300 degrees, slowly add cut potatoes in batches.
Cook potatoes for 4 minutes. Transfer blanched potatoes to another sheet tray lined with paper towels.
Continue this process until all potatoes are blanched.
Place blanched potatoes inside refrigerator to cool.
Continue heating oil to 350 degrees for final plate up.
For mayonnaise:
Inside a one quart plastic container, add all ingredients.
Using a handheld emersion blender, start emulsifying ingredients.
Once your mayonnaise has thickened, check for salt and adjust.
Pro tip: If mayo doesn't emulsify, add a little ice. The emulsification depends on the liquid to oil ratio. Reversely, if the mayo is too thin, add more oil until desired thickness.
For mussels:
Under cold water, wash each mussel and remove the bearded part of the mussel, or byssal threads. Not all mussels will have them coming out of the shell. So if your mussels are beardless, just wash and move on.
In a hot sauté pan, add oil.
While oil is warming, add a large pinch of herbs, garlic and black pepper. Sauté for a moment to incorporate flavor.
Add mussels to pan and sauté for another minute.
Deglaze pan with wine and cover with lid or another pan – we want to create as much steam as possible as quickly as possible.
Give this process about 3 minutes, then peek. If the mussels have begun to open, they are ready.
Carefully pull each mussel from the pan to a good size bowl, or at least your favorite bowl. After removing the mussels, make sure each mussel is open enough to receive the most liquid.
Place the pan with mussel/wine liquid back on heat.
Add butter and emulsify.
Add lemon juice.
Add another large pinch of herbs…maybe two.
Taste for salt and adjust – you will need a little, trust me.
When flavor is perfect, pour over mussels.
Check oil temperature to make sure you are between 350 and 375 degrees.
Add desired amount of blanched potatoes to hot oil and fry until golden brown – approximately 3-4 minutes.
Pull from fryer into stainless bowl, season with salt, pepper and more chopped herbs.
Add seasoned fries to the bowl of mussels, shoving the mussels over to make room for the real star of the show.
Using a spoon or squeeze bottle, add as much mayo as your heart desires, or put it on the side. 
Chef Dalesandro's Pesto Pasta
2 cups Fresh basil leaves
3 cups Freshly grated Romano or Parmesan cheese (about 4-5 ounces)
1/2 cup Extra virgin olive oil
2/3 cup Roasted pine nuts
Juice Of 1 lemon
4 cloves Garlic, minced (about 1 tablespoon)
1/2 cup Chicken broth
1 oz Butter
Bow tie pasta
In a food processor, add the basil, extra virgin olive oil, 1/3 cup pine nuts, lemon juice, 1/2 cup Romano and garlic. Get your preferred consistency.
In a pan, start your butter and chicken broth on high heat. Add your pesto.
After 30 seconds, add your pasta and 1 cup Romano cheese. (Total cooking time 60-90 seconds)
Plate pesto pasta, add Romano (yup, we use cheese three times!) and add the other 1/3 cup of roasted pine nuts.
Garnish with half a lemon and a sprig of basil. Mangia!
Chef Donovan's Espresso Roasted Antelope
With acorn squash, chanterelles, fondant potato and cherry-thyme glace
1 antelope rack cut into four two bone portions, sourced from Broken Arrow Ranch in Ingram, Texas
For the espresso rub:
¼ cup Espresso beans, finely ground
2 tablespoons Sweet pimentón
2 tablespoons Light brown sugar
1 tablespoon Dry mustard
2 tablespoons Kosher salt
2 tablespoons Ground cumin
1 tablespoon Ground ginger
Add all ingredients into a mixing bowl and stir until well mixed.
Store in an airtight container for up to 4 weeks.
Set aside.
For the fondant potatoes:
4 Russet potatoes, peeled and cut into small rounds with a ring mold
2 tablespoons Vegetable oil
¼ cup Butter, cubed
4 sprigs Fresh thyme
Kosher salt To taste
Preheat the oven to 400 degrees.
Peel the potatoes, and punch into small rounds with a ring mold and store in water for an hour to remove excess starch.
Pat potatoes dry with a paper towel.
Heat vegetable oil in a stainless steel oven proof skillet over medium-high heat until the oil starts to shimmer.
Lightly brown both the top and bottom of the potatoes.
Remove pan from heat, add butter, chicken stock and thyme.
Finish the potatoes in the preheated oven until they are fork tender.
Spoon the butter mixture over the potatoes and set aside until ready to put final dish together.
For the acorn squash:
1 Acorn squash, cut in half, seeds removed, and sliced into ½ inch thick slices
2 ounces Olive oil
2 ounces Maple syrup
Kosher salt To taste
Preheat oven to 400 degrees.
Toss acorn squash slices with the olive oil and maple syrup, season with salt and bake for roughly ten minutes until cooked through, but not too soft.
Set aside.
For the chanterelle mushrooms:
½ pound Fresh chanterelles
2 ounces Butter, cubed
Juice Of 1 lemon
Kosher salt To taste
Simply clean the mushrooms of any dirt and debris.
Trim the bottom of the mushrooms with a pairing knife.
Melt butter until starts to brown lightly and saute mushrooms until tender and cooked through, finish with lemon juice and season with salt.
Set aside.
For the cherry-thyme glace:
6 quarts Brown veal stock
½ cup Red wine
¼ cup Tomato paste
1 qt. Mirepoix (2 cups onion, 1 cup carrot, 1 cup celery, all rough chop)
1 cup Fresh cherries
2 bunches Fresh thyme
In a small rondeau, or large soup pot, gently caramelize the mirepoix and the cherries, stirring occasionally.
Once caramelized, stir in the tomato paste, cook for a minute or two and deglaze with red wine.
Reduce until almost dry, add in veal stock and reduce until it coats the back of the spoon, roughly 2.5 hours.
Once reduced to the desired consistency, strain with a chinois, steep fresh thyme into the strained sauce for 20 minutes, and strain again.
Set aside.
For the finished dish:
Season the antelope portions well with the espresso rub. You can either grill or pan roast the antelope. At the restaurant we sear it on the chapa and finish in the oven until internally the temperature is 110 degrees.
Remove from oven and let rest for several minutes before slicing to allow the juices to re-settle.
While antelope rests, gently rewarm the other components of the dish.
After 5 or so minutes, cut antelope rack in half. Place in center of plate and arrange 3-4 pieces of the potato around, followed by the chanterelles.
Now place 3 slices of the acorn squash around the dish, and spoon your sauce over the antelope, careful not to cover the eye of the meat to show the internal temperature.
Chef Ramos' Lengua with Salsa Verde
For the salsa verde:
2 pounds Tomatillo
6 Jalapeño peppers
1 Serrano pepper
2 Garlic cloves (blend raw)
3 teaspoons Salt
4 Chile de arbol
½ Cilantro bunch (blend raw)
Boil peppers in two quarts of water for about 5 minutes.
Add tomatillos to boil until soft but not mushy.
With very little to no water from the boil, blend tomatillos and peppers with the rest of the ingredients.
For the lengua:
1 Lengua (beef tongue)
5 Whole cloves
5 Whole peppercorn
½ Tablespoon Thyme
5 Bay leaves
½ tablespoon Oregano
6 tablespoons Salt
6 tablespoons Garlic
Boil for 5 hours on low heat.
Peel skin off of toungue as hot as possible then chop and serve on a corn tortilla with onions, cilantro and lime wedge.
Add salsa verde and enjoy.
Chef Lyle's Stuffed Tandoori Chicken Wings
For shrimp filling:
12 16/20 shrimp
2 tablespoons Vegetable oil
Pinch Curry powder, cumin powder, salt
3 cups Cooked Basmati rice with saffron
½ cup Yellow onions, finely diced
¼ cup Cream cheese, softened
1 Egg
For the tandoori chicken:
12 Whole chicken wings
1 ½ cups Greek yogurt
½ cup Mustard oil
2 tablespoon Lemon juice
1 tablespoon Garlic, minced
1 tablespoon Ginger, minced
2 tablespoon Kashmiri chili powder
2 teaspoon Garam masala powder
1 teaspoon Cumin powder
1 teaspoon Coriander powder
½ teaspoon Turmeric
1 teaspoon Black salt
½ teaspoon Black pepper
Combine the shrimp with the curry powder, cumin powder and salt.
Heat a pan with oil and fry the shrimp.
Remove the shrimp and add the onions, fry until softened.
Cool the shrimp and rough chop.
Whisk the cream cheese until smooth and then whisk in the egg.
Combine with rice, shrimp and onions and place into a piping bag or Ziploc with corner cut off.
Using a sharp knife and a dry towel, debone the chicken wings down to the wing tip.
Use the towel to pull the meat down the bone while detaching the tendons at the knuckles with the knife.
Use the piping bag to fill the chicken wing with the shrimp and rice mixture.
Chicken wings should be firm once filled, use your fingers to help push the stuffing in if necessary.
Combine remaining ingredients and whisk until smooth.
Feel free to add some red food coloring for additional color.
Evenly coat the chicken wings with marinade and let rest overnight.
Grill or bake wings at 425° until they reach an internal temperature of 165°.
Chef Becklund' Giant Yellow Zucchini Bisque with Lemon and Herbs
A note from chef: I discovered this recipe while trying to find a use for all the very large yellow zucchini I had neglected to harvest when they were at a more reasonable size. This soup on its own is light but satisfying and with the lemon added at the very end brings summer back in an instant. I started to add a little cream for volume but it really doesn't need it. But I will say the cream adds a little more girth to the soup itself. But a plant-based version is absolutely wonderful as well.
1 Very large yellow zucchini, shredded up to 8 cups
1 large onion, sliced thin
2 tablespoons Olive oil
½ cup Water
2 tablespoons Kosher salt
1/8 cup Lemon juice (save the zest)
1 cup Cream (optional)
2 tablespoons Chopped herbs and lemon zest for garnish
1 tablespoon Extra virgin olive oil
In a large braising pot heat the oil.
Add the zucchini, onion and the water and salt.
Let slowly cook down until it's soft enough to puree.
Remove from heat.
Using a Vitamix, puree the zucchini mixture until smooth and creamy.
At this point, you can store and use for later, it freezes nicely.
When ready to serve, heat and add lemon juice.
If you want a heartier version, add a cup of heavy cream.
Garnish with extra virgin olive oil and chopped herbs – I make a pesto out of Italian parsley and cilantro with garlic and oil.