Memorial Day weekend has finally arrived! It's the unofficial start of summer, when all the kids are out of school and the temperature has hit that sweet spot between not too cold and not too hot. Now is the perfect time to get outside, and we've gathered a list of exciting activities to keep your weekend exciting.
In Tulsa
Tulsa Drillers Baseball – May 24-26 – ONEOK Field
The Tulsa Drillers return to ONEOK Field four a three-day homestand against the Northwest Arkansas Naturals. The Friday-Sunday games are capped with an explosive fireworks show! Tickets are available at tulsadrillers.com.
World Culture Music Festival – May 24-26 – Tulsa Arts District
The biggest celebration of hip-hop music and culture in Oklahoma is back for its fourth year, and it's bigger than ever! This three-day celebration of music and art is taking over the Tulsa Arts District with performances at The Vanguard, Inner Circle Vodka Bar, Soundpony Bar, Chimera, Spinster Records and the Woody Guthrie Center. For a full list of events and locations, check out the Facebook page.
Route 66 PatriotFest – May 25 – 3770 Southwest Blvd.
Whether you're a patriot, veteran or just a fan of classic cars, the Route 66 PatriotFest has something for you to enjoy. A 13 mile cruise along old Route 66 kicks off the celebration, followed by a car/motorcycle show, live music, food trucks and vendors, and a pinup contest. Don't miss Keith Myers' Traveling Military Museum, on display at the festival. Find out more at rt66patriotfest.com.
Maple Ridge Memorial Day Run – May 27 – Maple Ridge Neighborhood
One of the longest running 5K races in the Tulsa area, the Maple Ridge Memorial Day Run takes place entirely within the neighborhood of Maple Ridge in midtown Tulsa. Whether you're out to set a new personal record or just want to enjoy a leisurely walk through a beautiful neighborhood, this race is a great way to get some exercise and enjoy the weather. The race loops through the neighborhood twice, and ends with the Finish Line Festival and Block Party on Owasso Island. Go to mapleridgememorial.itsyourrace.com for more information.
Tulsa Community Band – May 27 – Memorial Park
The Tulsa Community Band has been performing around the city since 1938, and now they're bringing their music to Memorial Park Cemetery in honor and celebration of Memorial Day. Beginning at 9AM, the band will serenade visitors to the cemetery as they pay tribute to those who rest there. Visit their Facebook page to find out more.
In OKC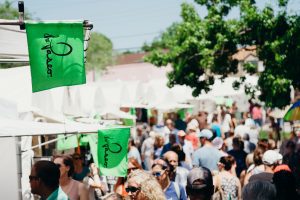 Paseo Arts Festival – May 25-27 – Paseo Arts District
There's never a better time to visit Oklahoma City's arts district than the annual Paseo Arts Festival, a three-day celebration of music, art, food and culture. Multiple food vendors of all styles line the food court, and over 40 different musical acts in myriad genres offer entertainment for all. Head to visitokc.com for a full list of events.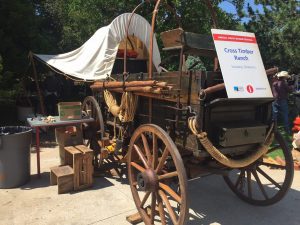 Chuck Wagon Festival – May 25-26 – National Cowboy and Western Heritage Museum
For a taste of the Old West, head to OKC's National Cowboy & Western Heritage Museum for a two-day celebration with chuck wagon food samples, artisan demonstrations, bandana decorating, live music, Western reenactors and more! Learn to churn your own butter and make your own rope. Two lucky children will win the right to be Sheriff for the Day to kick off the festival on Sunday. Go to nationalcowboymuseum.org to learn more.
OKC Energy FC Soccer – May 25 – Taft Stadium
Saturday pits the OKC Energy FC against the Colorado Springs Switchbacks FC in an all-out match for soccer dominance. Newcomers and longtime fans of the sport alike and sure to have a blast rooting for the Energy on their home turf, and a fun time is guaranteed no matter who wins. For ticket information go to energyfc.com.
Myriad Gardens Monthly Walking Tour – May 25
Expand your knowledge of Oklahoma plants and find inspiration for your own garden at the Myriad Botanical Gardens with their Guided Walking Tour, an educational jaunt through the beautiful garden grounds. This free event begins at 10AM, find out more at oklahomacitybotanicalgardens.com.
Wheeler Criterium – May 28 – Wheeler District
The premier cycling festival in OKC, the Wheeler Criterium, provides an exciting weeknight outing for families across the community as people line the runway to cheer on some of Oklahoma's top cyclists. The race will take off from the starting line and continue along the North Loop, providing a flat and fast course with the Wheeler Ferris Wheel and OKC skyline as a backdrop. Go to wheelerdistrict.com for more information.
Around the State
Heartland Nationals Sand Drag Race – May 24-26 – Atoka Motorsports
If you crave the kind of speed you just can't get in the city, then head out to Atoka Motorsports Park for the 21st Annual Heartland Nationals Sand Drag Race. High-speed, off-road vehicles of all sizes take to the sand during this three-day event to compete for over $10,000 in payouts. To find out more, go to atokasanddrags.com.
Will Rogers Stampede PRCA Rodeo – May 24-26 – Will Rogers Stampede Area, Claremore
One of the longest running events in Rogers County, the 74th Annual Will Rogers Stampede is sure to delight. The classic struggle of man vs beast will be showcased with a variety of competitions, all backed with delicious food and live music. To get your tickets, go to rodeoticket.com.
Route 66 Festival – May 25 – Downtown Clinton
Clinton plays host once again to the Route 66 Festival, a day-long extravaganza featuring car shows, street performances, plenty of food, a poker run, mini golf tournament, pepper eating contest and a variety of family-friendly activities, capping it off with a free concert downtown! Go to their Facebook page for more info.
Boley Rodeo & BBQ Festival – May 25-26 – Main Street, Boley
The annual BBQ Festival begins Saturday morning, followed by the parade. Stick around Saturday evening and witness traditional rodeo events that include bareback riding, bronc riding, steer wrestling, team roping, a pony express, barrel racing, calf roping, bull riding, junior bull riding and mutton bustin'. This annual festival celebrates the historical significance of Boley, an all-black town representative of many towns established by African Americans who migrated from the South to northern and western communities after slavery. The BBQ Festival began in 1903. To learn more go to travelok.com.
Fort Gibson National Cemetery Memorial Day Ceremony – May 27 – Fort Gibson
The Fort Gibson National Cemetery plays host to the annual Memorial Day Ceremony, a chance to honor those for whom this day was founded. This occasion will be marked with speakers and musical performances, and will feature a presentation and retiring of the colors and a rifle volley. More information is available at cem.va.gov.